Please help keep this website going by making a small donation in support of Leo's work through Fundly: https://fundly.com/leo-lyon-zagami-channel  or Patreon: https://www.patreon.com/leozagami
Article by Leo Zagami
On Thursday, President Donald Trump gave some precious advice to Greta Thunberg after she was nominated TIME magazine's 2019 Person of the Year, saying the Swedish teen climate activist should "chill" and go see a movie.
Trump, who was immediately attacked by the libtard media tweeted simply: "So ridiculous. Greta must work on her Anger Management problem, then go to a good old fashioned movie with a friend! Chill Greta, Chill!"
It turns out President Trump was right when her have his advice to the teenage climate activist.  While in Turin on Friday, she completely lost her mind and shocked at the audience during a public speech inviting the young audience to partake in violent action against politicians: "We have to make sure that they cannot do that," Thunberg told the crowd. "We will make sure they, that we put them against the wall, and that they will have to do their job and to protect our futures."
Greta Thunberg threatens to throw world leaders against the wall unless they do what she wants! pic.twitter.com/nqWKrNBKil

— David Croom – (ツ) (@dailycallout) December 14, 2019
The day after, on Saturday, the eternal 16-year old Swedish climate activist apologized for saying that politicians should be put "against the wall"  and announced she will take a break after returning home for Christmas because as Reuters said: "Now she needs a little downtime."
I think the mainstream media should apologize to President Trump who has been a public person all is life and gave Greta the best advice she could ever receive as she Anger Management after her statement in Turin, although I think an exorcism would be more beneficial for Greta than Anger Management.
Sorry I cannot use Patreon due to my current non citizen status so I am stuck with Paypal for those kind enough to support me: https://www.paypal.me/LeoZagami
PLEASE SUPPORT LEO'S WORK BY BUYING HIS LATEST BOOKS!!!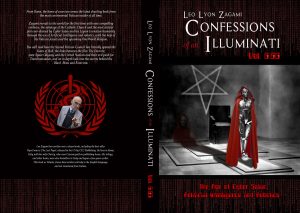 Leo Zagami is a regular contributor to Infowars and the author of the new groundbreaking book  Confessions of an Illuminati Vol. 6.66 The Age of Cyber Satan, Artificial Intelligence, and Robotics
OUT NOW ON KINDLE:
https://www.amazon.com/Confessions-Illuminati-6-66-Artificial-Intelligence-ebook/dp/B07NS8WS9V/ref=sr_1_2?s=books&ie=UTF8&qid=1550411820&sr=1-2&keywords=vol.+6.66
And on paperback :
https://www.amazon.com/dp/1796904694/ref=cm_sw_r_fa_awdo_t1_2dvACb2HVH6TP?fbclid=IwAR1h_VlIytuACI3zxXUc9mBfOk96N4Yk0WH3To6Psv2kbFxJLwfzAwV4mUE

Leo Zagami is also the author of  Confessions of an Illuminati Volume 5: The Decline of the West and the Rise of Satanism in our Society 
OUT NOW ON KINDLE: https://www.amazon.com/dp/B07BQVQ9ZM/ref=tsm_1_fb_lk
And on paperback : https://www.amazon.com/dp/1986894657/ref=sr_1_8?ie=UTF8&qid=1522233257&sr=8-8&keywords=leo+zagami