Please help keep this website going by making a small donation in support of Leo's work through Fundly: https://fundly.com/leo-lyon-zagami-channel  or Patreon: https://www.patreon.com/leozagami
Article by Leo Zagami 
A Vatican-backed investment fund at the center of a financial corruption investigation linked to the Vatican raid was behind a group of investors that hired Italian Prime Minister Giuseppe Conte to work on a deal just weeks before he took office as leader of Italy's parliament, exposing his ties to the Vatican bank.
The link between the Vatican and Conte, who was exposed as a Jesuit agent  by leozagami.com in recent months, is proven by a series of documents by the Financial Times, that are likely to draw further scrutiny of the financial activity of the Vatican's Secretariat of State, the Holy See's powerful central bureaucracy, which is already the subject of an internal investigation over suspicious financial transactions since the raid on October 1st that saw Vatican prosecutors seizing documents and electronic devices at the offices of the most senior curial department.
Giuseppe Conte was a little-known Florence-based academic when he was hired in May 2018 to provide legal opinion in favor of Fiber 4.0, a shareholder group involved in a fight for control of Retelit, an Italian telecoms company last year. Surprise, surprise, the lead investor in Fiber 4.0 was Athena Global Opportunities Fund is funded entirely by the Vatican Secretariat with $200m and managed and owned by Raffaele Mincione, an Italian financier to the Italian Academy of the Illuminati of Giuliano Di Bernardo that has been involved  behind the scenes in the creation of the Italian political party called the Five Star Movement with past President Obama and Hillary Clinton.
The ultimate source of Mr Mincione's funds was never declared in the shareholder battle for control of Retelit and was unknown before Vatican police raided the offices of the Secretariat this month to seize documents and computers due to concern over a luxury London property deal it struck with Athena that I mentioned in the following article:
https://leozagami.com/2019/10/14/the-popes-bodyguard-resigns-after-the-disappearance-of-half-a-billion-u-s-dollars-from-the-vatican-bank/
The deal raised concerns from Vatican investigators about the illegal activities of the  Secretariat that has been misusing hundreds of millions of dollars for years under its control, which are part of Peter's Pence donation to the poor by Catholics around the world.
The probe has resulted in the suspension of five employees and was also discussed in the following articles on leozagami.com:
https://leozagami.com/2019/10/02/spies-secrets-and-the-art-of-the-deal-today-in-rome-to-avoid-trumps-impeachment/
https://leozagami.com/2019/10/01/money-laundering-and-mafia-infiltration-push-vatican-prosecutors-to-conduct-a-raid-on-vatican-secretariat-of-state-offices/
Italian Prime Minister Giuseppe Conte leaped from being a political unknown to lead a populist Italian government in June 2018, and it happened only because he is a Jesuit agent and a trusted Vatican asset of Pope Francis and his criminal enterprise. Conte resigned this August after the coalition split, but was reappointed as Prime Minister in September 2019 to lead a new coalition government formed by the Five Star Movement and, of course, the Democratic party supported by the Jesuits and American Demoncrats.
As the Finacial Times outlined in an article yesterday, Conte has already faced accusations of a conflict of interest in connection with the Retelit deal, after he issued a decree based on Italy's so-called "golden power" laws that favored his former clients within a week of becoming Italy's prime minister.
Of course, Conte, the ultimate Jesuit stooge, has denied any conflict of interest, but is likely to face new scrutiny for his ties to the transaction in question and the Vatican's involvement. Conte is in trouble especially now that Durham's Russia origins probe has turned into a full-fledged criminal investigation that involves numerous members of the Italian Democratic Party who are now allied with him after recent regional elections have proven a catastrophe for Conte's coalition with the Democrats. League leader Matteo Salvini led the opposition center-right to a crushing victory in the Italian region of Umbria, and the results  today raise questions about how long the national government in Rome imposed by Pope Francis can survive.
PLEASE SUPPORT LEO'S WORK BY BUYING HIS LATEST BOOKS!!!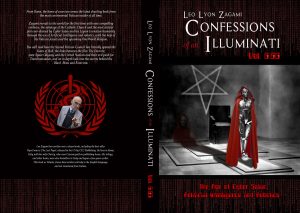 Leo Zagami is a regular contributor to Infowars and the author of the new groundbreaking book  Confessions of an Illuminati Vol. 6.66 The Age of Cyber Satan, Artificial Intelligence, and Robotics
OUT NOW ON KINDLE:
https://www.amazon.com/Confessions-Illuminati-6-66-Artificial-Intelligence-ebook/dp/B07NS8WS9V/ref=sr_1_2?s=books&ie=UTF8&qid=1550411820&sr=1-2&keywords=vol.+6.66
And on paperback :
https://www.amazon.com/dp/1796904694/ref=cm_sw_r_fa_awdo_t1_2dvACb2HVH6TP?fbclid=IwAR1h_VlIytuACI3zxXUc9mBfOk96N4Yk0WH3To6Psv2kbFxJLwfzAwV4mUE

Leo Zagami is also the author of  Confessions of an Illuminati Volume 5: The Decline of the West and the Rise of Satanism in our Society 
OUT NOW ON KINDLE: https://www.amazon.com/dp/B07BQVQ9ZM/ref=tsm_1_fb_lk
And on paperback : https://www.amazon.com/dp/1986894657/ref=sr_1_8?ie=UTF8&qid=1522233257&sr=8-8&keywords=leo+zagami