Please help keep this website going by making a small donation in support of Leo's work through Fundly: https://fundly.com/leo-lyon-zagami-channel  or Patreon: https://www.patreon.com/leozagami
Article by Leo Zagami
Italy's left-wing, who have been plotting against the United States of America for years, are finally being exposed in an interview published yesterday in Italy.  George Demetrios Papadopoulos a one-time campaign aide for U.S. President Donald Trump, told the daily newspaper La Veritathat he believed former Italian Prime Minister, Matteo Renzi had acted on the orders of former U.S. President Barack Obama to "strike a low blow" against Trump in the run-up to the 2016 vote.
This confirms what I wrote after leaving Italy at the end of May 2019.
Italy's Communist regime conspired against Trump and the American people
Of course, Matteo Renzi, who is protected by the corrupt left-wing Italian justice system said he would immediately sue George Papadopoulos over the allegations that he had tried to undermind Trump's 2016 election campaign. Matteo Renzi is a Jesuit agent and a dangerous criminal who should be arrested by U.S. authorities for treason of the North Atlantic Treaty Organization with an active attempt to sabotage our beloved President Donald J. Trump after his election.
George Papadopoulos' wife, Simona Mangiante, said today in an interview with Italian Huffington Post that "The whole Russiagate should be understood in a reverse manner being a CIA plot made with Social democratic governments to prevent the election of Trump." Now it is important to understand that when she talks about the C.I.A., she is referencing the Agency at the time of treacherous President Barack Hussein Obama. Obama should have reacted to a 2015 New York Times story that highlighted Bidens' suspicious interactions in Ukraine, but of course, the main goal for the Democrats is to impeach President Trump.We are fighting against the same unscrupulous Communists who operated during the Cold War, because Communism is the ideology of choice for the Jesuits and the biggest threat to democracy worldwide.
PLEASE SUPPORT LEO'S WORK BY BUYING HIS LATEST BOOKS!!!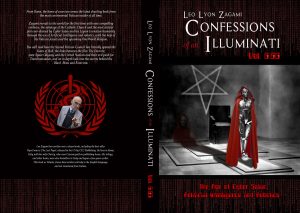 Leo Zagami is a regular contributor to Infowars and the author of the new groundbreaking book  Confessions of an Illuminati Vol. 6.66 The Age of Cyber Satan, Artificial Intelligence, and Robotics
OUT NOW ON KINDLE:
https://www.amazon.com/Confessions-Illuminati-6-66-Artificial-Intelligence-ebook/dp/B07NS8WS9V/ref=sr_1_2?s=books&ie=UTF8&qid=1550411820&sr=1-2&keywords=vol.+6.66
And on paperback :
https://www.amazon.com/dp/1796904694/ref=cm_sw_r_fa_awdo_t1_2dvACb2HVH6TP?fbclid=IwAR1h_VlIytuACI3zxXUc9mBfOk96N4Yk0WH3To6Psv2kbFxJLwfzAwV4mUE

Leo Zagami is also the author of  Confessions of an Illuminati Volume 5: The Decline of the West and the Rise of Satanism in our Society 
OUT NOW ON KINDLE: https://www.amazon.com/dp/B07BQVQ9ZM/ref=tsm_1_fb_lk
And on paperback : https://www.amazon.com/dp/1986894657/ref=sr_1_8?ie=UTF8&qid=1522233257&sr=8-8&keywords=leo+zagami