Please help keep this website going by making a small donation in support of Leo's work through Fundly: https://fundly.com/leo-lyon-zagami-channel  or Patreon: https://www.patreon.com/leozagami
Article by Leo Zagami 
Frank Sinatra, born Francis Albert Sinatra, a Sicilian American singer and one of my heroes, who is considered the finest vocalists of all time, renowned for his impeccable phrasing and timing and his incredible style, who remained a supporter of the Democratic Party until the early 1970s when something happened that made him finally switched his allegiance to the Republican Party until his death in 1998.
Initially, Sinatra's break from the Democratic Party became evident in 1970, when he endorsed Ronald Reagan for a second term as Governor of California. But it was when the Democratic Party under George McGovern was taking a dangerous turn towards the left, that Sinatra finally decided to dump them for good and in this article you will learn why.
Sinatra, a true political visionary, foresaw this dangerous transformation, that in the following years would push the Democratic leadership towards Socialism and that evil ideology called Communism that has now infected U.S. society like a plague and destroyed the traditional values of Cosa Nostrathat were corrupted during the establishment of the Sicilians' dominance over the U.S. drug trade in the early 1970s, breaking with the old tradition of conservative family values. In the somber words of an aging former mobster like the late Tommaso Buscetta, the Mafia had degenerated from a family in which "men of honor" obeyed a code of respect in exchange for a greedy more violent clan seeking only the huge profits of drug traffic.
In 1972,Sinatra, who had been known for his alleged connections to organized crime and had links to senior people in the intelligence world like George Bush, announced publicly that he could not support the left-wing turn of the party and its candidateGeorge McGovern, simply because it was in conflict with his more traditional values. However, Sinatra knew exactly what was happening behind the scenes of the Democratic Party and didn't want to have anything to do with it. Frank Sinatra saw the dangers of Communism growing in the U.S on the back of the Socialist influenced Democratic Party before others, and went to George Bush in 1976, then CIA Director, to warn him about it and offer his services.
Frank Sinatra told Bush he could do some quiet information-gathering in royal circles around the world for the Central Intelligence Agency, to assess this dangerous ideology called Communism that was infiltrating not only political, but also artistic, religious, and mafia circles since the 60s. Rat Pack members like Frank performed regularly in Las Vegas, and their circle attracted many admirers and hangers-on, including mobsters like Johnny Roselli, and the Hollywood–Las Vegas honcho for Chicago, Sam Giancana, who operated with the CIA in the ill-fated plots to assassinate infamous Communist, Fidel Castro.
Frank could investigate without creating any suspicion and was given the mandate to operate in total secrecy without the risk of being killed. Like one of his most famous songs says, "I did it my way." A brief article that appeared in the Baltimore Sun about Frank's alleged CIA bid can still be found in the CIA library Document Number (FOIA) /ESDN (CREST): CIA-RDP99-00498R000100040034-3
Frank, a Sicilian American like myself, understood before others the dangers of people like Nancy Pelosi and did something only a man of great integrity and courage could do, putting his life and the life of his family at risk.
Cosa Nostra had earned notoriety in the U.S., where it became the Italian "Mob," feuding and racketeering in Chicago, New York, and some other cities ruled by the Democrats, but the involvement with drugs corrupted the soul and integrity of what used to be Cosa Nostra. On May 9,1978, Italians woke up to sorrowful news reports about the murder of former Christian Democratic Prime Minister Aldo Moro by the Red Brigades. The same morning, in the small Sicilian town of Cinisi, the police found the body of Giuseppe "Peppino" Impastato, a young anti-mafia activist murdered by Cosa Nostra – the Sicilian mafia.
Impastato is still commemorated each year as an example of the young Italians' fight against what was once the country's most powerful criminal organization and remains so in Sicily, as we now have a variety of others Mafia that have taken its place around the world, including the infamous Calabrese Ndrangheta.  Impastato's gravestone is in memory of a "Revolutionary and Communist militant killed by the Christian-Democratic Mafia." It was the beginning of the end for the classical Sicilian Mafia because the battle against it wasn't won by cops and judges, but by Communists and labor militants who gradually took it over thanks to corrupt elements in Italian and American politics and the judiciary.
FBI Director William S. Sessions said in 1988 that he thought it is possible to remove the Mafia "as a significant threat to American society." But the Mafia was already in Washington, D.C., in places where they could no longer be attacked or investigated because they arethe law. In January 2011, the Mafia made international headlines when 125 Mafia suspects were arrested by the FBI across the entire Northeast in the largest mob bust in history. The New York area had the biggest shake-up when 34 alleged mafia members were arrested. Other cities such as Newark, Providence, and Philadelphia, also received attention. But on that occasion, many asked why had Washington, D.C., our nation's capital and one of the most important cities in the world, never attracted organized crime activity?
The answer is they had gone into stealth mode and nobody could see them aside from people like Frank Sinatra, who knew them very well.
Grandparents.com described the House Minority Leader Nancy Pelosi once as a "Power Nana" who refers to herself in her family as "Grandma Mimi." But Pelosi isn't exactly an average grandma figure, considering her current corruption dates back to her upbringing in a politically charged environment heavily tied to the Mafia. Pelosi's father, Thomas D'Alesandro Jr., was a close associate of the notorious mobster, Benjamin "Benny Trotta" Magliono, as well as several other criminals of the Baltimore Crew, a faction of New York's Gambino crime family that operated independently until Vincent "The Executioner" Mangano was installed.
Secret deals are nothing new for Pelosi who recently went to Italy to plan the fall of Salvini and the populist government before returning to the U.S. to prepare the formal impeachment inquiry of President Donald Trump. Sure, she and her husband became rich off taxpayer subsidies funneled through a light rail company, but backdoor deals and corrupt money has always been a part of her family history.
From Friends of Ours:
Nancy Pelosi's father Thomas D'Alesandro Jr. allegedly was a "constant companion" of notorious mobster Benjamin "Benny Trotta" Magliano and other underworld figures during his political years in Baltimore, MD.  D'Alesandro was a Congressman for five terms from 1938 to 1947, and Baltimore mayor for three terms from 1947 to 1959.   Magliano was identified by the FBI as one of Baltimore's "top hoodlums," and he widely was acknowledged as the representative for New York's Frankie Carbo who made his bones with Murder, Inc. and later became a made guy in the Lucchese family.  The allegations are included in D'Alesandro's recently-released FBI files which Friends of Ours has obtained pursuant to the Freedom of Information Act.
I still remember when 12 years ago, all of Little Italy turned out for what one observer called, "The Return of the Prodigal Hon." It was here that Nancy Pelosi learned politics at the knee of her father, "Big Tommy" D'Alesandro, Jr. The friends of "Big Tommy" included the man who got him elected mayor, Baltimore City political boss, James H. "Jack" Pollack, who was reportedly also indicted on the charge of obstruction of  justice.
In 2009, Nancy Pelosi was famously trapped in a lie about not having been told by the CIA that it was waterboarding terrorists in order to make them talk. She was outraged that the U.S. was "torturing"terrorists and claimed the CIA had not told her it was performing what were euphemistically called "enhanced interrogations." The CIA responded that it had told her and pointed to a letter dated prior to her meltdown. She responded with counter charges that the letter was a fake, which the CIA was fully capable of producing, and made threats to cut budgets and dramatically expand congressional oversight of the CIA and other intelligence agencies that have been increasingly falling in the hands of the globalist left.
We need to denounce this to protect our President Donald J. Trump and even if Frank Sinatra allegedly told Donald Trump to "go f*** himself" once, the rules did not apply to him and even the President knows it. His picture has always hung in countless rooms and his song was sung by countless men, heroes to themselves — if only in the shower.
Dear President the spirit of Frank Sinatra is with you against Nancy and the corrupt Mafia. That's why he might have loved when you danced with Melania to "My Way" at the Inaugural Ball despite the controversy.
God Bless you and the United States of America.
Original version "My Way" by the Palm Springs legend Frank Sinatra
PLEASE SUPPORT LEO'S WORK BY BUYING HIS LATEST BOOKS!!!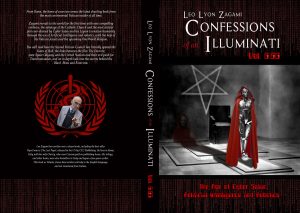 Leo Zagami is a regular contributor to Infowars and the author of the new groundbreaking book  Confessions of an Illuminati Vol. 6.66 The Age of Cyber Satan, Artificial Intelligence, and Robotics
OUT NOW ON KINDLE:
https://www.amazon.com/Confessions-Illuminati-6-66-Artificial-Intelligence-ebook/dp/B07NS8WS9V/ref=sr_1_2?s=books&ie=UTF8&qid=1550411820&sr=1-2&keywords=vol.+6.66
And on paperback :
https://www.amazon.com/dp/1796904694/ref=cm_sw_r_fa_awdo_t1_2dvACb2HVH6TP?fbclid=IwAR1h_VlIytuACI3zxXUc9mBfOk96N4Yk0WH3To6Psv2kbFxJLwfzAwV4mUE

Leo Zagami is also the author of  Confessions of an Illuminati Volume 5: The Decline of the West and the Rise of Satanism in our Society 
OUT NOW ON KINDLE: https://www.amazon.com/dp/B07BQVQ9ZM/ref=tsm_1_fb_lk
And on paperback : https://www.amazon.com/dp/1986894657/ref=sr_1_8?ie=UTF8&qid=1522233257&sr=8-8&keywords=leo+zagami