Article by Leo Zagami
John Bryan Crusius 63, the father of El Paso, Texas shooter Patrick Crusius, published a memoir in 2014 about his battle with drug and alcohol abuse entitled,  Life Enthusiasm: A Path to Purpose Beyond Recovery, that details not only how Crusius' relationship with Patrick's mother fell apart but  also talks about his alleged visions of Jesus Christ and his dead grandmother.
A Path to Purpose Beyond Recoverydetails how a life force energy propelled John Bryan Crusius, who described himself as a desperate addict , down a path to freedom and meaning. Bryan, as he prefers to be called, said he achieved this through the application of Universal Energy, something that helped him transcend a four decade entrenchment in addictive behavior in just eighteen months.
Bryan Crusius worked in the restaurant management business until 2001, when he answered an inner calling to help others. He attended Amberton University from 2004 to 2006, where he obtained a Masters' degree in Professional Counseling, according to his LinkedIn profile. After years of individual and group counseling, that inner calling to broaden his approach eventually led him to contact the organization of the infamous John of God.
Renowned spiritual teacher Wayne Dyer sang John of God's praises, and Bryan's idol Oprah Winfrey interviewed him in 2012 saying she felt humbled and filled with a sense of peace in front of a person who has now been exposed as one of the biggest sexual predators of all time. Bryan felt he found the right teachers when he was visited by a group of healers working for John of God. In this video Shooter's dad John of god Brazil – Streamable, Bryan Crusius talks in detail about renting his space to the organization of the famous faith healer John of God and becoming interested in crystal balls as a result. John of God has been charged with the largest sexual abuse scandal in the history of Brazil. The late activist Sabrina Bittencourt,  whose investigations lead to John of God's arrest and was probably killed for exposing him, claimed before she died that the Brazilian "healer"operated a sick "farming"operation which exported babies on the black market.
Interestingly enough I mentioned John of God only a few days ago in relation to MK-Ultra agent  Marianne Williamson, who is now seeking the Democratic nomination for the 2020 United States presidential election: https://leozagami.com/2019/07/31/demoncrat-marianne-williamson-exposed-as-mk-ultra-agent-promoting-a-false-christ/
 Bryan's connection to Marianne Williamson…
Bryan began his New Age career by integrating the use of crystals learned by John of God's organization -as he admits openly on camera- and what he describes in his writings as the Emotional Freedom Technique (EFT) method linked with traditional cognitive-behavioral interventions. His new  commitment to help those in need as a being of light seems to clash with his past work in the mental health business as Dual Diagnosis Program Manager at Timberlawn Mental Health Systems and Facility Director of DAPA Psychiatric Programs in Dallas, Texas. Timberlawn Psychiatric Hospital has been described as a terrible place, and was closed last year for repeated safety violations. Some reports say that during Bryan's time at this institute, many patients came forward with terrible stories of abuse. Bryan's son Patrick is now in jail for killing 20 innocent people and injuring 40.
All this proves once again a link to mental health professionals, as I reported earlier today in this article: https://leozagami.com/2019/08/04/strong-suspicion-of-manchurian-candidates-operating-in-el-paso-and-dayton/
PLEASE SUPPORT LEO'S WORK BY BUYING HIS LATEST BOOKS!!!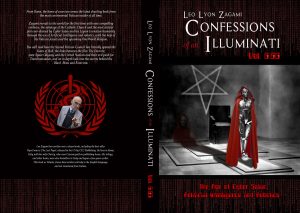 Leo Zagami is a regular contributor to Infowars and the author of the new groundbreaking book  Confessions of an Illuminati Vol. 6.66 The Age of Cyber Satan, Artificial Intelligence, and Robotics
OUT NOW ON KINDLE:
https://www.amazon.com/Confessions-Illuminati-6-66-Artificial-Intelligence-ebook/dp/B07NS8WS9V/ref=sr_1_2?s=books&ie=UTF8&qid=1550411820&sr=1-2&keywords=vol.+6.66
And on paperback :
https://www.amazon.com/dp/1796904694/ref=cm_sw_r_fa_awdo_t1_2dvACb2HVH6TP?fbclid=IwAR1h_VlIytuACI3zxXUc9mBfOk96N4Yk0WH3To6Psv2kbFxJLwfzAwV4mUE

Leo Zagami is also the author of  Confessions of an Illuminati Volume 5: The Decline of the West and the Rise of Satanism in our Society 
OUT NOW ON KINDLE: https://www.amazon.com/dp/B07BQVQ9ZM/ref=tsm_1_fb_lk
And on paperback : https://www.amazon.com/dp/1986894657/ref=sr_1_8?ie=UTF8&qid=1522233257&sr=8-8&keywords=leo+zagami