by Leo Zagami 
I few days ago, I reported about Catholic Archbishop William E. Lori of Baltimore, who issued an official statement last week rebutting the famous tweet from President Donald Trump regarding the rat-infested city stating: "It saddens me to see Baltimore severely denigrated by President Trump. Baltimore is near and dear to my heart."
Now the attack by the Catholic hierarchy against Trump is intensifying as the Archbishop of Washington, D.C. has been defending Archbishop Lori, accusing Trump of being divisive.
Pro-"LGBT" Archbishop Wilton Gregory, who became head of the Washington Archdiocese earlier this year, succeeding Cardinal Donald Wuerl after Wuerl was accused of sexual abuse cover-up, declared on the 1st of August 2019 in the Catholic Standard, the official archdiocesan newspaper:"That recent public comments by our President and others and the responses they have generated, have deepened divisions and diminished our national life. In particular, I join my brother Archbishop William Lori in sadness and deep regret for the ways our Maryland neighbors in Baltimore have been denigrated in recent public attacks."
He went on to say, "Comments which dismiss, demean or demonize any of God's children are destructive of the common good and a denial of our national pledge of 'liberty and justice for all.'"
According to The Washington Post, this was Archibishop Gregory's first public statement since his installment as Archbishop of D.C. on May 21, 2019.  Catholic Cardinals are gradually making their dislike towards the U.S. president public instead of taking care of their pedophile Church still ruled by the same homosexual mafia. At the moment, a New Jersey Catholic bishop who is one of Theodore McCarrick's infamous creations, is continuing to protect and promote the homosexual predator clergy, and sources have told my friends at Church Militant that he is lovers with one of the priests he is protecting. This is all part of what Archbishop Carlo Maria Viganò called the corrupt homosexual mafia running the Church and nothing has changed.
Meanwhile, Archbishop Carlo Maria Viganò,who was recently bestowed by the Milwaukee chapter of Catholics United for the Faith (CUF) for exposing cover-ups by the highest levels of the Catholic Church, asked John-Henry Westen, who is the co-founder and editor of LifeSiteNews, to accept the award on his behalf in Milwaukee at a dinner to be organized by the CUF in October, 2019. Soon afterward, the pro-life Catholic news site LifeSiteNews was banned from the Apple News platform  for allegedly promoting "intolerance."
However, an ongoing LifePetitions petition asking Apple News to reinstate LifeSite's Apple News channel now has over 40,000 signatures in just two days! Apple's banning of LifeSiteNews from Apple News, as it happened one year ago to Infowars, is blatant censorship of freedom of speech and, of course, another dirty move by the Jesuits to punish those who expose them. Having said that, the explosion of this petition is a great example of the present frustration that a lot of people are feeling about #BigTech censorship and the stripping away of our rights. It is clear to everyone that the Vatican has intervened directly on Apple to get LifeSite's Apple News channel banned after their endorsement by Archbishop Carlo Maria Viganò became unacceptable for Pope Francis, just as the Jesuit stooges Hillary Clinton and George Soros intervened to censor Alex Jones.
Remember, Apple CEO Tim Cook has a close relationship with Pope Francis, especially after he donated over a million dollars to Pope Francis in 2016, only a week after the Jesuit Pope sat down with former Google CEO Eric Schmidt. Cook and the Pope had a lot of topics to cover as Apple was asking for help in avoiding further taxes in Europe using the Institute for the Works of Religion, commonly known as the Vatican Bank. The Vatican helps Silicon Valley Mafia avoid paying tax in exchange for their censorship and control of social media.
PLEASE SUPPORT LEO'S WORK BY BUYING HIS LATEST BOOKS!!!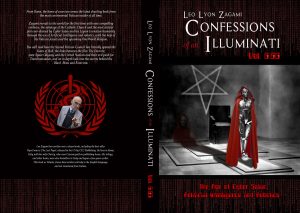 Leo Zagami is a regular contributor to Infowars and the author of the new groundbreaking book  Confessions of an Illuminati Vol. 6.66 The Age of Cyber Satan, Artificial Intelligence, and Robotics
OUT NOW ON KINDLE:
https://www.amazon.com/Confessions-Illuminati-6-66-Artificial-Intelligence-ebook/dp/B07NS8WS9V/ref=sr_1_2?s=books&ie=UTF8&qid=1550411820&sr=1-2&keywords=vol.+6.66
And on paperback :
https://www.amazon.com/dp/1796904694/ref=cm_sw_r_fa_awdo_t1_2dvACb2HVH6TP?fbclid=IwAR1h_VlIytuACI3zxXUc9mBfOk96N4Yk0WH3To6Psv2kbFxJLwfzAwV4mUE

Leo Zagami is also the author of  Confessions of an Illuminati Volume 5: The Decline of the West and the Rise of Satanism in our Society 
OUT NOW ON KINDLE: https://www.amazon.com/dp/B07BQVQ9ZM/ref=tsm_1_fb_lk
And on paperback : https://www.amazon.com/dp/1986894657/ref=sr_1_8?ie=UTF8&qid=1522233257&sr=8-8&keywords=leo+zagami