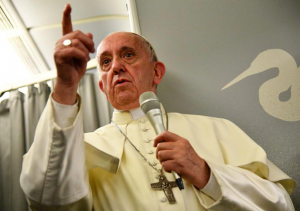 Article by Leo Zagami
Returning to Italy from Morocco yesterday night, Pope Francis stated that the problem of child sexual abuse, in all its forms, cannot be tackled without understanding the influence of evil.
"The global scourge [of sexual abuse of minors] is great, but to say that this is not understood without the spirit of evil," he added. "It is a concrete problem. We must solve it concretely, but say that it is the spirit of evil."
Pope Francis continued his interview with the journalist present on the plane by saying that there is a risk of Catholics becoming Donatists and "forgetting the spiritual dimension."Donatism is a heresy where the validity of the sacraments depends on the perfection of the priests administering them. Donatists argued that Christian clergy must be faultless for their ministry to be effective. The Pope, however, is trying to justify the validity of sacraments administered by pedophiles comparing those who criticize them to the infamous Donatist, a schism in the Church of Carthage from the fourth to the sixth centuries AD.
Pedophiles are Satanists and shouldn't be administering Catholic Christian sacraments in the first place. To defeat the spirit of evil requires firmly fighting Satanists and all pedophiles.  Pope Francis then said. "We too must struggle with the devil, as we must struggle with human things."
Continuing his never-ending manipulation, Pope Francis said the reason the Vatican halted the U.S bishop's proposed measures for sex abuse reform that was slated to be presented at their fall general assembly in November 2018, was not because of the great economic interest of the Catholic Church in donations from the U.S., or to control all aspects of the pedophilia crisis. According to the Pope, the proposed measures were stopped because they lacked a consideration of the spiritual dimension.
Pope Francis said: "The proposals [of the U.S. bishops] were too much about organization, about methodologies; a bit without meaning, it had neglected this second spiritual dimension, with the laity, with everyone."
 The United States Conference of Bishops was going to consider two proposals Pope Francis obviously dislikes: a new code of conduct for bishops and the creation of a lay-led body to investigate bishops accused of misconduct.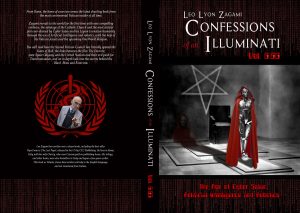 Leo Zagami is a regular contributor to Infowars and the author of the new groundbreaking book  Confessions of an Illuminati Vol. 6.66 The Age of Cyber Satan, Artificial Intelligence, and Robotics
OUT NOW ON KINDLE:
https://www.amazon.com/Confessions-Illuminati-6-66-Artificial-Intelligence-ebook/dp/B07NS8WS9V/ref=sr_1_2?s=books&ie=UTF8&qid=1550411820&sr=1-2&keywords=vol.+6.66
And on paperback :
https://www.amazon.com/dp/1796904694/ref=cm_sw_r_fa_awdo_t1_2dvACb2HVH6TP?fbclid=IwAR1h_VlIytuACI3zxXUc9mBfOk96N4Yk0WH3To6Psv2kbFxJLwfzAwV4mUE

Leo Zagami is also the author of  Confessions of an Illuminati Volume 5: The Decline of the West and the Rise of Satanism in our Society 
OUT NOW ON KINDLE: https://www.amazon.com/dp/B07BQVQ9ZM/ref=tsm_1_fb_lk
And on paperback : https://www.amazon.com/dp/1986894657/ref=sr_1_8?ie=UTF8&qid=1522233257&sr=8-8&keywords=leo+zagami