Article by Leo Zagami
On Monday, Pope Francis shocked the world and ended up on Jimmy Kimmel Live when he visited a Catholic shrine in Loreto, and repeatedly withdrew his right hand as a long line of people bowed and tried to kiss his ring. The footage went viral and the Pope's refusal quickly became a controversy in the well-known war between Catholic conservatives and progressives close to the Jesuit Pope.
Since ancient times the formal way to greet any Catholic bishop is to kiss his ring. In doing so, you are showing respect for the authority of their office. However, Pope Francis downplayed this gesture in Loreto by displaying an act of humility towards the faithful, when in reality he was simply acting in a cleverly orchestrated propaganda stunt.
Contrary to the impressive gold rings of the past, this Pope's fisherman's ring is made of silver with gold plating and is used by Pope Francis to show his followers that he is distancing himself from the riches of the Church. Pope Francis'act didn't impress Catholics and ended up being a comedy sketch suitable for the Jimmy Kimmel Live Show.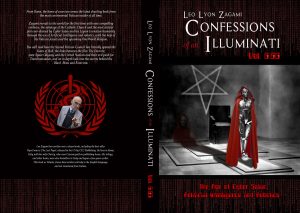 Leo Zagami is a regular contributor to Infowars and the author of the new groundbreaking book  Confessions of an Illuminati Vol. 6.66 The Age of Cyber Satan, Artificial Intelligence, and Robotics
OUT NOW ON KINDLE:
https://www.amazon.com/Confessions-Illuminati-6-66-Artificial-Intelligence-ebook/dp/B07NS8WS9V/ref=sr_1_2?s=books&ie=UTF8&qid=1550411820&sr=1-2&keywords=vol.+6.66
And on paperback :
https://www.amazon.com/dp/1796904694/ref=cm_sw_r_fa_awdo_t1_2dvACb2HVH6TP?fbclid=IwAR1h_VlIytuACI3zxXUc9mBfOk96N4Yk0WH3To6Psv2kbFxJLwfzAwV4mUE

Leo Zagami is also the author of  Confessions of an Illuminati Volume 5: The Decline of the West and the Rise of Satanism in our Society 
OUT NOW ON KINDLE: https://www.amazon.com/dp/B07BQVQ9ZM/ref=tsm_1_fb_lk
And on paperback : https://www.amazon.com/dp/1986894657/ref=sr_1_8?ie=UTF8&qid=1522233257&sr=8-8&keywords=leo+zagami