Article by Leo Zagami
A couple of hours ago, Cardinal Pell's Barrister, Robert Richter,  apologized in an official statement for his "terrible choice of phrase" in describing Pell's sexual abuse of two13-year-old choirboys as "vanilla sexual penetration." Well, it was definitely inappropriate, and he finally issued an apology this afternoon, after what he described as a "sleepless night reflecting." The choice of his words in the original statement demonstrates the total absence of emotion from thehigh-profile barrister defending this evil sexual predator." This is no more than a plain, vanilla sexual penetration case where a child is not volunteering or actively participating,"Richter said in his controversial statement.
In today's apology, Barrister Robert Richter declared that, "In seeking to mitigate sentences I used a wholly inappropriate phrase for which I apologize profusely to all who interpreted it in a way it was never intended: it was in no way meant to belittle or minimize the suffering and hurt of victims of sex abuse, and in retrospect I can see why it caused great offense to many."
The Queen's Counsel was put under pressure in Australia and criticized for the shocking remark, which came during a plea hearing for the Cardinal, who is now behind bars awaiting sentence for orally raping a boy, and molesting another 13-year-old after Sunday mass in 1996. In the meantime, George Pell's trial on charges that he sexually assaulted two boys at a Ballarat swimming pool in the late 1970s was entirely dropped by the prosecutors after Damian Dignan, one of the three former choirboys who accused Cardinal George Pell of molesting them, died one year ago after a long battle with leukemia, and the charges relating to the other complainants were either thrown out in the Magistrates Court, or withdrawn during the pre-trial .
Damian Dignan and two former schoolmates at St Alipius primary school claimed in court documents the 76-year-old touched their genitals in a pool in Ballarat, claims which Pell soon to be nicknamed  "Vanilla Man," in prison,strongly denied.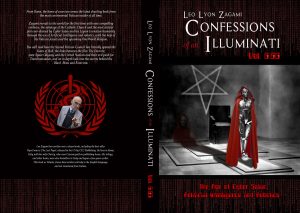 Leo Zagami is a regular contributor to Infowars and the author of the new groundbreaking book  Confessions of an Illuminati Vol. 6.66 The Age of Cyber Satan, Artificial Intelligence, and Robotics
OUT NOW ON KINDLE:
https://www.amazon.com/Confessions-Illuminati-6-66-Artificial-Intelligence-ebook/dp/B07NS8WS9V/ref=sr_1_2?s=books&ie=UTF8&qid=1550411820&sr=1-2&keywords=vol.+6.66
And on paperback :
https://www.amazon.com/dp/1796904694/ref=cm_sw_r_fa_awdo_t1_2dvACb2HVH6TP?fbclid=IwAR1h_VlIytuACI3zxXUc9mBfOk96N4Yk0WH3To6Psv2kbFxJLwfzAwV4mUE

Leo Zagami is also the author of  Confessions of an Illuminati Volume 5: The Decline of the West and the Rise of Satanism in our Society 
OUT NOW ON KINDLE: https://www.amazon.com/dp/B07BQVQ9ZM/ref=tsm_1_fb_lk
And on paperback : https://www.amazon.com/dp/1986894657/ref=sr_1_8?ie=UTF8&qid=1522233257&sr=8-8&keywords=leo+zagami