Article by Leo Zagami
"My dear brethren, do not ever forget, when you hear the progress of lights praised, that the loveliest trick of the Devil is to persuade you that he does not exist!"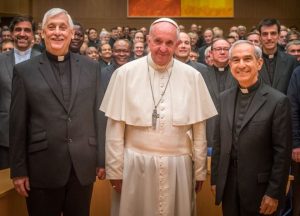 Father Arturo Sosa SJ and Pope Francis Photo from: http://www.elmundo.es
Father Arturo Sosa SJ, 31st General of the Society of Jesus, and the first non-European general of the Jesuits, has shocked the Catholic world in a recent interview to El Mundo, the second largest printed daily newspaper in Spain:
http://www.elmundo.es/papel/lideres/2017/05/31/592d806d268e3e1a7c8b476c.html
Arturo Sosa (Caracas, 1948), is someone who seems to be a reflection of the Pontiff, one the black Pope (Father Sosa), and the other the white Pope (Francis). They are not only the two most powerful figures in Catholicism today, but also two of the most influential people in the diabolic Jesuit led New World Order. Sosa is not only Latin American like Bergoglio, but also just as progressive, who says the devil is only a symbol of evil.
Sosa made this surprising statement on the figure of the devil:
"From my perspective, evil is part of the Ministry of liberty. If the human being is free, he can choose between good and evil. We Christians believe to be made in the image in the likeness of God, so God is free, but God always chooses to do good because it is all goodness. We created symbolic figures, like the devil, to express the evil. The social conditioning also represents this figure, there are people who act this way because there is an environment where it is very difficult to do the opposite. "
The Bible shows that Satan does exist, and has great power, but for the Black Pope he is just a convenient figment of our imagination.
Of course, not everyone agrees…
Leo Zagami is the author of Confessions of an Illuminati, Volume III: Espionage, Templars and Satanism in the Shadows of the Vatican
New Revelations on demonic possession from Leo's wife:
http://leozagami.com/2017/07/10/first-book-by-zagamis-wife/