Donation in support of Leo's work through GoFundMe https://www.gofundme.com/f/the-leo-zagami-show-lesule cashapp/$leozagami
Article by Leo Zagami
In Confessions of an Illuminati Volume 8: From the Rise of the Antichrist to the Sound of the Devil and the Great Reset I wrote:
… all the roads of music, and sometimes of perversion, lead in one way or another, to Buckingham Palace, symbolically at the head of Freemasonry in the world, where we now have King Charles III, who is not only one of the main promoters of the Great Rese,[1] but also a close friend of the greatest pedophile in history, the BBC DJ Jimmy Savile (1926-2011), who for a time, became his advisor.
Yesterday, the implication of what I wrote was further confirmed by the Daily Mail, which reported:
King Charles's friendship with Jimmy Savile is further confirmed by my disclosure here that after Prince Harry's birth in 1984, he had been included in a long list of names of potential godfathers.[2]
The selection of possible godfathers was written by the future King Charles and overseen by his then private secretary, the late Edward Adeane.
      Adeane was aware that Charles would not listen to any argument against Savile. Having a fractious relationship with Diana, he felt he could not approach Harry's mother. He did discuss it with Sir Alastair Aird, the Queen Mother's comptroller, who was duly horrified and assured Adeane that the matter would be 'dealt with'. Savile didn't make the final six. [3]
During at least 20 years of friendship, Savile became an unofficial adviser to Charles, as I explain in Volume 8, where I also talk in detail about Harry. The details of Savile's crimes emerged to the public following his death in 2011, but it was widely known in the corridors of power who this monster really was. Savile was actively protected by the British intelligence services and important elements of the United Grand Lodge of England.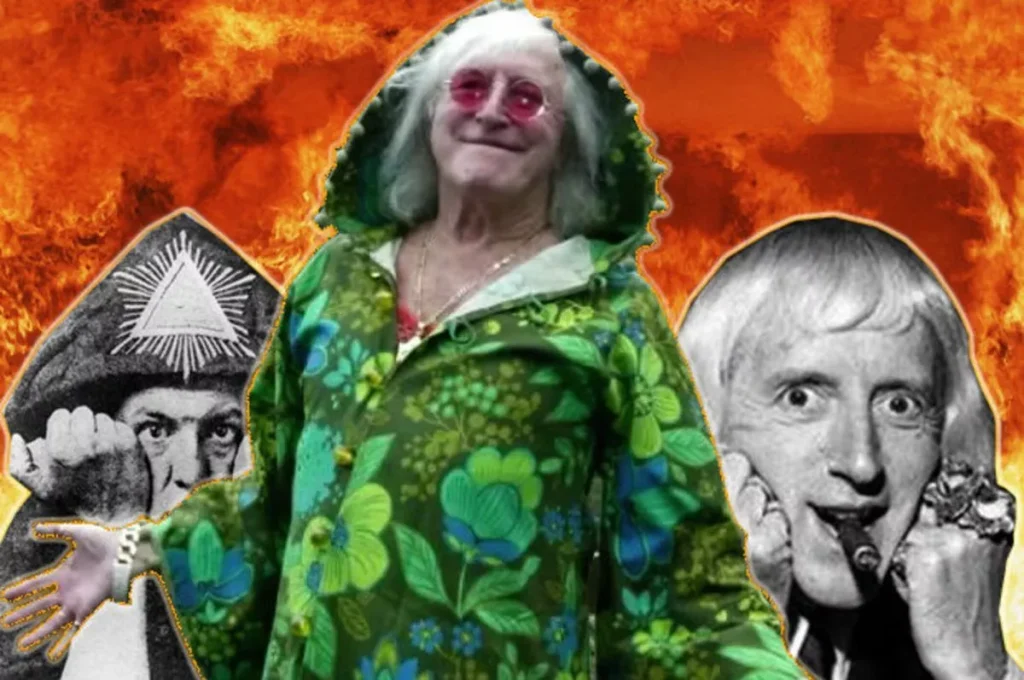 While the Daily Mail story hasn't been corroborated by other news outlets yet, it was very well known in Royal circles, and if we look at Honorable George Edward Adeane, Commander of the powerful Royal Victorian Order, we find that the barrister and royal advisor served as Private Secretary to the Prince of Wales from 1979 to 1985, and reportedly worked to keep Savile from becoming Prince Harry's godfather. This signals a possible retribution by Charles who kicked out the Honorable George Edward Adeane.
The story about Jimmy Savile as Harry's godfather is perhaps a bit thin for mainstream news, which won't investigate deeper to avoid problems, but the scope of then-Prince Charles and Jimmy Savile's friendship has been very well established, as is the case of last year's Netflix Documentary, revealing that Charles repeatedly sought the advice of Aleister Crowley's disciple Jimmy Savile,[4] who spent decades sexually abusing women and children, also with the open support of "Saint" Pope John Paul II, as I pointed out in Pope Francis: The Last Pope? Money, Masons, and Occultism in the Decline of the Catholic Church[5] who gave him a prestigious knighthood,[6] while Charles was going so far as to take this monster's suggestions to the Queen.
The Guardian reported:
The makers of the Netflix documentary Jimmy Savile: A British Horror Story have revealed that Savile produced a PR handbook for royals and their staff. Some of that advice was then incorporated in a note prepared for the Queen, the Times reported.[7]
The memo followed an incident in which Prince Andrew, who is not only depraved, but also idiotic in most of his public statements as demonstrated in his now infamous BBC interview,[8] made some insensitive comments about the Lockerbie bombing, during a visit to the disaster site in 1988. Savile was immediately consulted by Charles who was given an in-depth advisory document for the Royal Family on how the Queen should behave and the behavior of other royal family members. And this was far from the only time the now-Monarch asked advice from the notorious villain.
Later in a handwritten note to Savile, the future King Charles III wrote:
I attach a copy of my memo on disasters, which incorporates your points and which I showed to my father. He showed it to [the Queen]'.
Investigators have pieced together an extraordinary theory in the last few years reported by the Daily Star, which shows that the infamous TV personality was an occultist following in the footsteps of the late Satanist Aleister Crowley, he was not only a British TV star and former DJ, allegedly he used black magic powers which placed TV bosses, celebs, powerful politicians, members of the Royal Family, and even the pope under his spell, so he could travel all over the UK abusing children and the disabled as well as practicing necrophilia on bodies in hospital morgues. Savile, who died aged 84 in October 2011, is now Britain's worst sex offender after police revealed he preyed on at least 450 victims aged eight to 47.
---
[1] https://www.weforum.org/agenda/2020/06/great-reset-launch-prince-charles-guterres-georgieva-burrow/
[2] https://www.dailymail.co.uk/debate/article-12599815/EPHRAIM-HARDCASTLE-King-Charles-Jimmy-Savile-Prince-Harry-potential-godfathers.html
[3] Ibid.
[4] https://www.dailystar.co.uk/news/latest-news/conspiracy-theory-paedophile-jimmy-savile-17119231
[5] https://www.amazon.com/Pope-Francis-Occultism-Decline-Catholic/dp/1888729546
[6] https://www.bbc.com/news/uk-20108980
[7] https://www.theguardian.com/uk-news/2022/apr/06/prince-charles-repeatedly-sought-jimmy-savile-advice-documentary-claims
[8] https://www.youtube.com/watch?v=QtBS8COhhhM
ATTENTION Leo Zagami's most important book is out now! Confessions of an Illuminati Volume 9: Seven Steps to The Secrets of the New World Disorder from Transhumanism and Immortality to Gnostic Jesus, UFOs, and Insect Witchcraft
GET ALSO A COPY OF LEO ZAGAMI'S Confessions of an Illuminati Volume 8: From the Rise of the Antichrist To the Sound of the Devil and the Great Reset, the only book out there that could help confused Kanye West aka Ye learn the truth about the Hollywood elite and their secret purpose.
And don't miss the amazing Confessions of an Illuminati Volume 7: From the Occult Roots of the Great Reset to the Populist Roots
SUPPORT LEO'S WORK BY BUYING HIS LATEST BOOKS!!!
Leo Zagami is the author of the groundbreaking book Confessions of an Illuminati Vol. 6.66 The Age of Cyber Satan, Artificial Intelligence, and Robotics
GET also Confessions of an Illuminati Volume 5: The Decline of the West and the Rise of Satanism in our Society with a brand-new chapter on the CCP virus and The End Times
And don't forget also Confessions of an Illuminati Vol. 4, American Renaissance 2.0 and The Missing Link From the Invisible World