Donation in support of Leo's work through Fundly: https://fundly.com/leo-lyon-zagami-channel  or cashapp/$leozagami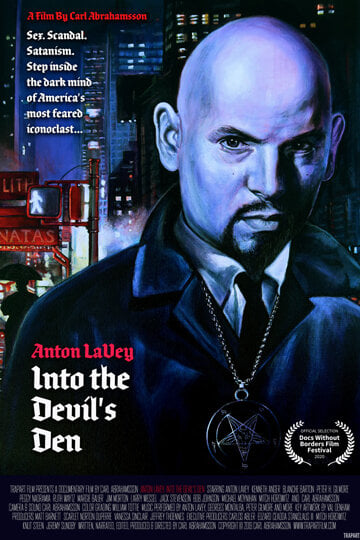 Article by Leo Zagami
24 hours after the horrific Brooklyn subway shooting, a film entitled "ANTON LAVEY – INTO THE DEVIL'S DEN" premieres at the Film Noir Cinema at 122 Meserole Avenue in Brooklyn.
Satan's helper, Anton LaVey (1930-1997) who founded the Church of Satan in 1966, is described as a man who was many things to many people: musician, magician, writer, wild animal trainer, police photographer, film buff, founder of a magical group, and possibly of a new religion, and yes… He was a Satanist.
The film contains never-before shown interview material with LaVey, private photographs, and rare recordings, plus in-depth interviews with Blanche Barton, Peter Gilmore, Peggy Nadramia, Bob Johnson, Kenneth Anger, Michael Moynihan, Mitch Horowitz, Ruth Waytz, Larry Wessel, Margie Bauer, Jack Stevenson, and Jim Morton.[1]
The film director of this dark satanic propaganda movie is Carl Abrahamsson, one of the European leaders of the Ordo Templi Orientis and a friend of the late Anton LaVey who I have written about extensively in my Confessions.
---
[1] https://www.filmnoircinema.com/program/2020/3/20/anton-lavey-into-the-devils-den-with-qampa?fbclid=IwAR09fCBwXod2fGUFdYLn0__w-wWsxAxQ_4BrjnMWlAu2Jh28R2KeOA1m2u8
GET A COPY OF LEO ZAGAMI'S LATEST BOOK Confessions of an Illuminati Volume 7: From the Occult Roots of the Great Reset to the Populist Roots of The Great Reject OUT NOW!
PLEASE SUPPORT LEO'S WORK BY BUYING HIS LATEST BOOKS!!!
Leo Zagami is a regular contributor to Infowars and the author of the groundbreaking book  Confessions of an Illuminati Vol. 6.66 The Age of Cyber Satan, Artificial Intelligence, and Robotics
Confessions of an Illuminati Volume 5: The Decline of the West and the Rise of Satanism in our Society with a brand new chapter on the CCP virus and The End Times.
And get also Confessions of an Illuminati Vol. 4, American Renaissance 2.0 and The Missing Link From the Invisible World.