Please help keep this website going by making a small donation in support of Leo's work through Fundly: https://fundly.com/leo-lyon-zagami-channel or Paypal:https://www.paypal.com/paypalme/leozagamishow
Article by Leo Zagami
The so-called bombshell Pentagon report on UFO sightings will soon be made public, but apparently, it does not confirm or rule out UFOs and the unexplained events surrounding them. It basically says nothing new, as usual. However, the report in question will include a classified annex that will be held from the public, fueling once again theories that the government is continuing to hide information regarding the existence of alien life.
It was the New York Times that reported the details above on the impeding Pentagon report, where a number of American intelligence officials say they can't explain the mysterious UFO sighting documented in recent years, not ruling out completely the possibility of alien spacecraft but not confirming it either, at least in the public version not including the classified annex.
John Brennan, the former director of the C.I.A., said in a podcast last year that some of the unexplained sightings might be "some type of phenomenon that is the result of something that we don't yet understand and that could involve some type of activity that some might say constitutes a different form of life." And even former President Barack Obama, in an appearance last month on "The Late Late Show With James Corden," admitted there were "objects in the skies that we don't know exactly what they are "in contrast with President Biden who instead deflected a question about U.F.O.s a few days later.
But the classified annex, which of course is said to not contain any relevant information on the existence of "alien life," will be held from the public, prompting many officials to acknowledge that this half-ass disclosure will create once again theories of a secret government cover-up for years to come.
So even if the public and a lot of military involved in these sitings are currently asking questions about the real nature of U.F.O.s, and more officials appear willing to answer them, the answers they might give us in the end, will always tend to be of no relevance, or even worse, distractions from the truth.
So the truth will still be "out there" that's for sure and "We the people" will not know it after all.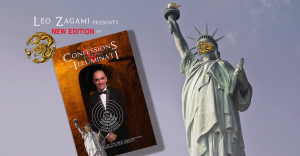 Get Leo's New Edition of Confessions of an Illuminati Volume 5: The Decline of the West and the Rise of Satanism in our Society with a brand new chapter on the CCP virus and The End Times.
You can find it now on Amazon in both paperback:
And Kindle format:
And get also Leo's latest book: Confessions of an Illuminati Vol. 4, American Renaissance 2.0 and The Missing Link From the Invisible World.
You can find it now on Amazon in both paperback:
And Kindle format:
PLEASE SUPPORT LEO'S WORK BY BUYING HIS LATEST BOOKS!!!
Leo Zagami is a regular contributor to Infowars and the author of the groundbreakingbook Confessions of an Illuminati Vol. 6.66 The Age of Cyber Satan, Artificial Intelligence, and Robotics
OUT NOW ON KINDLE:
And on paperback :