Please help keep this website going by making a small donation in support of Leo's work through Fundly: https://fundly.com/leo-lyon-zagami-channel  or Paypal:https://www.paypal.com/paypalme/leozagamishow
Article by Leo Zagami
Last year I wrote a couple of articles regarding the support given by Pope Francis and the Church to the Marxist group, Black Lives Matter.
I wrote about the book "Let Us Dream: The Path to A Better Future," ghostwritten by biographer Austen Ivereigh, in which the infamous Jesuit Pope champions anti-racism protesters Black Lives Matter while demonizing anti-lockdown and pro-Trump demonstrators.
In another article, I also described how the Pontifical Academy of the Roman Catholic Church dedicated to promoting the so-called consistent life ethic of the Church even created a photomontage using "The Piety" created by Michelangelo Buonarroti, housed in St. Peter's Basilica, in support of the Black Lives Matter movement.
However, the big truth behind the hypocrisy of this Marxist movement was revealed, after Patrisse Khan-Cullors, the leader of Black Lives Matter and a self-described Marxist, was forced to step down from her executive director role last week for allegedly going on a "real estate buying binge," a Black Lives Matter chapter founder in Minnesota has now resigned, claiming that the organization isn't concerned about helping black communities or helping improve the education quality in Minneapolis, according to a video published last week.
Rashard Turner, the founder of a Black Lives Matter chapter in neighboring St. Paul, said he started the branch in 2015 but became disillusioned roughly a year after becoming "an insider" within the left-wing organization, according to a video released by TakeCharge—a group that rejects various provisions promoted by Black Lives Matter, including the insane critical race theory-linked claims that the United States is inherently racist.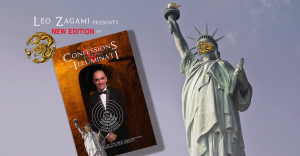 Get Leo's New Edition of Confessions of an Illuminati Volume 5: The Decline of the West and the Rise of Satanism in our Society with a brand new chapter on the CCP virus and The End Times.
You can find it now on Amazon in both paperback:
And Kindle format:
And get also Leo's latest book: Confessions of an Illuminati Vol. 4, American Renaissance 2.0 and The Missing Link From the Invisible World.
You can find it now on Amazon in both paperback:
And Kindle format:
PLEASE SUPPORT LEO'S WORK BY BUYING HIS LATEST BOOKS!!!
Leo Zagami is a regular contributor to Infowars and the author of the groundbreakingbook Confessions of an Illuminati Vol. 6.66 The Age of Cyber Satan, Artificial Intelligence, and Robotics
OUT NOW ON KINDLE:
And on paperback :