Please help keep this website going by making a small donation in support of Leo's work through Fundly: https://fundly.com/leo-lyon-zagami-channel or Patreon: https://www.patreon.com/leozagami
Article by Leo Zagami
Jeffrey Epstein maintained a "little black book" with the names and contact information of prominent people including New York Governor Andrew Cuomo, he had his personal phone number, and his Virginia address.
While two more women accuse Gov. Andrew Cuomo of inappropriate behavior and pressure, many forget the "strange" connection with the late Jeffrey Epstein, a convicted sex offender who was later charged with sex trafficking before dying under mysterious circumstances in his prison cell in the summer of 2019.
We all know that Epstein was a New Yorker. He was raised in Coney Island, taught math (without a proper degree or qualification) at the elite Dalton School on the Upper East Side and worked his way up professionally on Wall Street. Despite running his hedge fund out of the Virgin Islands, he maintained a residence in Manhattan since 1989 and knew the New York Governor very well.
Epstein's "little black book" was originally leaked in 2011, and included powerful celebrity names of the Illuminati establishment like Alec Baldwin, Ralph Fiennes, Dustin Hoffman, and Elizabeth Hurley. Even Mick Jagger and Rupert Murdoch are in it, as well as politicians Tony Blair, Michael Bloomberg, the late Ted Kennedy and, of course, Andrew Cuomo, who has now been exposed as an alleged sex predator himself. Multiple members of the Kennedy family are also included in the notorous little black book, including Cuomo.
For those who don't know, Cuomo is a Jesuit student from Fordham University a private Jesuit research university in New York City, who was once married to a member of America's most famous political dynasty Kerry Kennedy, the daughter of Robert F. Kennedy and Ethel Kennedy.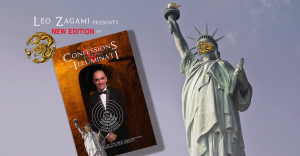 Get Leo's New Edition of Confessions of an Illuminati Volume 5: The Decline of the West and the Rise of Satanism in our Society with a brand new chapter on the CCP virus and The End Times.
You can find it now on Amazon in both paperback:
And Kindle format:
And get also Leo's latest book: Confessions of an Illuminati Vol. 4, American Renaissance 2.0 and The Missing Link From the Invisible World.
You can find it now on Amazon in both paperback:
And Kindle format:
PLEASE SUPPORT LEO'S WORK BY BUYING HIS LATEST BOOKS!!!
Leo Zagami is a regular contributor to Infowars and the author of the groundbreakingbook Confessions of an Illuminati Vol. 6.66 The Age of Cyber Satan, Artificial Intelligence, and Robotics
OUT NOW ON KINDLE:
And on paperback :