Please help keep this website going by making a small donation in support of Leo's work through Fundly: https://fundly.com/leo-lyon-zagami-channel  or Patreon: https://www.patreon.com/leozagami
Article by Leo Zagami 
Controversy has erupted again in the Catholic Church because of a  book on the priesthood that was supposed to bear the signatures of none other than Pope Emeritus, Joseph Ratzinger and traditionalist Cardinal Robert Sarah, Prefect of the Congregation for Divine Worship. The release of the book that is supposed to come out on January 15th, might be delayed after the former Pope Benedict suddenly asked for his name to be removed as co-author.
This unprecedented change of plans was communicated earlier today by his personal secretary after anonymous inside sources told leozagami.com that Pope Ratzinger had his life threatened by the Jesuits if he didn't remove his name from the project as soon as possible. The pre-publication material provided by Le Figaro showed that with his contribution, the authors were entering into a dangerous controversy with Pope Francis on the topic of celibacy and the possibility of ordaining married men as priests, a controversy that could have inevitably brought the Church to a schism.
Pope Ratzinger and Cardinal Sarah, who described themselves within the project as two Bishops "in filial obedience to Pope Francis" who "are seeking the truth" in "a spirit of love for the unity of the Church" defended the discipline of celibacy in the new book and put forth the reasons that they feel counsel against changing it. But the Jesuits and Pope Francis have convinced Pope Benedict XVI to desist for his own good as the Church of Pope Francis has other plans.
In the meantime, Cardinal Robert Sarah, who was sought as the possible next pope, is having extreme difficulty as many want his head on a platter and out of the future papal conclave.Open a liberal Catholic periodical in the last few years and you are likely to find a call for the dismissal of the Guinean cardinal who is now being put in great difficulty by Pope Ratzinger, who was forced to back track for fear of being killed.
The Jesuits have highjacked the Catholic Church to shape the future religion of the Antichrist and you can learn more about it in my latest book: Confessions of an Illuminati Vol. 4, American Renaissance 2.0 and The Missing Link From the Invisible World.
You can find it now on Amazon in both paperback:
https://www.amazon.com/dp/1679105434/ref=cm_sw_r_fa_awdo_t1_kGIaEbKMF61NP?fbclid=IwAR2ayxAv16FsFMVBDow7CPhdIctj9_X2bEiQjPHbbjyMFfbJtwb88NZW64M
And Kindle format:
https://www.amazon.com/Confessions-Illuminati-Four-Renaissance-Invisible-ebook/dp/B082ZTFTHV?fbclid=IwAR1HcyOk5b0ZAmMSAyyYMCfPGdjbv9obkFD2fozyrvwJ3s6ahWhqL7iECbc
PLEASE SUPPORT LEO'S WORK BY BUYING HIS LATEST BOOKS!!!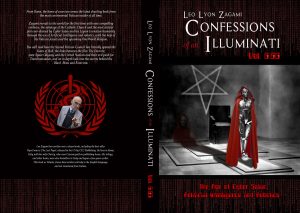 Leo Zagami is a regular contributor to Infowars and the author of the groundbreaking book  Confessions of an Illuminati Vol. 6.66 The Age of Cyber Satan, Artificial Intelligence, and Robotics
OUT NOW ON KINDLE:
https://www.amazon.com/Confessions-Illuminati-6-66-Artificial-Intelligence-ebook/dp/B07NS8WS9V/ref=sr_1_2?s=books&ie=UTF8&qid=1550411820&sr=1-2&keywords=vol.+6.66
And on paperback :
https://www.amazon.com/dp/1796904694/ref=cm_sw_r_fa_awdo_t1_2dvACb2HVH6TP?fbclid=IwAR1h_VlIytuACI3zxXUc9mBfOk96N4Yk0WH3To6Psv2kbFxJLwfzAwV4mUE

Leo Zagami is also the author of  Confessions of an Illuminati Volume 5: The Decline of the West and the Rise of Satanism in our Society 
OUT NOW ON KINDLE: https://www.amazon.com/dp/B07BQVQ9ZM/ref=tsm_1_fb_lk
And on paperback : https://www.amazon.com/dp/1986894657/ref=sr_1_8?ie=UTF8&qid=1522233257&sr=8-8&keywords=leo+zagami