Please help keep this website going by making a small donation in support of Leo's work through Fundly: https://fundly.com/leo-lyon-zagami-channel  or Patreon: https://www.patreon.com/leozagami
Article by Leo Zagami
The Italian police have arrested 334 people in one of the largest anti-mob operations ever seen in Italy, highlighting the growing reach of the'Ndrangheta Mafia from Calabria and deviant parts of Freemasonry, prosecutors said on Thursday. The 'Ndrangheta, based in the southern region of Calabria, the toe of Italy's boot, has surpassed Sicily's more famous Cosa Nostra to become the most feared and powerful Mafia group in the country – and one of the largest criminal gangs in the world. Fortunately, this morning, the Italian police and Interpol have seized hundreds of suspects in early morning swoops conducted not only around Italy, but also in Germany, Switzerland, and Bulgaria. Italy's infamous 'Ndrangheta Mafia was, and still is, working with a large network of irregular Freemasons that I have denounced in the past for their criminal activities against Regular Masonry and their links to both the Italian Democratic Party and Forza Italia.
This is hopefully only the beginning of this clean-up operation by magistrate Nicola Gratteri, who has always been stubborn and a man of few words. Gratteri is visibly tired after the announcement, but still walks with a straight back and his head held high despite enduring the enforced captivity of 24-hour police protection due to his dangerous job.  Nicola Gratteri is a true statesman in a dangerous Italian region ruled by sinister powers and corruption that involve deviant parts of Freemasonry and the Vatican. Gratteri is a bastion of justice and civic responsibility and an example to Calabria and all of Italy that up until now, he was unable to reach because of the corruption of the Italian political and judiciary institutions.
These are the very same criminals that forced me to leave Italy when I was sued and threatened by the irregular Calabrese Freemasons of Grand Master Nicola Tucci of the Grande Oriente Italiano di Piazza del Gesù, who is connected to one of the people arrested by the Italian police, the politician and Freemason Giancarlo Pittelli, who is both a member of the "Regular" Grand Orient of Italy of Palazzo Giustiniani and an irregular lodge of Nicola Tucci. This was confirmed by former high-level Freemason and 'Ndrangheta member Cosimo Virgilio, who said that Pitelli said that "Freemasonry opens your way to the highways of the world." I think that after this latest scandal most U.S. Lodges should rediscuss the recognition of the Grand Orient of Italy.
Remember, the Grand Orient of Italy was once a significant player within International Freemasonry, and in 1972, it was recognized as regular by the UGLE. However, this recognition was withdrawn in 1993, due to accusations of corruption and Mafia involvement.
PLEASE SUPPORT LEO'S WORK BY BUYING HIS LATEST BOOKS!!!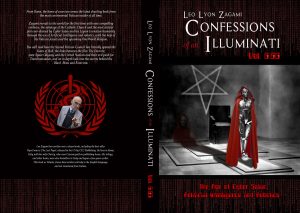 Leo Zagami is a regular contributor to Infowars and the author of the new groundbreaking book  Confessions of an Illuminati Vol. 6.66 The Age of Cyber Satan, Artificial Intelligence, and Robotics
OUT NOW ON KINDLE:
https://www.amazon.com/Confessions-Illuminati-6-66-Artificial-Intelligence-ebook/dp/B07NS8WS9V/ref=sr_1_2?s=books&ie=UTF8&qid=1550411820&sr=1-2&keywords=vol.+6.66
And on paperback :
https://www.amazon.com/dp/1796904694/ref=cm_sw_r_fa_awdo_t1_2dvACb2HVH6TP?fbclid=IwAR1h_VlIytuACI3zxXUc9mBfOk96N4Yk0WH3To6Psv2kbFxJLwfzAwV4mUE

Leo Zagami is also the author of  Confessions of an Illuminati Volume 5: The Decline of the West and the Rise of Satanism in our Society 
OUT NOW ON KINDLE: https://www.amazon.com/dp/B07BQVQ9ZM/ref=tsm_1_fb_lk
And on paperback : https://www.amazon.com/dp/1986894657/ref=sr_1_8?ie=UTF8&qid=1522233257&sr=8-8&keywords=leo+zagami