Please help keep this website going by making a small donation in support of Leo's work through Fundly: https://fundly.com/leo-lyon-zagami-channel  or Patreon: https://www.patreon.com/leozagami
Article by Leo Zagami
Mette-Marit, Crown Princess of Norway, is the wife of Crown Prince Haakon, heir-apparent to the throne of Norway. She was the girlfriend of a popular Norwegian DJ, someone I had met more than once when I lived in Norway. She was known for being into partying and drugs, and before she got married a sex tape of her allegedly having sex with a group of black men became the talk of the town.
She is now in the spotlight for being associated with none other than Jeffrey Epstein. Crown Princess Mette-Marit regrets her association and recently made an official statement to Dagens Næringsliv, the leading Norwegian business daily newspaper in which she said:
"I never would have associated with Mr. Epstein if I had been aware of the seriousness of the crimes he committed. I should have investigated his past more thoroughly, and I am sorry that I didn't."
 Daggers Næringsliv investigated the Norwegian connections with sex offender Jeffrey Epstein, and discovered that Mette-Marit with Epstein several times between 2011 and 2013 for reasons yet to be known, after being introduced through mutual acquaintances.
The Royal Palace confirms that the Crown Princess and Mr. Epstein met socially, mostly in the United States where she also visited one of Epstein's mansions. A meeting also took place in the Norwegian capital, Oslo. Mrs. Guri Varpe, head of communications at the Royal Palace went on the defense of saying:
"One of the meetings took place at Mr. Epstein's home. The Crown Princess also had a brief meeting with Mr. Epstein while he was in Oslo. There were other people present in all the meetings. When the Crown Princess and the Crown Prince were on vacation in St. Barts in 2012, they ran into Mr. Epstein on the street. Crown Prince Haakon then met Epstein for the first and only time."
In the meantime,  Prince Andrew will face a new crisis as BBC's Panorama is airing a new special today, December 2, featuring another controversial interview with Jeffrey Epstein's "sex slave" Virginia Roberts, but, of course, most of Great Britain is now discussing the attack that took place on London Bridge in the heart of Britain's capital on Friday. The attack committed by a convicted terrorist seems like a complete sham with two of the men who helped disarm and detain the Usman Khan being convicted felons themselves. James Ford was convicted of murdering 21-year-old Amanda Champion in 2004, and ex-offender Marc Conway now works as a policy officer at the Prison Reform Trust.
They needed to deflect unwanted attention from the Prince and they did it by staging what turned out to be another dramatic attack on London Bridge that began at the Worshipful Company of Fishmongers. Who were holding an event for prisoners allegedly in search of rehabilitation like Usman Khan. Panorama's investigation into sex allegations surrounding Prince Andrew has been described by one royal writer as "about as bad as it gets for Andrew".
Penny Junor said the duke's accuser, Virgina Giuffre – seen in excerpts released ahead of the broadcast – comes across as a more sympathetic character compared with his own Newsnight interview.
PLEASE SUPPORT LEO'S WORK BY BUYING HIS LATEST BOOKS!!!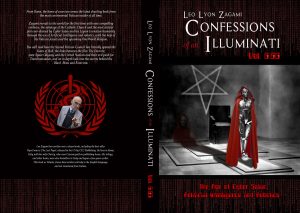 Leo Zagami is a regular contributor to Infowars and the author of the new groundbreaking book  Confessions of an Illuminati Vol. 6.66 The Age of Cyber Satan, Artificial Intelligence, and Robotics
OUT NOW ON KINDLE:
https://www.amazon.com/Confessions-Illuminati-6-66-Artificial-Intelligence-ebook/dp/B07NS8WS9V/ref=sr_1_2?s=books&ie=UTF8&qid=1550411820&sr=1-2&keywords=vol.+6.66
And on paperback :
https://www.amazon.com/dp/1796904694/ref=cm_sw_r_fa_awdo_t1_2dvACb2HVH6TP?fbclid=IwAR1h_VlIytuACI3zxXUc9mBfOk96N4Yk0WH3To6Psv2kbFxJLwfzAwV4mUE

Leo Zagami is also the author of  Confessions of an Illuminati Volume 5: The Decline of the West and the Rise of Satanism in our Society 
OUT NOW ON KINDLE: https://www.amazon.com/dp/B07BQVQ9ZM/ref=tsm_1_fb_lk
And on paperback : https://www.amazon.com/dp/1986894657/ref=sr_1_8?ie=UTF8&qid=1522233257&sr=8-8&keywords=leo+zagami