Please help keep this website going by making a small donation in support of Leo's work through Fundly: https://fundly.com/leo-lyon-zagami-channel  or Patreon: https://www.patreon.com/leozagami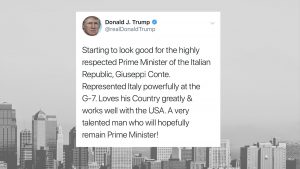 Article by Leo Zagami 
Trump needs a new foreign advisor because he is endorsing Giuseppe Conte, the Jesuit stooge who is now working with the Italian Democratic Party and the same people who have built the infamous Russian Collusion against Trump. Luigi Di Maio former Deputy Prime Minister immediately said after Trump's Tweet in favor of Conte that U.S. President Donald Trump's support for him showed that "the path is the right one." He also said it had been thanks to him that Conte, a professional lawyer and academic with no political experience, had become premier at the head of the 14-month populist M5S-League government.
Earlier today, the Italian Democratic Party said yes to a government with the Five Star Movement under outgoing premier Conte, the so-called "Conte government number 2" that would be a "new challenge" and usher in the left-wing policies of the EU technocrats.
The present leader of Italy's left-wing Democratic Party, Nicola Zingaretti, a Jesuit agent supported by Nancy Pelosi said after consultations with Italian left-wing President Sergio Mattarella, that the party agreed to the M5S naming lawyer Conte as next premier. Of course, Zingaretti said that his party thought Italy needed a government that would mark "a turning point and discontinuity" with the last populist government. He also said that the new government would not take up the baton from the previous 5-Star-League administration, and would start a "fresh challenge" meaning they will turn Italy in a left-wing shithole.
The new government states they would usher in a "new season, civil, social, and political" action which will mean the end of everything Matteo Salvini, the former Deputy Prime Minister, ever did. He even said the economic recipe would be "redistributive and green" just like Alexandria Ocasio-Cortez loves.
"We have the courage to try," said the mondialist scumbag. Now Conte is expected to be given a mandate in few hours by Italian President Sergio Mattarella and President Donald J. Trump will find himself allied with his worst enemies.
There is a strong suspiscion that Matteo Salvini, who began this political crisis earlier this month, may have been blackmailed. Italy is going down the tubes.
PLEASE SUPPORT LEO'S WORK BY BUYING HIS LATEST BOOKS!!!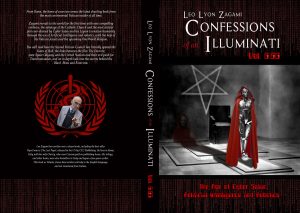 Leo Zagami is a regular contributor to Infowars and the author of the new groundbreaking book  Confessions of an Illuminati Vol. 6.66 The Age of Cyber Satan, Artificial Intelligence, and Robotics
OUT NOW ON KINDLE:
https://www.amazon.com/Confessions-Illuminati-6-66-Artificial-Intelligence-ebook/dp/B07NS8WS9V/ref=sr_1_2?s=books&ie=UTF8&qid=1550411820&sr=1-2&keywords=vol.+6.66
And on paperback :
https://www.amazon.com/dp/1796904694/ref=cm_sw_r_fa_awdo_t1_2dvACb2HVH6TP?fbclid=IwAR1h_VlIytuACI3zxXUc9mBfOk96N4Yk0WH3To6Psv2kbFxJLwfzAwV4mUE

Leo Zagami is also the author of  Confessions of an Illuminati Volume 5: The Decline of the West and the Rise of Satanism in our Society 
OUT NOW ON KINDLE: https://www.amazon.com/dp/B07BQVQ9ZM/ref=tsm_1_fb_lk
And on paperback : https://www.amazon.com/dp/1986894657/ref=sr_1_8?ie=UTF8&qid=1522233257&sr=8-8&keywords=leo+zagami