Pell with admitted pedophile and sexual torturer, Gerald Ridsdale, going into court a few years ago…
Article by Leo Zagami 
In the past, the accepted process for addressing Catholic clergy who  prey upon children for Rome's loyal agents in media, justice, and law enforcement , was that low-level priests could be outed, but the hierarchy would never be touched by scandal. Hence, Bishops, Cardinals, and Popes have always been treated as if they are pure and innocent throughout their entire careers, and only now people are finally starting to see through the veil of deceit. This meant the creation of  a world of falsity and lies for the Roman Catholic Faithful, while the Vatican has always done their best to protect and enable predator priests like Cardinal George Pell,  now in prison. Cardinal George Pell has been, in fact, taken to the Melbourne Assessment Prison yesterday, where he spent his first night behind bars after his bail was revoked in the County Court.
But let's talk today about Cardinal Pell's pedophile mentor, Gerald Ridsdale, an Australian laicized Catholic priest and serial pedophile, that was convicted between 1993 and 2017 of a huge number of child sexual abuse and indecent assault charges against 65 children aged as young as four years old, but the true number of his victims is said to be in the hundreds, by victims' advocacy group Broken Rites spokesman, Dr Wayne Chamley.
The offenses occurred from the 1960s to the 1980s while Ridsdale worked as a school chaplain at St Alipius Primary School, a boys' boarding school in the Victorian regional city of Ballarat, apparently very important for the pedophile network. The Royal Commission into Institutional Responses to Child Sexual Abuse found that senior figures in the church knew about Ridsdale's abusing children but protected him over and over because of his connection to Pell. Ridsdale was ordained at St Patrick's Cathedral in Ballarat in 1961. The first complaint about his behavior towards children was received by the church that same year, but they ignored it just as they ignore similar complaints regarding George Pell a couple of years later.
Ridsdale held 16 different appointments over a period of 29 years as the priest moved from one Church to another to avoid public scrutiny of his perversions. Father Ridsdale was eventually arrested in February 1993. In May 1993, Ridsdale was charged on summons in the Melbourne Magistrates Court with 30 counts of indecent assault against 9 boys aged  12 and 16 between 1974 and 1980.  The same Cardinal George Pell, testified before the 1993 hearing, that while an assistant priest at St Alipius' Church with Ridsdale in the 1970s, they shared a house together but denied knowing about Ridsdale's ways, when in reality, Ridsdale was his pedophile mentor. Gerald Ridsdale and George Pell, as well as their families, have always been close since their upbringing in the "very Catholic" city of Ballarat, Victoria, the epicenter of the pedophile ring where the Catholic clergy and the British and Australian elite preyed on children. Ridsdale began priestly duties in 1961 while Pell continued to study abroad, returning to join him a decade later when they shared a Ballarat house for a year in 1973. Some of Australia's most notorious abusers, including Gerald Ridsdale, Robert Best, and Edward Dowlan, were part of this pedophile ring operating in and around Ballarat during the 60s and 70s.
Over the decades Ridsdale's modus operandi appeared to follow a pattern; he was a friendly and hardworking priest who helped his parishioners, particularly youths and the needy. But it was all a ruse that was allowed to continue for decades and, as one judge put it, plummeted to the depths of evil hypocrisy. In 1981, consultors met with his friend and superior George Pell to send Ridsdale to Mortlake, where he openly abused more boys. However, despite his connections to Gerald Ridsdale, Pell continued his rise in the Catholic hierarchy, untouched.  In 2003, Pope Saint John Paul II gave him his Cardinalcy and in 2014, Jesuit Pope Francis made him Cardinal- Prefect of the Secretariat for the Economy; the third most powerful post in the Vatican, in charge of all Rome's finances.
When "secular" Harvard wished to train its students in "leadership", they were sent to learn from George Pell. The event was held at the Pontifical Lateran University and hosted students from various backgrounds at Harvard, including business, law, divinity, medical, and dental schools. What Pell told the students and media showed his falsity. In his comments to CNA [Catholic News Agency], Cardinal Pell outlined at the time the key principles that ought to guide business and economic decisions, saying that no matter what, "you must be aware of the common good." Think of the whole of society…" he said. "Have some real understanding of what justice is. Have a special sensitivity for those who are less fortunate, those who are poor." Well, I am pretty sure we don't need this kind of depraved sensitivity!
George Pell is a complete monster who once praised even Australia's most notorious pedophile priest, Father Kevin O'Donnell, and he deserves to stay in prison until the end of his days. Pell will finally be sentenced on March 13, 2019, and the parting words, "Goodbye you creep," were shouted by a woman as Pell walked from the dock into custody accompanied by corrections officers.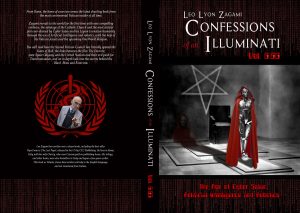 Leo Zagami is a regular contributor to Infowars and the author of the new groundbreaking book  Confessions of an Illuminati Vol. 6.66 The Age of Cyber Satan, Artificial Intelligence, and Robotics
OUT NOW ON KINDLE:
https://www.amazon.com/Confessions-Illuminati-6-66-Artificial-Intelligence-ebook/dp/B07NS8WS9V/ref=sr_1_2?s=books&ie=UTF8&qid=1550411820&sr=1-2&keywords=vol.+6.66
And on paperback :
https://www.amazon.com/dp/1796904694/ref=cm_sw_r_fa_awdo_t1_2dvACb2HVH6TP?fbclid=IwAR1h_VlIytuACI3zxXUc9mBfOk96N4Yk0WH3To6Psv2kbFxJLwfzAwV4mUE

Leo Zagami is also the author of  Confessions of an Illuminati Volume 5: The Decline of the West and the Rise of Satanism in our Society 
OUT NOW ON KINDLE: https://www.amazon.com/dp/B07BQVQ9ZM/ref=tsm_1_fb_lk
And on paperback : https://www.amazon.com/dp/1986894657/ref=sr_1_8?ie=UTF8&qid=1522233257&sr=8-8&keywords=leo+zagami