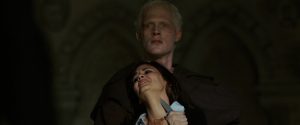 Paul Bettany as Silas in "The Da Vinci Code," directed by Ron Howard and based on Dan Brown's best-selling novel. Credit /Columbia Pictures
Article by Leo Zagami 
The influential Catholic group Opus Dei, featured in the "Da Vinci Code" announced on Monday they paid almost one million dollars to silence a woman who said she was molested by VIP priest John McCloskey, the organization said Tuesday.  McCloskey gained fame by converting leading US conservatives including former Senator Rick Santorum, Trump economic advisor Larry Kudlow, and former House Speaker Newt Gingrich, husband of US Ambassador to the Vatican Calista Gingrich.
Opus Dei is often described in the media as "cult-like." The true personal freedom of numerary members, who make up 25-30% of all members, are hindered by methods that resemble those used by cults. This sex scandal is probably only the tip of the iceberg for the secretive and elitist cult founded in 1928 by a Spanish priest, Josemaria Escriva—now a saint—whose spiritual framework for Opus Dei is the idea that holiness could be found not in a monastery or in church but in ordinary life.
In a statement released by Msgr. Thomas Bohlin, Vicar of Opus Dei in the United States, the prelature expressed his sorrow and called any case of harassment or abuse "abhorrent."
"What happened was deeply painful for the woman, and we are very sorry for all she suffered,"Bohlin wrote. "I am very sorry for any suffering caused to any woman by Father McCloskey's actions and pray that God may bring healing to her. "
The anonymous accuser, who made her complaint in 2003, was paid $977,000 in 2005, Opus Dei said in its first ever admission of a sexual misconduct case.The woman who filed the complaint, is a D.C.-area Catholic who was among the many who received supposed spiritual direction from pervert McCloskey through the Catholic Information Center, a K Street hub of Catholic life in downtown Washington near the White House.
She told The Washington Post that McCloskey groped her several times while she was going to pastoral counseling with him to discuss marital troubles and serious depression.  She said that Father McCloskey "put his hands on me on several occasions during pastoral guidance sessions."
 However, Bohlin attempts to protect the Opus Dei, saying they had acted swiftly when the complaint was first made, telling McCloskey to have no further contact with the woman and to offer spiritual direction to women only through a screen in a traditional confessional – something Bohlin noted was already a rule for Opus Dei priests.
The Vicar of the Opus Dei  in the US added in the statement."After investigating the complaint in subsequent months, we found the complaint to be credible, and in December 2003, Father McCloskey was removed from his position at the CIC. "

Leo Zagami is a regular contributor to Infowars and the author of the groundbreaking book Confessions of an Illuminati Volume 5: The Decline of the West and the Rise of Satanism in our Society 
OUT NOW ON KINDLE: https://www.amazon.com/dp/B07BQVQ9ZM/ref=tsm_1_fb_lk
And on paperback : https://www.amazon.com/dp/1986894657/ref=sr_1_8?ie=UTF8&qid=1522233257&sr=8-8&keywords=leo+zagami
International Conference & Book presentation
by Leo Lyon Zagami plus special guests
Sunday 10th February 2019,
From 3pm to 8pm
at St Peter's Church in Clapham, London SW4 6BX
A conference to discuss for a select audience in the wonderful setting of St Peter's Church in Clapham, London the new book Invisible Masterby Anglo-Italian author Leo Lyon Zagami and his special guest speakers.
In his new groundbreaking book, Zagami finally reveals long hidden information behind the Alien/UFO phenomenon with extreme clarity, discussing in the process the prophets, initiates and magicians who have guided us throughout the millenia. He unveils the truth about where we come from, and the reasons behind the political and religious choices we have made during our long march through civilization.
Who are the Unknown Superiors … the Secret Chiefs … the Invisible Masters who have guided Freemasonry and other secret societies?
Zagami helps us gain access to these secrets, and presents an opportunity to understand the hidden alien reality that surrounds us, and its true implications for humanity. In the months and years to come, information unveiled in this revolutionary work will become increasingly evident. We are proud to present this book in the UK with an entire conference fueled by the most brilliant and unconventional minds around.
The shocking revelations in Invisible Master unveil links between beings with supernatural powers and secret traditions practiced for thousands of years within the Mystery Schools, that will be analyzed and afterward there will be a special Q&A with the audience. We are ready to lift the veil on the unknown for a better future for humanity, come join us to learn the secrets of the Invisible Master  The Puppeteers Hidden Power.
BIO'S OF THE SPEAKERS 
International Conference
for the presentation of Invisible Master. 
The Puppeteers Hidden Power at St Peter's Church, Prescott Place, Clapham, London SW4 Tel: 020 7622 6285
Simon Hinton
Simon Hinton is a writer, entrepreneur, esoteric researcher and internationally renowned healer based in Central London. He is the outer head of a magical Order The Temple of Flow dedicated to creating global peace. Simon received an unusual awakening after visiting the Great Pyramid in Egypt in 1987.  Since this time he has experienced thousands of extra ordinary psychic experience and alien contact… some he claims good and others not so good. In this talk related to Zagami's latest book Simon will attempt to interpret these experiences from an initiated perspective and explain why the return of Angelic beings such as the reincarnated Cathars, long subjugated by the 'Curse of Rome', gives humanity great hope as we herald in the Golden Age prophesied by the Hopi Indians.
Jason Liosatos
Jason Liosatos is the author of The Emergency Transformation of Human Beings, and host of his show 'Outside the Box', he is also an artist, and passionate speaker reminding us that we stand at an evolutionary crossroads, a new epoch, where we are all midwives, artists, sculptors, and gifted shamans,  who must now remember, and use, the tremendous power we all possess to birth and manifest a whole new reality of sanity, love, happiness,  beauty, and joy into being, a reality which is barely imaginable to us in our current state of manipulation, suppression and slavery. We are great magicians who can manipulate matter, events, and outcomes via directed thought and consciousness to manifest a new reality into being. We are the authors and artists of a whole new way of living and being on our planet. We are being urgently called to realize that it is ourselves, each one of us, who have the miraculous power which will restore sanity and light to our dislocated planet and lives, and the lives of those not yet born who are relying on us to ensure their freedom and happiness. It is now our obligation, to use our power and gifts to disarm the darker forces who are manifesting suppression, slavery, and holding humanity hostage.
And last but not least Moderator  Paul Obertelli
Paul Obertelli is a musician and podcaster from London UK. He spent most of his earlier years writing and producing music, releasing records in the USA, UK, and Poland, most notably with the late 90s rock band "Flight 16". In 2016, he turned his sites on acting while playing "The Duke" in Paul Wilson and Tim Ferguson's Shakespeare Tonight at the Camden and Edinburgh Fringe. Paul has also studied Occultism and Paganism, practicing as a Wiccan Priest, a Gnostic, and today is a practitioner of Asatru, one of the ancient native faiths of the European peoples. Since 2014, he has mostly set his sights on political activism and commentary and is the founder and main host of the "THA Talks" podcast, an alternative talk show project that covers subjects on the occult, conspiracy, alternative news and political activism. The show prides itself on the principles of freedom of speech, and has recently started to publish articles addressing news and social issues within the west and around the globe.
________________________________________________________
 How to find us
 St Peter's Clapham is on Prescott Place (with another entrance on Clapham Manor Street), Clapham, London SW4 6BX.
Prescott Place is just off Clapham High Street, immediately behind the Two Brewers public house.  The Methodist Church and Sainsbury's are located on the opposite side of the high street.
Transport links
We are a short walk from each of Clapham North and Clapham Common underground stations (Northern Line).
The nearest railway station is Clapham High Street (London Overground).
Bus numbers 35, 37, 50, 88, 137, 155, 249 and 345 run past Clapham Common underground station.
http://www.tfl.gov.uk/assets/downloads/south-west-london-bus-map.pdf
         Exclusive event and limited capacity of the venue
Book your seat well in advance at the email provided below.
We have limited seating capacity for 80 lucky people at the cost of 20 British Pounds.
TO RESERVE YOUR PLACE:  OrdoIlluminatorumUniversalis@gmail.com
Purchase your copy of Invisible Master at:
 https://www.amazon.com/Invisible-Master-Superiors-masters-strings/dp/1888729708
JOIN THE FB EVENT:  https://www.facebook.com/events/183044569200505/
Learn more about this book in this exclusive interview with Jimmy Church from the History Channel: https://www.youtube.com/watch?v=9W0STpKFt7c&t=193s