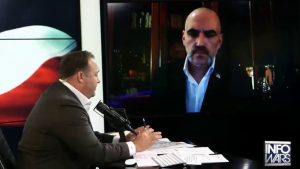 Facebook ha rimosso le pagine di InfoWars, Apple diversi podcast su iTunes. Era chiaro che la fandonia delle 'fake news' è nata per censurare le voci dei dissidenti che hanno portato Trump alla Casa Bianca (e Salvini al governo ).
E' in atto, da parte di un manipolo di miliardari parassiti che si è eletto custode della nuova 'morale' perbenista – quella del politicamente corretto – una guerra alla libertà di informazione.
Lo ripetiamo: le multinazionali sono una minaccia alla democrazia. Il fatto che poche corporations come Facebook Google Apple controllino praticamente tutta la diffusione di notizie su internet pone un gravissimo problema di censura.
Perché non c'è alcun controllo democratico. Sono degli amministratori delegati generalmente con idee di sinistra – omofili, xenofili e desiderosi di importare masse di schiavi lowcost – che decidono cosa può essere o non essere sulle loro piattaforme.
Questo può andare bene per un blog, non per piattaforme che, di fatto, monopolizzano internet.
Quindi vanno regolate. E gli va imposto di non censurare in base alle idee. Qualunque idee.
Apple and Facebook clamped down on content by Alex Jones Monday, with the former pulling five of his podcasts and the latter removing four pages controlled by him.

Apple confirmed on Monday that it had removed five out of six podcasts, which includes Jones "The Alex Jones Show" as well as a number of other InfoWars audio streams.
InfoWars è uno dei maggiori siti di notizie indipendenti americani di idee 'trumpiste'. Ed è oggetto di un attacco senza precedenti da parte delle multinazionali. Probabilmente un attacco che avrà delle conseguenze e farà decidere a Trump di intervenire.
L'elezione di Trump ha sconvolto gli equilibri e terrorizzato il deep state, per questo vogliono addomesticare la rete.
Vogliono fare terra bruciata intorno a Trump. E a Salvini in Italia. I populisti devono intervenire e regolare le multinazionali del web: devono imporre a queste corporazioni con utili superiori agli Stati, di rispettare le leggi. Non di farle.
Facebook, Google e Apple si trovano nella situazione di fatto di potere decidere cosa può essere o non essere sulla rete. Di fatto sono degli Stati. E' come se un parlamento emanasse una legge che proibisce ad un sito internet di esistere: solo che, almeno, il parlamento è eletto.
Interviene anche WikiLeaks: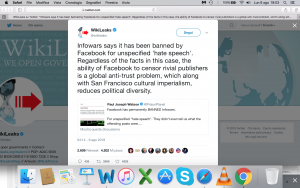 Facebook e Apple sono una minaccia alla nostra libertà. Vogliono imporre – alcuni ultramiliardari vogliono imporre – senza essere eletti, quello che può o non può essere detto.
In Cina è il partito comunista a censurare le idee, nel resto del mondo 'libero' sono Facebook-Google-Apple. Intollerabile.
E' tempo che i governi populisti respingano l'attacco alla libertà di internet.
FONTE: https://voxnews.info/2018/08/06/apple-e-facebook-censurano-infowars-attacco-alla-democrazia/
ATTENZIONE POTETE ANCORA ACQUISTARE I LIBRI DI LEO LYON ZAGAMI PRESSO:
http://www.harmakisedizioni.org/