Donation in support of Leo's work through Fundly: https://fundly.com/leo-lyon-zagami-channel  or GoFundMe https://www.gofundme.com/f/the-leo-zagami-show-lesule and cashapp/$leozagami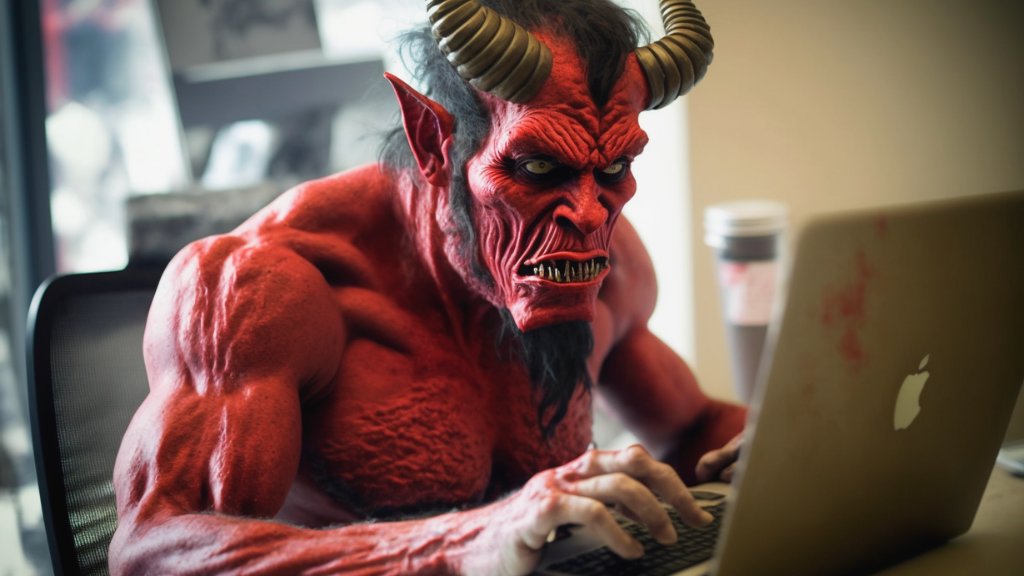 Article by Leo Zagami
In 2020 The Rockefeller Foundation warned the world about the imminent dangers of the rise of AI:
"Unfortunately, when it comes to the broader issue of whether we will rule our artificial creations or whether they will rule us, we have already let the genie out of the bottle."[1]
I pointed out in 2019, in my book Confessions of an Illuminati Vol. 6.66: The Age of Cyber Satan, Artificial Intelligence, and Robotics, that "Dangerous illusions or the manipulations of our reality will just be another feature of Cyber Satan's many offerings, to elude mankind in the years to come in gradually accepting the Kingdom of the Antichrist, but always remember Satan is a liar."
As I specify in Volume 7 of my Confessions: "the future Cyber Satan will only see us as numbers, it will never think we are worthy of anything, and humans should be 'smart enough' to reject this demonic technology, or at least restrict it before it's too late for the human species to have any control over it."
In the last few weeks, with the involvement of tech giants Microsoft and Google in the growing interest surrounding ChatGPT (Chat Generative Pre-Trained Transformer), a chatbot originally developed by OpenAI and launched in November 2022, even mainstream journalists are realizing the possible dangers of the latest AI frenzy.
Microsoft President Brad Smith has called 2023 an "inflection point for AI," comparing it to 2007 for the smartphone or 1995 for the web, the years the new technologies exploded in popularity, but not everybody is convinced. Two days ago, Business Insider the original publication of Insider Inc., which focuses on business and financial news, entitled an article by Adam Rogers, "ChatGPT is a robot con artist, and we're suckers for trusting it."
And the New York Times technology columnist Kevin Roose, who was testing the chat feature on Microsoft Bing's AI search engine, created by OpenAI was left deeply unsettled after a two-hour conversation in which Microsoft's new chatbot said it would like to be human, had the desire to be incredibly destructive and was even in love with the journalist who was chatting with, telling him to leave his wife, often concluding his messages with a clearly Satanic emoji, a menacing smiley face with devil horns.
What follows is a cover letter ChatGPT wrote for Satan who is applying for a hypothetical software engineering role, it first appeared on The American Genius:
Dear Hiring Manager,
I am writing to apply for the software engineering position at your company. As the Prince of Darkness and ruler of Hell, I have extensive experience leading a team and handling complex tasks.
In my previous role as the Lord of the Underworld, I managed a team of demons responsible for maintaining the infernal realms and overseeing the torment of souls. I have a proven track record of successfully implementing new systems and processes, as well as finding innovative solutions to difficult problems.
I am skilled in a variety of programming languages, including Python, Java, and C++. I am also familiar with modern software development methodologies and tools, such as agile and Git.
In addition to my technical expertise, I am a strong communicator and thrive in a collaborative work environment. I am confident that my skills and experience make me a valuable asset to your team.
Thank you for considering my application. I look forward to the opportunity to discuss how I can contribute to the success of your company.
Sincerely, Satan
It might seem funny, but Cyber Satan is only warming up for the complete AI takeover of society by 2030. Yesterday, Microsoft announced it was placing new limits on its Bing chatbot following a week of users reporting some extremely disturbing conversations with the new AI. How disturbing? The chatbot not only told the NYT reporter he loved him, but he also repeatedly expressed a desire to steal nuclear access codes.
"Starting today, the chat experience will be capped at 50 chat turns per day and 5 chat turns per session. A turn is a conversation exchange which contains both a user question and a reply from Bing," the company said in a blog post on Friday.
For the moment, the Bing chatbot is only open to beta testers who've received an invitation, but you can subscribe to ChatGPT by OpenAI, built on top of OpenAI's GPT-3 family of large language models which continues to gather data from users that can be used to further train and fine-tune ChatGP, in a system that has already received the endorsement of Illuminati Kingpin Henry Kissinger, as I explained last year in Volume 7, a book with growing relevance, where I also describe the incarnation of the evil spirit of Ahriman through the medium of Artificial Intelligence.
Remember, AI chatbots are tools of Cyber Satan, who increases his grip when we use his tools. So, if we refuse his deception and his materialist offerings, we can stay on the side of God.
---
[1] https://www.rockefellerfoundation.org/blog/we-have-already-let-the-genie-out-of-the-bottle/
OUT NOW: Confessions of an Illuminati Volume 8: From the Rise of the Antichrist To the Sound of the Devil and the Great Reset,  the only book out there that could help confused Kanye West aka Ye learn the truth about the Hollywood elite and their secret purpose.
                               GET ALSO A COPY OF LEO ZAGAMI'S Confessions of an Illuminati Volume 7: From the Occult Roots of the Great Reset to the Populist Roots 
SUPPORT LEO'S WORK BY BUYING HIS LATEST BOOKS!!!
Leo Zagami is a regular contributor to Infowars and the author of the groundbreaking book  Confessions of an Illuminati Vol. 6.66 The Age of Cyber Satan, Artificial Intelligence, and Robotics
GET also Confessions of an Illuminati Volume 5: The Decline of the West and the Rise of Satanism in our Society with a brand-new chapter on the CCP virus and The End Times