Please help keep this website going by making a small donation in support of Leo's work through Fundly: https://fundly.com/leo-lyon-zagami-channel or Paypal:https://www.paypal.com/paypalme/leozagamishow
Article by Leo Zagami
An acclaimed Catholic artist named Eugene de Leastar has painted a gigantic painting of Pope Francis taking a dump on St. Peter's Basilica, the place Catholic tradition believes to be the burial site of Saint Peter, chief among Jesus's apostles and also the first Bishop of Rome (Pope). The painting in question is entitled "The Great Coprophiliac; the pantaloons are a fabric attachment for reason …"
While the image might offend some Catholics who still believe in Pope Francis the "False Prophet" a Reddit user once described taking a shit as a truly spiritual experience, writing:
I taste the whole range of flavors that humanity is capable of and every pore on my body opens to let out toxins and breathe. Then, all the muscles in my body tense up as I prepare myself for that one, glorious moment of hedonistic release. As I experience the cleansing void, my nerves calm, my heartbeat slows down, my mind is clear and pure again and an overwhelming sense of peace flows through me, permeating my entire being. It has been done. I have taken a shit."[1]
However, aside from any gross jokes that might arise from this subject Eugene de Leastar's exhibition of more than 20 oil paintings dedicated to the present credibility crisis of the Vatican entitled "Bergolio Suite" covers a range of Pope Francis controversies from the disputed apostolic exhortation Amoris Laetitia to favoring a gaggle of pro-gay cardinals and homopredator McCarrick cronies like Blase Cupich, Donald Wuerl and Kevin Farrell.
In a footnote to one of the paintings called "Dante Discovers Bergoglio in Hell," the artist gives his thoughts on 'a new pseudo-enlightenment' Eugene de Leastar writes:
"It would be a poor argument to blame the collapse of the Roman Empire simply on 'lead pipes'. Similarly, 'Political Correctness' might appear a silly epithet to attach to the collapse of a civilization. But there is a perverse need for compliance in human animals, drawn as they are, even to annihilation, by conformity.
'PC' is now an overladen cliché, however, the underlying philosophy behind the drive for righteous compliance dominating the west is called 'Relativism' and is described by the Italian philosopher Marcello Pera as;
an epidemic… It believes that all cultures are equivalent. It refuses to judge them, thinking that to accept and defend one's own culture would be an act of hegemony, of intolerance that betrayed an anti-democratic, anti-liberal, disrespectful attitude toward the autonomy of other populations and individuals.
This applies particularly in the world of art where value judgments are no longer made."
Eugene de Leastar is not the only artist painting about such a controversial topic as the decline of the Vatican today, we also have a known Italian artist from Turin, Flavio Cacciatori, specialized in eclecticism and chromatism, who will participate with a painting entitled CRISLAM, dedicated to the last Italian edition of Leo Zagami's book, Pope Francis: The Last Pope? in an exhibition starting on December 19th, 2021, at the prestigious Villa Caruso Bellosguardo in Florence, that belonged to the Gucci family until 1995, the year of the infamous murder that has now inspired the movie "House of Gucci." The Gucci family first purchased Villa Caruso Bellosguardo back in 1921.
Sadly enough, "House of Gucci" seems like another libtard extravagance described by a review made by the New York Post as: "Lady Gaga and her terrible movie are shallow."[1]
Behind his acrylic painting known Italian artist Flavio Cacciatori places his inspiration for the painting including the cover of the new Italian edition of "Pope Francis: The Last Pope?"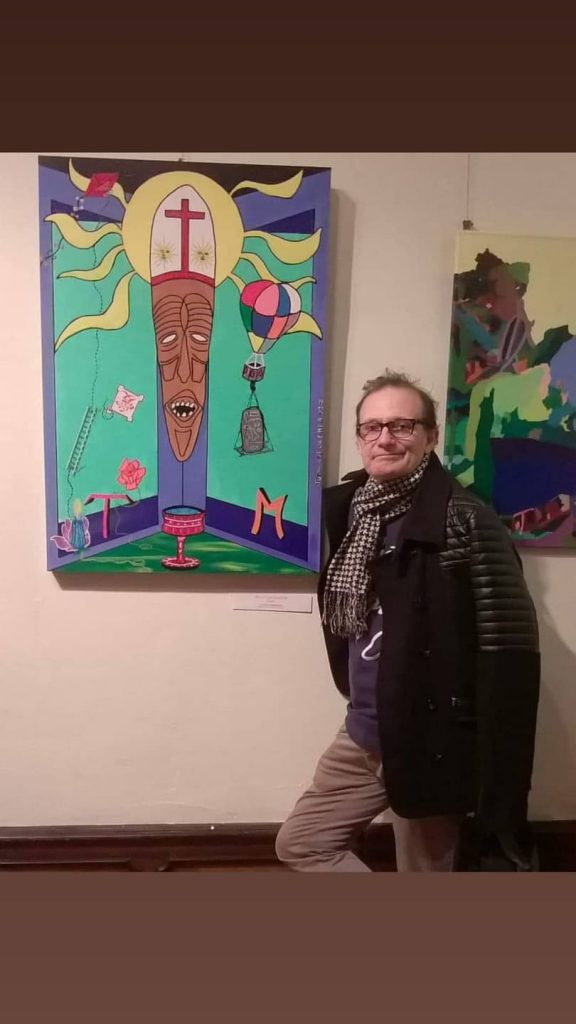 [1] https://nypost.com/2021/11/22/house-of-gucci-review-lady-gagas-new-movie-is-abysmal/
[1] https://www.reddit.com/r/Showerthoughts/comments/3ukq7k/taking_a_shit_is_a_spiritual_experience/
Confessions of an Illuminati Volume 5: The Decline of the West and the Rise of Satanism in our Society with a brand new chapter on the CCP virus and The End Times.
And get also Leo's latest book: Confessions of an Illuminati Vol. 4, American Renaissance 2.0 and The Missing Link From the Invisible World.
PLEASE SUPPORT LEO'S WORK BY BUYING HIS LATEST BOOKS!!!
Leo Zagami is a regular contributor to Infowars and the author of the groundbreakingbook Confessions of an Illuminati Vol. 6.66 The Age of Cyber Satan, Artificial Intelligence, and Robotics