Please help keep this website going by making a small donation in support of Leo's work through Fundly: https://fundly.com/leo-lyon-zagami-channel  or Paypal:https://www.paypal.com/paypalme/leozagamishow
Article by Leo Zagami
A top Communist Party leader from Vietnam was in London last week visiting the grave of Karl Marx, the philosopher whose writing championed the proletariat fight to topple the ruling moneyed class.
While there, the official, General To Lam, ate steak covered in 24-karat gold flakes at a restaurant owned by the social media star and restaurateur known as Salt Bae, according to a video that the chef posted online that hasswiftly disappeared. Salt Bae, who he's a chef and restaurateur called Nusret Gökçe, is currently selling a gold-plated steak at his Dubai Restaurant for £268.[1]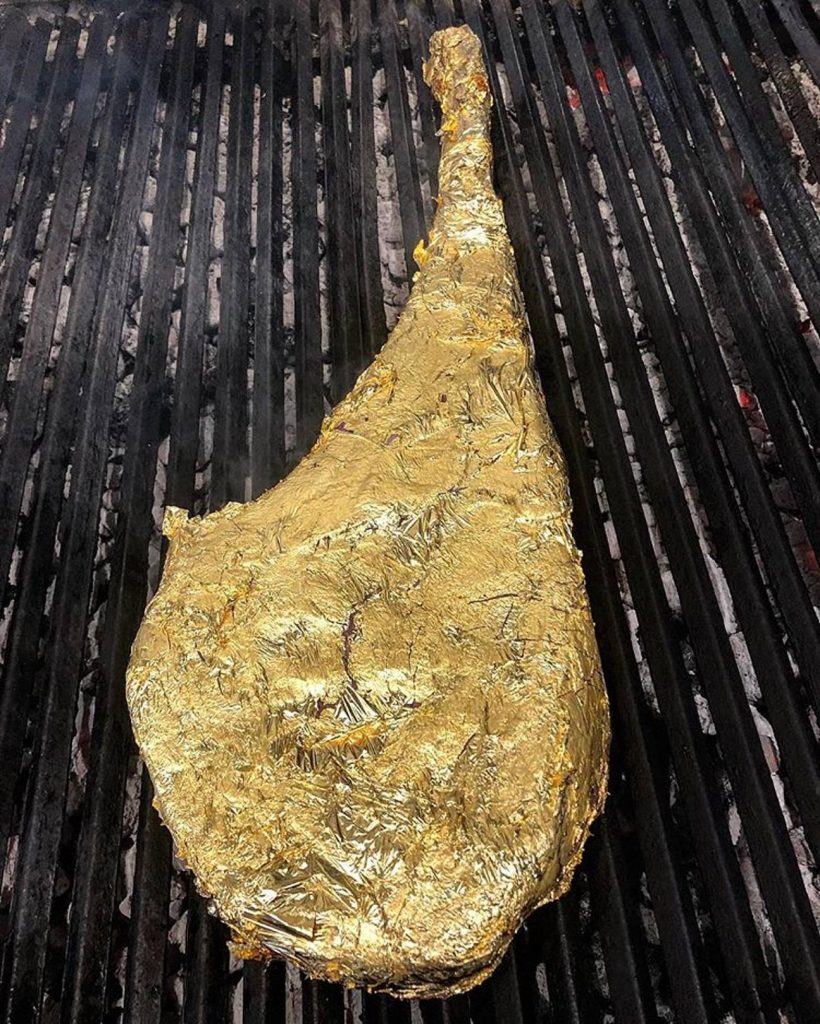 Many details of the meal were unavailable, including who else was in attendance, what the total cost was, and who ultimately paid for it all. But the short-lived video incited anger in Vietnam, where it appeared to undermine the egalitarian image the Communist Party has studiously cultivated.[2]
In the United States of Socialist America, Nancy Pelosi and California governor Gavin Newsom have both come under fire for recently attending the wedding of a Getty heiress that walked down the aisle in a wedding dress made up of broken mirrors[3].
The Democratic Speaker of the House even officiated the opulent wedding of Ivy Getty, the great-granddaughter of oil tycoon J. Paul Getty[4], that saw the reappearance of "leftist hero" Gavin Newsom, who had mysteriously disappeared after taking his Covid booster. Two weeks ago, Gov. Gavin Newsom announced he would be leading a delegation to the U.N. climate change summit in Scotland. Four days later, his office abruptly announced he had changed his mind.
"Family obligations" was all his office would say, refusing to publicly elaborate in a decision that, times being what they are, unleashed a barrage of conspiracy theories. Was the governor having a bad reaction to the Covid-19 booster shot he had just received? Were any of his children — he has four, ages 12 and under — infected again with the Coronavirus? No and no, Capitol sources said,[5] but we all know how Socialists like to lie and deceive their citizens.
In the meantime, China's ruling Communist Party, approved a rare resolution today elevating President Xi Jinping to an almost Godly status, in a move seen as consolidating his authority, and likely securing an unprecedented third leadership term next year.
The resolution on the party's "achievements and historical experiences" since its founding 100 years ago, was passed at the end of a four-day, closed-door meeting of more than 300 top leaders of its Central Committee, state media reported.[6]
But remember in every Communist or Socialist country that has ever existed, workers have never seized the means of production. This is an absolute fact. In every case, a dictator becomes entrenched, and the ruling party, with the backing of the military, consolidates wealth and control of the means of production under a select few, under the ostensible guise of a planned economy, which just devolves into planned cronyism.
Communists and Socialists praise the defense of workers' rights. And yet, in Communist and Socialist countries, workers cannot vote, and in countries like Vietnam, independent labor unions are seriously suppressed and/or banned while their leaders enjoy steaks with 24-karat flakes.
We are all sick and tired of Communist and Socialist Illuminati agents, who are ultimately the product of Jesuitry[7], pretending as though they care about poor people or the climate, when they don't. They don't, because otherwise, they wouldn't be advocating so brainlessly for a government structure completely antithetical to the rights of workers and the so-called proletariat.
Remember, Adam Weishaupt, the founder of the Order of the Illuminati is really the father of Bolshevism and not Karl Marx, and just as the Jacobins of the French Revolution were controlled by the Bavarian Illuminati inspired by the Jesuits, so are the leftist leaders of today.
---
[1] https://www.ladbible.com/news/food-salt-bae-is-selling-a-268-gold-plated-steak-at-his-dubai-restaurant-20190527
[2] https://dnyuz.com/2021/11/10/a-communist-leader-was-served-gold-flecked-steak-the-video-of-it-has-vanished/
[3] https://www.insider.com/ivy-getty-wedding-dress-made-of-broken-mirrors-2021-11
[4] https://www.independent.co.uk/news/world/americas/us-politics/nancy-pelosi-wedding-ivy-getty-b1955106.html
[5] https://www.nytimes.com/2021/11/09/us/politics/where-is-newsom-california.html
[6] https://www.reuters.com/world/china/chinas-communist-party-passes-resolution-party-history-achievements-2021-11-11/
[7]     https://www.thefreedictionary.com/Jesuitry
Confessions of an Illuminati Volume 5: The Decline of the West and the Rise of Satanism in our Society with a brand new chapter on the CCP virus and The End Times.
And get also Leo's latest book: Confessions of an Illuminati Vol. 4, American Renaissance 2.0 and The Missing Link From the Invisible World.
PLEASE SUPPORT LEO'S WORK BY BUYING HIS LATEST BOOKS!!!
Leo Zagami is a regular contributor to Infowars and the author of the groundbreakingbook  Confessions of an Illuminati Vol. 6.66 The Age of Cyber Satan, Artificial Intelligence, and Robotics