Please help keep this website going by making a small donation in support of Leo's work through Fundly: https://fundly.com/leo-lyon-zagami-channel or Paypal:https://www.paypal.com/paypalme/leozagamishow
Article by Leo Zagami
The incompetent White House of "Sleepy Joe" said 4 days ago that the Taliban had set up additional entry points outside the outer perimeter to help prevent ISIS-K attacks, but in the last few hours, a suicide bomb attack followed by an assault by gunmen, allegedly belonging to ISIS-K struck the crowded gates of Kabul airport with at least two explosions, causing a bloodbath among U.S. Military and desperate civilians hoping to flee Taliban rule, who we have seen in the last few days, deep in sewage, waving their papers, begging for entry.
Before Biden's announcement on Sunday, the Taliban put its elite Badri 313 brigade in charge of security outside of Kabul airport. However, the same Badri 313 brigade that has been patrolling the streets of Kabul since the arrival of the Taliban, who are guarding key installations in the Afghan capital, seem to have visibly failed in their mission, or maybe not, if the plan is to scare Americans away. Badri 313 is responsible for some of the Taliban's key battlefield successes but also conducted complex suicide missions so why would you put a bunch of suicide bombers in charge of the security of an airport?
The Badri 313 Brigade is reportedly highly trained and equipped with state-of-the-art military equipment stolen from the U.S. military courtesy of the Biden administration that has gifted the Taliban with amongst other things 110 Helicopters, 20 Light Attack Airplanes, 42,000 Light Attack Vehicles, 25,000 Grenade Launchers.
Matt Henman from the Janes Defence Consultancy has described Badri 313 as: "The best trained and equipped fighters within the Taliban more broadly, although as you would expect there is a degree of sensationalizing in propaganda coverage of the unit by the group."
The Badri 313 battalion was named after the battle of Badr, 1,400 years ago, when the Prophet Mohammed supposedly vanquished his enemies with only 313 soldiers, the Taliban unit presently has several thousand men. Badri 313 is also seen as having benefited from training from the infamous Haqqani network, Afghanistan's most ruthless and feared militant group which has been responsible for multiple suicide attacks on civilian targets. Its former leader Jalaluddin Haqqani fought for Yunus Khalis's mujahideen faction in the 1980s. However, the Haqqani network pledged allegiance to the Taliban in 1995, and since then have been an increasingly incorporated wing of the group.
The Haqqani network also has a very close relationship with Al-Qaeda that dates back to their founding when the Haqqani network was one of the most favored CIA-funded anti-Soviet guerrilla groups during the Reagan administration. While Al-Qaeda 's stated goals are international in scope, the Haqqani network has instead limited its operations to regional matters concerning Afghanistan and Pashtun tribalism but they have also long been suspected of having strong links with Pakistan's military intelligence agency, the Inter-Services Intelligence (ISI) that, has long faced accusations of meddling in the affairs of its neighbors.
Let's never forget that the director-general of the the Inter-Services Intelligence from Pakistan was visiting Washington on September 11, 2001, giving no warning of an attack on America or sense that the Taliban were going on the offensive in the days before. For this and many other reasons a range of officials inside and outside Pakistan have stepped up suggestions of links between the Pakistan military intelligence and terrorist groups in recent years. This was obvious from the day after 9/11 when the Pakistani intelligence chief was told that they must immediately break all relations with the Taliban, but they never did. The Pakistani are to this day the main mercenaries of the New World Order and the Illuminati behind 9/11 and nobody has ever questioned them enough.
In the fall of 2006, a leaked report by a British Defense Ministry think tank charged, "Indirectly Pakistan (through the ISI) had been supporting terrorism and extremism–whether in London on 7/7 [the July 2005 attacks on London's transit system], or in Afghanistan, or Iraq." In June 2008, Afghan officials accused Pakistan's intelligence service of plotting a failed assassination attempt on President Hamid Karzai; shortly thereafter, they implied the ISI's involvement in a July 2008 attack on the Indian embassy. Indian officials also blamed the ISI for the bombing of the Indian embassy. Pakistani officials have denied such a connection.
Numerous U.S. officials have also accused the ISI of supporting terrorist groups, even as the Pakistani government sought increased aid from Washington with assurances of fighting militants. In a May 2009, interview with CBS' 60 Minutes, U.S. Defense Secretary Robert Gates said "to a certain extent, they play both sides."
Gates and others suggested ISI maintains links with groups like the Afghan Taliban as a "strategic hedge" to help Islamabad gain influence in Kabul once U.S. troops exit the region. These allegations surfaced yet again back in July 2010 when WikiLeaks.org made public (NYT) a trove of U.S. intelligence records on the war in Afghanistan. The documents described ISI's links to militant groups fighting the U.S. and international forces in Afghanistan. In April 2011 during a visit to Pakistan, U.S. Chairman of the Joint Chiefs of Staff Admiral Mike Mullen pointed to ISI's links with one such group, the Haqqani network, now in charge of Kabul security in Taliban-Ruled Afghanistan.
So what is ISIS-K or as some call it ISKP involvement in all this and are they really enemies of the Taliban? Well, the answer is not really, otherwise, how did they kill at least 13 U.S. service members in at least two explosions outside the airport in Kabul that was patrolled by the Taliban and their elite Badri 313 Brigade?
ISIS-K is a self-proclaimed branch of the Islamic State of Iraq and the Levant (ISIL) active in South Asia and Central Asia, though ISIL itself initially denied any connection with such group that is a breakup faction of the Pakistani Taliban known as Tehrik-i-Taliban Pakistan (TTP), also connected with Pakistan's Inter-Services Intelligence (ISI), that is heavily involved with the recent Taliban takeover of Afghanistan.
One year ago in August 2020 the Hindustan Times wrote:
"The Pakistani deep state is pushing the Haqqani Network to increase its stake in so-called Islamic State of Khorasan Province (ISKP) to retain its leverage on Afghanistan irrespective of the on-going peace process and maintain plausible deniability in future terror attacks in Af-Pak region, according to senior counter-terrorism officials.According to officials, the ISKP can front attacks for the Haqqani Network and Lashkar-e-Tayyiba (LeT). ISKP leader Aslam Farooqi, a Pakistani national with links to LeT and Pakistan's Tehrik-e-Taliban was arrested by Afghanistan's National Directorate of Security along with 19 other terrorist cadres on April 5.Af-Pak watchers say that ISKP units in Kabul and the border province of Nangarhar are already under the firm control of former HQN commanders and Sirajuddin Haqqani, Deputy leader of Taliban, who are launching attacks on Afghan capital. Besides being part of the intelligence and reconnaissance gathering network, ISKP cadres are also attacking Kabul in tandem with the HQN group."
The K of ISIS-K stands for Khorasan, a region of the former Persian Empire which included parts that are today in Iran, Afghanistan, Tajikistan, Turkmenistan, and Uzbekistan. ISIS-K announced the group's formation in January 2015 and appointed at its foundation former Tehrik-i-Taliban Pakistan (TTP) militant Hafiz Saeed Khan as its leader, with former Afghan Taliban commander Abdul Rauf Aliza appointed as deputy leader. Aliza was later killed in a U.S. drone strike in February 2015 while Khan was also killed in a U.S. airstrike in July 2016 leaving the leadership in the hands of Abu Omar Khorasani.
The present leader of ISIS-K, Abdullah Orokzai is also known as Aslam Farooqi, replaced Abu Omar Khorasani, in July 2019, after the group suffered setbacks under pressure from military operations by the United States, the Afghan government, and the Taliban.
On April 4, 2020, now-defunct Afghanistan's intelligence agency, the National Directorate of Security, announced that they had arrested Farooqi, in Kandahar province.
At the time Patricia Gossman, associate Asia director for the Asia division of the Human Rights Watch said that:"Farooqi's arrest is an opportunity for the Afghan authorities to show that they are capable of securing fair justice for victims of war crimes and other atrocities." Urging the now-defunct Afghan government to bring war crimes charges against the captured leader of the Islamic State of Khorasan Province (ISIS-K), an affiliate of the extremist group Islamic State (IS).
ISIS-K had claimed responsibility for numerous attacks in Afghanistan that have killed civilians. The armed group claimed responsibility for the March 25, 2020 attack on a Sikh temple in Kabul that killed at least 25 people. From 2016 through 2018, ISIS-K suicide bombers attacked dozens of Shia mosques and other facilities in Kabul and other cities, killing and injuring thousands of civilians, but Afghanistan had a poor record in bringing individuals implicated in human rights abuses and war crimes to justice, so no wonder Aslam Farooqi, aka Abdullah Orokzai, who is a Pakistani national, is still alive and kicking courtesy of the former Afghani government and Pakistan's Inter-Services Intelligence (ISI). To facilitate the latest attack a number of ISIS-K militants were reportedly released by the Taliban on the 15th of August 2021 from Pul-e-Charkhi prison, along with other prisoners that joined the Badri 313 Battalion that provides "security" at the Kabul Airport the following day.
Farooqi, who hails from Pakistan's Khyber Pakhtunkhwa, is probably one of the masterminds behind the deadly terror attack that we saw today at Kabul Airport, but of course, he is not the only one, and Americans need to understand once and for all the real danger represented by Pakistan and, by extension, China.
For years, the Pentagon insisted on pursuing counterinsurgency operations confined geographically to Afghanistan, while the generals in Islamabad were using the Taliban to conduct a proxy war, launching attacks against American, NATO, and Afghan forces from safe havens in Pakistan.
There were no combination of U.S. conventional, CIA, or special operations assets that could have defeated the Taliban in Afghanistan as long as the Taliban infrastructure and support network in Pakistan remained immune to attack.
Unlike in 2001, the Taliban were not exposed in Afghanistan but sheltered in Pakistan, where there has been a Taliban network of education, recruiting, training, financial, healthcare, and command and control centers. It is also no secret that Pakistani intelligence employed local individuals and groups as "cut-outs" to facilitate the movement of Taliban fighters and supplies across the porous border.
By controlling the operational tempo of the war and the supply of our troops to land-locked Afghanistan, Pakistan could always do just enough to prevent us from winning and protect the Taliban and even ISIS-K from losing, by providing them constant sanctuary. To their operations. U.S. leaders should have known, even before we put boots on the ground twenty years ago, that Pakistan has always been a close ally of China, never shared American objectives in Afghanistan,and began obstructing those objectives within days of 9/11.
In the meantime, Afghanistan incorporated before the return of the Taliban to power, war crimes and crimes against humanity as part of its 2017 penal code. Article 337 of the code defined war crimes to include intentionally directing attacks against the civilian population, and intentionally directing attacks against buildings dedicated to religion and education. Unfortunately, the former attorney general's war crimes unit that carried out investigations into the past attacks by ISIS-K never prosecuted anybody.
The attack on 9/11 inevitably transformed American foreign policy and the institutions that made it, more than any event since World War II, but the results of this transformation have not been the ones we expected, and 20 years after the start of the Afghanistan war we might have another well-crafted boogeyman on the horizon: Aslam Farooqi aka Abdullah Orokzai who is probably already in Pakistan, protected by Pakistan's Inter-Services Intelligence.
In June 2020 during their visit to Kabul, Pakistan army chief Qamar Javed Bajwa and the head of Inter-Services Intelligence (ISI) once again made a number of demands including the extradition of captured ISIS-K leader Aslam Farooqi to Pakistan. No wonder the late Osama bin Laden, who initially denied any involvement with the 9/11 attacks, was allegedly killed in Abbottabad inPakistan, not in some cave in Afghanistan.
Osama bin Laden, who was instrumental to bring in the first phase of the New World Order oppression that gradually sacrificed all our freedoms and civil liberties, was also an avid reader of 9/11 and Illuminati conspiracy theories, according to documents found in his Pakistan hideout that were released 6 years ago by the U.S. government. The release includes a sizable list of English-language works you might want to check out.
The material, collected after commandos killed Bin Laden in Pakistan in 2011, includes some of the terrorist kingpin's letters, and in one, he prophetically predicted the U.S. would fail in Afghanistan. "How will you win a war whose leaders are pessimistic and whose soldiers are committing suicide? If fear enters the hearts of men, winning the war becomes impossible. How will you win a war whose cost is like a hurricane blowing violently at your economy and weakening your dollar?" Bin Laden wrote and he was right according to estimates by the Costs of War Project at Brown University, the United States has spent more than $2.3 trillion on the war in Afghanistan. This includes the direct funding cost of $800 billion and $83 billion to train the former Afghan army whose members are now serving the Taliban helping the creation of the Badri 313 Brigade courtesy of President Joe Biden, another Illuminati/Jesuit puppet.
The spending that includes operations in both Afghanistan and Pakistan is broken down into five categories. The biggest chunk is the Defense Department's budget for the war, which is just over $1 trillion. The State Department's war budget adds another $60 billion. War-related increases to the Pentagon budget account for $433 billion.
Estimated interest payments on war borrowing accounts for $532 billion, and spending on care for veterans of the war adds up to $233 billion. Costs of War did not account for future interest payments or future spending on lifelong care for veterans, so the total will still increase even after the U.S. completes its military withdrawal from Afghanistan.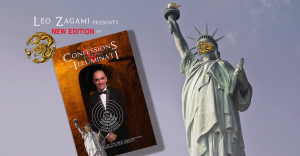 Get Leo's New Edition of Confessions of an Illuminati Volume 5: The Decline of the West and the Rise of Satanism in our Society with a brand new chapter on the CCP virus and The End Times.
You can find it now on Amazon in both paperback:
And Kindle format:
And get also Leo's latest book: Confessions of an Illuminati Vol. 4, American Renaissance 2.0 and The Missing Link From the Invisible World.
You can find it now on Amazon in both paperback:
And Kindle format:
PLEASE SUPPORT LEO'S WORK BY BUYING HIS LATEST BOOKS!!!
Leo Zagami is a regular contributor to Infowars and the author of the groundbreakingbook Confessions of an Illuminati Vol. 6.66 The Age of Cyber Satan, Artificial Intelligence, and Robotics
OUT NOW ON KINDLE:
And on paperback :