Please help keep this website going by making a small donation in support of Leo's work through Fundly: https://fundly.com/leo-lyon-zagami-channel or Paypal:https://www.paypal.com/paypalme/leozagamishow
Article by Leo Zagami
In the summer of 2020, an investigative analysis was published that revealed that Vatican officials and other prelates ignored or overlooked reports on the now defrocked former Cardinal Theodore McCarrick for years.
The analysis was later confirmed in November by the Vatican's own "McCarrick report" thatindicated that Pope Francis merely followed the path chosen by Pope John Paul II and Pope Benedict XVI concerning former Cardinal McCarrick who remained a popular figure because of his capacity of raising money, until he was removed from his ministry in 2018.
However, former Cardinal Theodore McCarrick was finally charged on Wednesday with sexually assaulting a 16-year-old boy during a wedding reception at Wellesley College in the 1970s, making this monster of the Catholic Church the highest-ranking Roman Catholic official in the United States to face criminal charges in a clergy sexual abuse scandal.
McCarrick's misdeeds and odd sleeping arrangements with seminarians at his infamous beach house in Sea Girt, New Jersey was covered up by the Illuminati elite for many years, and when Mark Crawford, who now works for the Survivors Network of Those Abused by Priests (SNAP), once met with McCarrick in 1997 to inform the then-archbishop of Newark that one of his priests Fr. Kenneth Martin had beaten and sexually abused him, and also his brother. McCarrick did not keep the promises that he made during that meeting, a practice he followed on various occasions in support of his pedophile network.
However, today, The Boston Globe reports:
McCarrick, 91, a former archbishop of Washington, D.C., who fraternized with popes and presidents before he was expelled from the priesthood over sexual abuse allegations, is charged with three counts of indecent assault and battery on a person over 14 in a criminal complaint filed by Wellesley Police in Dedham District Court.
Finally, a summons was issued yesterday ordering former Cardinal Theodore McCarrick, now living in Missouri, to appear in court for arraignment on the August 26th. Of course, this case does not include the many cover ups McCarrick was involved in, as well as other cases concerning his wrongdoings, but let's pray that he ends up in jail this time, like his old friend Cardinal Pell.
Unfortunately, convicted Cardinal George Pell, who was charged of molesting two choir boys 20 years ago, was eventually acquitted by Australia's highest court, under pressure by the Vatican financial institutions, who cleared him of child sex crimes, and eventually summoned back to Rome to help with the biggest financial scandal ever. Let's hope McCarrick doesn't work out the same kind of magic" in the U.S. judiciary system that is often influenced by the Jesuits.
Related articles:
Thursday July 29th 2021 at 4pm PST(5pm MT/6pm CST) THE LEO ZAGAMI SHOW live from Palm Springs (California) with the one and only LEO ZAGAMI on all the latest on the defrocked Cardinal McCarrick charged with sexually assaulting a teenager in the 70s and much more…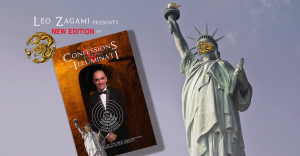 Get Leo's New Edition of Confessions of an Illuminati Volume 5: The Decline of the West and the Rise of Satanism in our Society with a brand new chapter on the CCP virus and The End Times.
You can find it now on Amazon in both paperback:
And Kindle format:
And get also Leo's latest book: Confessions of an Illuminati Vol. 4, American Renaissance 2.0 and The Missing Link From the Invisible World.
You can find it now on Amazon in both paperback:
And Kindle format:
PLEASE SUPPORT LEO'S WORK BY BUYING HIS LATEST BOOKS!!!
Leo Zagami is a regular contributor to Infowars and the author of the groundbreakingbook Confessions of an Illuminati Vol. 6.66 The Age of Cyber Satan, Artificial Intelligence, and Robotics
OUT NOW ON KINDLE:
And on paperback :