Please help keep this website going by making a small donation in support of Leo's work through Fundly: https://fundly.com/leo-lyon-zagami-channel or Paypal:https://www.paypal.com/paypalme/leozagamishow
Article by Leo Zagami
Cardinal Giovanni Angelo Becciu who was indicted by Giuseppe Pignatone, president of the Vatican Tribunal earlier this month, on charges of embezzlement and abusing his office, is now facing his court trial tomorrow morning at 9.30 local time.
The biggest financial scandal the Vatican ever had will even bring back Cardinal Pell from his Australian prison sentence for pedophilia, and finally show to the world the corruption of the Vatican financial institutions, as I wrote in a series of articles in 2019 and 2020, is opening Tuesday in a modified courtroom in the Vatican Museums.
The once-powerful Cardinal Becciu and nine other people are accused of bleeding the Holy See of tens of millions of dollars in donations through bad investments, deals with shady money managers and apparent favors to friends and family. They face prison sentences, fines or both if convicted.
The trial, which some sources say will likely be postponed for several months after the first hearings Tuesday and Wednesday, is the culmination of a two-year investigation into the Holy See's flawed 350 million-euro London real estate venture.
For the first time in history, a Cardinal of the Roman Catholic Church is brought to face a court trial inside the Vatican. Joining him are also René Brülhart, former President of the Board of Directors of the Financial Information Authority (AIF) of Vatican City, Mauro Carlino, Enrico Crasso, Tommaso Di Ruzza, Cecilia Marogna, Raffaele Mincione, Nicola Squillace, Fabrizio Tirabassi and Gianluigi Torzi.
Related articles on this subject from 2019 and 2020:
UPDATE:
The next session of the trial will be on October 5, 2021.
Tuesday July 27nd 2021 at 4pm PST(5pm MT/6pm CST) THE LEO ZAGAMI SHOW live from Palm Springs (California) with the one and only LEO ZAGAMI on all the latest on the New World Disorder and the biggest ever Vatican trial.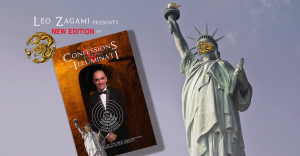 Get Leo's New Edition of Confessions of an Illuminati Volume 5: The Decline of the West and the Rise of Satanism in our Society with a brand new chapter on the CCP virus and The End Times.
You can find it now on Amazon in both paperback:
And Kindle format:
And get also Leo's latest book: Confessions of an Illuminati Vol. 4, American Renaissance 2.0 and The Missing Link From the Invisible World.
You can find it now on Amazon in both paperback:
And Kindle format:
PLEASE SUPPORT LEO'S WORK BY BUYING HIS LATEST BOOKS!!!
Leo Zagami is a regular contributor to Infowars and the author of the groundbreakingbook Confessions of an Illuminati Vol. 6.66 The Age of Cyber Satan, Artificial Intelligence, and Robotics
OUT NOW ON KINDLE:
And on paperback :