Please help keep this website going by making a small donation in support of Leo's work through Fundly: https://fundly.com/leo-lyon-zagami-channel or Paypal:https://www.paypal.com/paypalme/leozagamishow
Article by Leo Zagami
Pope Francis continues to promote the infamous Great Reset expressed by key globalist and founder of the World Economic Forum, Klaus Schwab, whose proposed anti-Christian agenda seems to please the Jesuit Pope, who has recently addressed the World Bank and International Monetary Fund at their spring meeting, calling for "global governance" in light of COVID-19, strongly advocating for universal vaccines and bemoaning the "ecological debt" which is owed to "nature itself." For the Jesuits, the Green New Deal embodies Catholic principles, and the Pope expressed this in a message when he mentions the "withdrawal of fossil-fuel subsidies," and a new financial system based on "investments" which advance "equality and sustainability," and the building of a "green urban infrastructure."
In May last year, the American Jesuit Review dedicated a whole article to The Green New Deal, championed by first-term U.S. Representative Alexandria Ocasio-Cortez .The Pope's letter is the latest in a series of recent acts in which Francis has aligned himself with global corporations committed to Communism and anti-Catholic and anti-Christian agendas. The letter was delivered via Peter Cardinal Turkson, Prefect of the Holy See's Dicastery for Promoting Integral Human Development, to the spring 2021 meeting between the World Bank and the International Monetary Fund (IMF), which is currently being held online from April 5 – 11.
Dated April 4, the letter mentioned God only once, in the final line.  There was no mention in the letter of Christ, the Catholic Church, or the Catholic teaching on the common good. Instead, Francis made a clear reference to the "common good," several times in his letter, which he linked intimately to finance and a form of the secular fraternity of the kind described in Fratelli Tutti the Quasi-Masonic encyclical that he enthusiastically cited, that was branded by Archbishop Viganò as "blasphemous."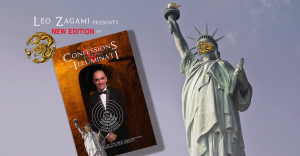 Get Leo's New Edition of Confessions of an Illuminati Volume 5: The Decline of the West and the Rise of Satanism in our Society with a brand new chapter on the CCP virus and The End Times.
You can find it now on Amazon in both paperback:
And Kindle format:
And get also Leo's latest book: Confessions of an Illuminati Vol. 4, American Renaissance 2.0 and The Missing Link From the Invisible World.
You can find it now on Amazon in both paperback:
And Kindle format:
PLEASE SUPPORT LEO'S WORK BY BUYING HIS LATEST BOOKS!!!
Leo Zagami is a regular contributor to Infowars and the author of the groundbreakingbook Confessions of an Illuminati Vol. 6.66 The Age of Cyber Satan, Artificial Intelligence, and Robotics
OUT NOW ON KINDLE:
And on paperback :