Please help keep this website going by making a small donation in support of Leo's work through Fundly: https://fundly.com/leo-lyon-zagami-channel  or Patreon: https://www.patreon.com/leozagami
Article by Leo Zagami
Yesterday, on the 48th anniversary of the Supreme Court's Roe vs. Wade decision establishing a nationwide right to abortion, Biden and Vice President Kamala Harris said they would seek to enshrine that right into federal law to protect it from court challenges. Trump, whose administration took numerous steps to prevent easy access to abortion is already considered by the libtards, a thing of the past.
In the meantime, Antifa pro-abortion mercenaries disrupted a church service at St. Joseph's Catholic Cathedral in Columbus, Ohio, Friday. About eight Antifa members barged into the church, knocked over a table and, shouted profanities in front of the congression that included children.
The reason for all this fury by the left was a pro-life Mass presided by Bishop Robert Brennan on the anniversary of Roe vs. Wade's landmark decision by the U.S. Supreme Court from 1973 in which the Court ruled that the Constitution of the United States protects a pregnant woman's liberty to choose to have an abortion without excessive government restriction.
The presence of various leftist journalists made the whole thing look like the ultimate leftist stunt to promote anti-Christian pro-abortion policies.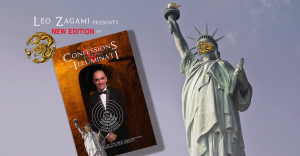 Get Leo's New Edition of Confessions of an Illuminati Volume 5: The Decline of the West and the Rise of Satanism in our Society with a brand new chapter on the CCP virus and The End Times.
You can find it now on Amazon in both paperback:
And Kindle format:
And get also Leo's latest book: Confessions of an Illuminati Vol. 4, American Renaissance 2.0 and The Missing Link From the Invisible World.
You can find it now on Amazon in both paperback:
And Kindle format:
PLEASE SUPPORT LEO'S WORK BY BUYING HIS LATEST BOOKS!!!
Leo Zagami is a regular contributor to Infowars and the author of the groundbreakingbook Confessions of an Illuminati Vol. 6.66 The Age of Cyber Satan, Artificial Intelligence, and Robotics
OUT NOW ON KINDLE:
And on paperback :