Please help keep this website going by making a small donation in support of Leo's work through Fundly: https://fundly.com/leo-lyon-zagami-channel  or Patreon: https://www.patreon.com/leozagami
Article by Leo Zagami 
Finally, after weeks of lies and propaganda from the Chinese Communist regime, the terrible truth about the resilience of the novel coronavirus is apparent. Jia County in central China's Henan province communicated on Wednesday that it has banned all outbound travel following several cases of coronavirus infection in the area.
China finally admits the existence of a new wave of COVID-19 as 600,000 people are quarantined in Jia County. As of today, travel outside of Jia county is limited to people with proper authorization. The county said in a post on its social media account that residents are not allowed to leave their homes for work unless they have proper clearance to do so. This is a shocking warning on the seriousness of this bioweapon unleashed last year by Communist China, a country that after a supposed recovery, is now making money out of the health crisis they generated.
While selling respirators, masks, and medicine to the highest bidders around the world, thanks to the high demand they have created with their virus, the Chinese Communist Party has been covering up the true extension of the pandemic in China, putting politics in front of health issues. We hope to see the future downfall of the last Communist superpower.  Two doctors based in Jia county have tested positive for the virus even though they had shown no symptoms, something the Henan province could no longer cover up. This accident is a big problem for China after allegedly sorting out the COVID-19 epidemic with their lies and propaganda.
Japan, and even Hong Kong fear another outbreak explosion as Tokyo reports over 40 new cases for the second consecutive day. The governor of Tokyo has urged all residents in the city to stay at home this weekend to prevent an "explosion"of new cases. China is also dealing with increasing malcontent and protests towards mainland China in support of the demands of pro-democracy protesters in Hong Kong, that has grown, even if rallies have paused due to the coronavirus outbreak.
The Chinese Communist Party is trying to hide and control information about this new lockdown because a new outbreak could further expose the lies and propaganda of the now infamous CCP virus!
The Jesuits have highjacked the Catholic Church to shape the future religion of the Antichrist and you can learn more about it in my latest book: Confessions of an Illuminati Vol. 4, American Renaissance 2.0 and The Missing Link From the Invisible World.
You can find it now on Amazon in both paperback:
https://www.amazon.com/dp/1679105434/ref=cm_sw_r_fa_awdo_t1_kGIaEbKMF61NP?fbclid=IwAR2ayxAv16FsFMVBDow7CPhdIctj9_X2bEiQjPHbbjyMFfbJtwb88NZW64M
And Kindle format:
https://www.amazon.com/Confessions-Illuminati-Four-Renaissance-Invisible-ebook/dp/B082ZTFTHV?fbclid=IwAR1HcyOk5b0ZAmMSAyyYMCfPGdjbv9obkFD2fozyrvwJ3s6ahWhqL7iECbc
PLEASE SUPPORT LEO'S WORK BY BUYING HIS LATEST BOOKS!!!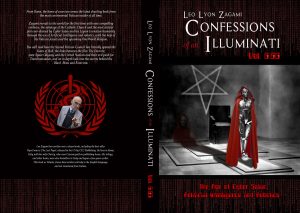 Leo Zagami is a regular contributor to Infowars and the author of the groundbreaking book  Confessions of an Illuminati Vol. 6.66 The Age of Cyber Satan, Artificial Intelligence, and Robotics
OUT NOW ON KINDLE:
https://www.amazon.com/Confessions-Illuminati-6-66-Artificial-Intelligence-ebook/dp/B07NS8WS9V/ref=sr_1_2?s=books&ie=UTF8&qid=1550411820&sr=1-2&keywords=vol.+6.66
And on paperback :
https://www.amazon.com/dp/1796904694/ref=cm_sw_r_fa_awdo_t1_2dvACb2HVH6TP?fbclid=IwAR1h_VlIytuACI3zxXUc9mBfOk96N4Yk0WH3To6Psv2kbFxJLwfzAwV4mUE

Leo Zagami is also the author of  Confessions of an Illuminati Volume 5: The Decline of the West and the Rise of Satanism in our Society 
OUT NOW ON KINDLE: https://www.amazon.com/dp/B07BQVQ9ZM/ref=tsm_1_fb_lk
And on paperback : https://www.amazon.com/dp/1986894657/ref=sr_1_8?ie=UTF8&qid=1522233257&sr=8-8&keywords=leo+zagami