Please help keep this website going by making a small donation in support of Leo's work through Fundly: https://fundly.com/leo-lyon-zagami-channel  or Patreon: https://www.patreon.com/leozagami
Article by Leo Zagami 
The Italians lack of discipline, and their almost anarchic rejection for any of the new rules outlined by the authorities to fight the novel coronavirus, is jeopardizing their lives and the economical stability of the country, especially during this critical time for the whole world economy.
As markets plunged and U.S. stocks halted today after falling 7%, Italy extended its stringent quarantine measures to the whole country this evening, only a couple of days after it imposed a similar lockdown on much of northern Italy, making it the first country in the world to place its entire population of 60.48 million people, and its territory under quarantine to contain the coronavirus epidemic with the use of force or draconian measures in line with our worst fears.
In a recent statement, the WHO had warned that "Allowing uncontrolled spread should not be a choice of any government, as it will harm not only the citizens of that country but affect other countries as well." This means that if Italy does not reduce their COVID-19 cases and deaths by next week they will be stripped of all sovereignty by the U.N., who will intervene with a set of even more stringent rules.
As of March 9, 2020, there have been 9,172 confirmed cases, 463 deaths, and 724 recoveries in Italy. So this evening, in a special televised address,  a rather depressed Prime Minister Giuseppe Conte said that Italy's "customs must change" and that the best thing was for people to stay at home. "We're having an important growth in infection… and of deaths," he said.
In the meantime, six inmates have died, and at least 50 others escaped from an Italian prison in the southern region of Puglia on Monday, amid extensive rioting in 27 prisons across the country after visitation rights were suspended due to the COVID-19 spread.  Now we all know a situation like this, in the long run, could destabilize not only Italy but the entire European continent once the Italians understand they will receive zero help from their neighbors, but maybe there is already help on its way…
On February 21, Jens Stoltenberg Secretary General of NATO announced they were launching an extensive military exercise.  85 Abrams tanks, 45 armored personnel carriers, heavy machine guns, mortars, and around 20,000 U.S. troops will be transported from the U.S. to Europe. The operation "Defender Europe-2020" is the largest scale exercise made over the last 25 years but there is, of course, a new factor in the"war-gaming" scenario,COVID-19. For this reason, the Army is preparing emergency plans that would be rolled out if the coronavirus afflicts troops taking part in Defender Europe 20, one of the largest military drills since the end of the Cold War that might also become great help for countries in need like Italy, that will need assistance so they can to avoid possible civil unrest.
Maj. Gen. Andrew Rohling told reporters that "Robust medical support" has been incorporated into "Defender" to provide care for troops as needed, he said. The Army is aligning its plans with Defender's host nations to ensure a unified response if the virus impacts the exercise that at this point might have a sudden more practical role in the not so distant future.
Let's remember that if COVID-19 is a bioweapon or a virus "accident" deliberately not contained by China to harm its internal enemies and weaken its outside ones, we are in front of a possible biological warfare scenario that could indeed facilitate the European take-over by China and their allies, the Russian Federation.
The U.S. expects to spend about $340 million on "Defender Europe" that should last until July and is originally intended to serve as a test of military combat readiness and measure to see how effective the U.S forces are across the Atlantic, but of course, in this new unprecedented scenario, we hope that the military personal involved in the exercise is protected against this new danger called COVID-19. Operation "Defender-Europe 20" is, first of all, about practicing old skills to confront new challenges, and the fact that some U.S. military personal will not wear masks as communicated to the Italian media is already raising many questions, but we are sure Maj. Gen. Andrew Rohling is already addressing them.
Let's all remember that during the pandemic of 1918-19, the so-called "Spanish Flu" killed 50-100 million people, including many soldiers. Many people do not realize that the Spanish Flu killed far more soldiers on all sides than machine guns or mustard gas.
Follow Defense Information Video Distribution Service feature page at DEFENDER-Europe 20 and on social media with the hashtag #DefenderEurope to learn more as we try to understand what is really going on.
Please I repeat please help keep this website going by making a small donation in support of Leo's work through Paypal: https://www.paypal.me/LeoZagami
Get Leo's latest book: Confessions of an Illuminati Vol. 4, American Renaissance 2.0 and The Missing Link From the Invisible World.
You can find it now on Amazon in both paperback:
https://www.amazon.com/dp/1679105434/ref=cm_sw_r_fa_awdo_t1_kGIaEbKMF61NP?fbclid=IwAR2ayxAv16FsFMVBDow7CPhdIctj9_X2bEiQjPHbbjyMFfbJtwb88NZW64M
And Kindle format:
https://www.amazon.com/Confessions-Illuminati-Four-Renaissance-Invisible-ebook/dp/B082ZTFTHV?fbclid=IwAR1HcyOk5b0ZAmMSAyyYMCfPGdjbv9obkFD2fozyrvwJ3s6ahWhqL7iECbc
PLEASE SUPPORT LEO'S WORK BY BUYING HIS LATEST BOOKS!!!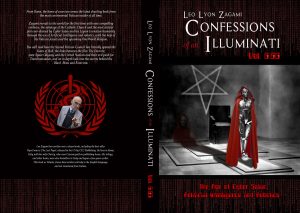 Leo Zagami is a regular contributor to Infowars and the author of the groundbreaking book  Confessions of an Illuminati Vol. 6.66 The Age of Cyber Satan, Artificial Intelligence, and Robotics
OUT NOW ON KINDLE:
https://www.amazon.com/Confessions-Illuminati-6-66-Artificial-Intelligence-ebook/dp/B07NS8WS9V/ref=sr_1_2?s=books&ie=UTF8&qid=1550411820&sr=1-2&keywords=vol.+6.66
And on paperback :
https://www.amazon.com/dp/1796904694/ref=cm_sw_r_fa_awdo_t1_2dvACb2HVH6TP?fbclid=IwAR1h_VlIytuACI3zxXUc9mBfOk96N4Yk0WH3To6Psv2kbFxJLwfzAwV4mUE

Leo Zagami is also the author of  Confessions of an Illuminati Volume 5: The Decline of the West and the Rise of Satanism in our Society 
OUT NOW ON KINDLE: https://www.amazon.com/dp/B07BQVQ9ZM/ref=tsm_1_fb_lk
And on paperback : https://www.amazon.com/dp/1986894657/ref=sr_1_8?ie=UTF8&qid=1522233257&sr=8-8&keywords=leo+zagami