Please help keep this website going by making a small donation in support of Leo's work through Fundly: https://fundly.com/leo-lyon-zagami-channel  or Patreon: https://www.patreon.com/leozagami
Article by Leo Lyon Zagami 
Cases of the Covid-19 coronavirus in Italy, the most affected country in Europe, rose overnight to 135 on Sunday, killing two people and prompting the government to close the worst-hit areas in the northern regions of Lombardy and Veneto, but it's a little too late as the virus has already spread to the neighboring region of Emilia Romagna with nine cases and Piedmont with two cases.
Authorities in the regions where the outbreak is concentrated or spreading, like Emilia Romagna, have canceled sports events, including top league soccer games, and closed schools and universities. Companies have told workers living in the affected areas to stay home.
Lombardy, Veneto, and Emilia Romagna represent Italy's industrial heart and jointly account for 50 percent of gross domestic output if not more, so very soon this will become an economic crisis as the remaining income in Italy comes from tourism that is quickly coming to a standstill because of the spread of COVID-19.
With an emergency decree passed yesterday at a meeting at the headquarters of Italy's civil protection agency, the government adopted special measures to stop people from leaving or entering the worst impacted zones. Competent ministers will also be able to halt sports events and school trips outside those areas.
"I've wondered myself why so many cases in Italy … and the answer is in the rigorous and meticulous controls our country has adopted from the start,"Prime Minister Giuseppe Conte said at a late-night press conference.
Italy's first victim was a 76-year-old woman, who was found dead at her home 50 km (30 miles) south of Milan on Thursday and tested positive for the coronavirus. A 78-year-old man died of the infection in a hospital near Padua on Friday night. The man's wife and daughter are among the 25 people currently infected by the coronavirus in the Veneto region, where authorities have temporarily suspended the Carnival of Venice events currently taking place.
There are now the first cases in Milan, the city, where Women's Fashion Week was underway, with a population of 1.4 million. Fashion designer Giorgio Armani gave the unprecedented announcement that his fashion show that will take place today, will be conducted in an empty theatre without any press or buyers present to safeguard their health. Milan's prosecutor's office said it would not reopen on Monday and remain closed until further notice. Organizers of the world's biggest eyewear trade fair, MIDO, postponed on Saturday until the end of May the event which had been due to take place in Milan in a week but this is only the start of something that is becoming a pandemic.
As Iran confirms its 7th Covid-19 death and the Korean Center for Disease Control and Prevention (KCDC) reported 123 new cases on Sunday, bringing the total to 556 and sparking fears about greater transmission outside of China because the only ones who are not willing to be honest about the pandemic is the World Health Organization (WHO) in the hands of a seemingly corrupt criminal enterprise in bed with China's propaganda. Despite calls for transparency, repression in China is baked into the system of lies and fake news that is an integral part of this evil Communist dictatorship that should have no place in WHO, the troubled United Nations health agency, that elected in 2017 a Marxist director-general, the Ethiopian politician Tedros Adhanom Ghebreyesus. The choice should have disturbed taxpayers, members of Congress, and the Trump administration. Global public health is, indeed, critical to American interests at home and abroad, and the U.S. government is the largest contributor to WHO's approximately $2 billion budget. However, like other U.N. subsidiaries, WHO is plagued by persistent wasteful spending that includes 200 million a year only on flights for their staff, and an utter disregard for transparency, fueled with pervasive incompetence, and failure to adhere to even basic democratic standards.
Before Tedros's election, the Associated Press published an exposé on WHO's already infamously lavish spending on first-class airfare and five-star hotels.Tedros was reportedly elected with 133 of 185 votes in a third-round secret ballot supported by China and the Bill and Melinda Gates Foundation, defeating the much more qualified British candidate, David Nabbaro, M.D.
When the World Health Organization declared a global public health emergency at the end of last month, it praised China's "extraordinary"efforts to combat the coronavirus epidemic and urged other countries not to restrict travel. Fortunately, countries like the U.S. ignored this advice otherwise we would be in much worse condition. The incompetence of the leadership of  WHO is linked to corruption.
On January 31st, 2017, heads of states and governments of the African Union and the leadership of the African Union Commission officially launched after receiving $200 million dollars from China and $50m from the other members, the Africa Centers for Disease Control and Prevention (Africa CDC) in Addis Ababa, Ethiopia. Only a few months later in May 2017 Dr. Tedros, as he likes to be called (he has a Ph.D. in community health), leader of Ethiopia's brutal minority party, the Tigray People's Liberation Front, a wing of the ruling Marxist-rooted Ethiopian People's Revolutionary Democratic Front took control of WHO. He served the violently repressive regime as Minister of Foreign Affairs from 2012 to 2016, after a stint as health minister but he was chosen because of the support of China that plans to build an $80m headquarters for the Africa Centers for Disease Control and Prevention in Ethiopia, amid growing competition for influence in the continent.
A Trump administration official cited concerns over Beijing's scientific spying program in Africa earlier this month explaining to the Financial Times that: "It's a threat to Africa. Africa has vast amounts of genomic data and the Chinese want to build the CDC to eventually steal the data from all the other centers."
The role of Africa CDC and WHO is compromised and we need to investigate as soon as possible. Dr. Tedros and his a dangerous relationship with China before the COVID-19 situation gets even more out of hand.
Get Leo's latest book: Confessions of an Illuminati Vol. 4, American Renaissance 2.0 and The Missing Link From the Invisible World.
You can find it now on Amazon in both paperback:
https://www.amazon.com/dp/1679105434/ref=cm_sw_r_fa_awdo_t1_kGIaEbKMF61NP?fbclid=IwAR2ayxAv16FsFMVBDow7CPhdIctj9_X2bEiQjPHbbjyMFfbJtwb88NZW64M
And Kindle format:
https://www.amazon.com/Confessions-Illuminati-Four-Renaissance-Invisible-ebook/dp/B082ZTFTHV?fbclid=IwAR1HcyOk5b0ZAmMSAyyYMCfPGdjbv9obkFD2fozyrvwJ3s6ahWhqL7iECbc
PLEASE SUPPORT LEO'S WORK BY BUYING HIS LATEST BOOKS!!!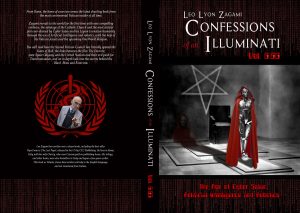 Leo Zagami is a regular contributor to Infowars and the author of the groundbreaking book  Confessions of an Illuminati Vol. 6.66 The Age of Cyber Satan, Artificial Intelligence, and Robotics
OUT NOW ON KINDLE:
https://www.amazon.com/Confessions-Illuminati-6-66-Artificial-Intelligence-ebook/dp/B07NS8WS9V/ref=sr_1_2?s=books&ie=UTF8&qid=1550411820&sr=1-2&keywords=vol.+6.66
And on paperback :
https://www.amazon.com/dp/1796904694/ref=cm_sw_r_fa_awdo_t1_2dvACb2HVH6TP?fbclid=IwAR1h_VlIytuACI3zxXUc9mBfOk96N4Yk0WH3To6Psv2kbFxJLwfzAwV4mUE

Leo Zagami is also the author of  Confessions of an Illuminati Volume 5: The Decline of the West and the Rise of Satanism in our Society 
OUT NOW ON KINDLE: https://www.amazon.com/dp/B07BQVQ9ZM/ref=tsm_1_fb_lk
And on paperback : https://www.amazon.com/dp/1986894657/ref=sr_1_8?ie=UTF8&qid=1522233257&sr=8-8&keywords=leo+zagami