Please help keep this website going by making a small donation in support of Leo's work through Fundly: https://fundly.com/leo-lyon-zagami-channel  or Patreon: https://www.patreon.com/leozagami
Pope Francis and former Brazilian President Luiz Ignácio Lula da Silva
Article by Leo Zagami
A day after calling for "outrage" against injustice and evil in his papal exhortation Querida Amazonia, Pope Francis welcomed left-wing extremist and former Brazilian President Luiz Inácio Lula da Silva to the Vatican, bestowing on him a papal blessing. In 2014, Brazilian authorities began investigating money-laundering operations that eventually lead to Lula's arrest. On July 12, 2017, Lula was convicted of money-laundering and passive corruption, defined in Brazilian criminal law as the receipt of a bribe by a civil servant or government official.
Lula was sentenced to nine years and six months in prison but was eventually released due to his connections to the Jesuits and the Pope, on November 8, 2019, after only 580 days in jail.
During his time in prison, the former Brazilian President criticized U.S. politics and said that his country could stop President Donald "Trump's madness" during an interview with RT Spanish from his jail cell in the city of Curitiba:
The announcement of the February 13th meeting between Pope Francis and the former Brazilian President Luiz Inácio Lula da Silva has caused controversy in the politically divided South American country, but Lula's Partido dos Trabalhadores (PT) or Workers' Party has always been secretly supported by the infamous Jesuits, so that explains it all.
David Fleischer, political analyst and emeritus professor at the University of Brasília, defined  Lula the "Teflon president," for even though plagued by scandal after scandal, "nothing sticks to Lula."  Well, of course, "nothing sticks"to this criminal. He has the constant backing of the Jesuits.This was proven once again by the meeting between Lula and the Pope, typical of the anti-Christian and progressive vision of the Church lead by Pope Francis and his Jesuits. A meeting that should have never happened that lasted an hour, at the Pope's Santa Marta residence, was not listed in the Holy Father's official agenda.
Of course, the Vatican issued no comment following the unusual audience to avoid the scrutiny and criticism of the traditional Catholic media and Christians worldwidethat are against shameful acts, like the Brazilian  "Gay Jesus" Netflix Parody.
President Jair Bolsonaro's victory on a far-right platform was powered by historic levels of support from Brazil's Evangelicals, 40 million and counting, three quarters of whom practice one or another strain of Pentecostalism that seems fortunately not influenced by the Jesuits and their attempt to involve them in their One World Religion scam. As a bloc, they voted three-to-one for Bolsonaro, a portent of a historical shift in the politics of the world's most religious nation. "For the first time, [Evangelical] voters, who are usually divided, opted as a majority for one candidate,"noted the Brazilian Daily Extra.
Returning to Lula, when he was imprisoned, he sent a letter to Francis, saying that he was fighting to prove his innocence and that he was convicted because of his policies to benefit the poor. In this personal propaganda stunt, he also mentioned his personal losses – the deaths of his brother and his grandson.  After almost a month, Francis answered Lula's letter in May 2019, urging him to trust in Christ's resurrection and a few months later he was free.
This episode shows us once again the power and influence of the Jesuits and the Jesuit Pope in the prevalently Socialist/Satanist-infested South American continent, something we need to fight in the name of our Lord Jesus Christ who has nothing to do with the Company of Jesus and their infamous Jesuits. Of course, former-Brazilian President Luiz Inácio Lula da Silva terminated his Italian visit after visiting the political representatives of the Italian Democratic Party the former Communist Party that worked behind the scenes in 2016 to foment the infamous Russia-hoax investigation.
Luiz Inácio Lula da Silva and Nicola Zingaretti Secretary of the Italian Democratic Party 
The Jesuits have highjacked the Catholic Church to shape the future religion of the Antichrist and you can learn more about it in my latest book: Confessions of an Illuminati Vol. 4, American Renaissance 2.0 and The Missing Link From the Invisible World.
You can find it now on Amazon in both paperback:
https://www.amazon.com/dp/1679105434/ref=cm_sw_r_fa_awdo_t1_kGIaEbKMF61NP?fbclid=IwAR2ayxAv16FsFMVBDow7CPhdIctj9_X2bEiQjPHbbjyMFfbJtwb88NZW64M
And Kindle format:
https://www.amazon.com/Confessions-Illuminati-Four-Renaissance-Invisible-ebook/dp/B082ZTFTHV?fbclid=IwAR1HcyOk5b0ZAmMSAyyYMCfPGdjbv9obkFD2fozyrvwJ3s6ahWhqL7iECbc
PLEASE SUPPORT LEO'S WORK BY BUYING HIS LATEST BOOKS!!!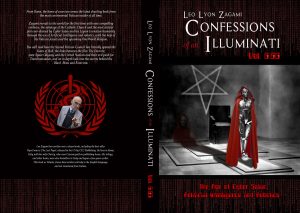 Leo Zagami is a regular contributor to Infowars and the author of the groundbreaking book  Confessions of an Illuminati Vol. 6.66 The Age of Cyber Satan, Artificial Intelligence, and Robotics
OUT NOW ON KINDLE:
https://www.amazon.com/Confessions-Illuminati-6-66-Artificial-Intelligence-ebook/dp/B07NS8WS9V/ref=sr_1_2?s=books&ie=UTF8&qid=1550411820&sr=1-2&keywords=vol.+6.66
And on paperback :
https://www.amazon.com/dp/1796904694/ref=cm_sw_r_fa_awdo_t1_2dvACb2HVH6TP?fbclid=IwAR1h_VlIytuACI3zxXUc9mBfOk96N4Yk0WH3To6Psv2kbFxJLwfzAwV4mUE

Leo Zagami is also the author of  Confessions of an Illuminati Volume 5: The Decline of the West and the Rise of Satanism in our Society 
OUT NOW ON KINDLE: https://www.amazon.com/dp/B07BQVQ9ZM/ref=tsm_1_fb_lk
And on paperback : https://www.amazon.com/dp/1986894657/ref=sr_1_8?ie=UTF8&qid=1522233257&sr=8-8&keywords=leo+zagami