Please help keep this website going by making a small donation in support of Leo's work through Fundly: https://fundly.com/leo-lyon-zagami-channel  or Patreon: https://www.patreon.com/leozagami
Article by Leo Zagami 
This is my first Christmas in the United States after fleeing Italy to avoid political and religious persecution, and I am proud to announce for this special occasion the release of my new book on Christmas eve entitled, Confessions of an Illuminati Vol. 4  American Renaissance 2.0 and The Missing Link From the Invisible World.
 President Trump has made it a point to fight back against the "War on Christmas" by claiming it simply starts by actually saying "Merry Christmas". So "Merry Christmas" to my dear readers and supports who believe in my project and help me every day with your donations and by purchasing my books.
In my new book, you will learn the secrets of what is happening beyond the material realm in a complex society manipulated by the occult forces of St. Ignatius aka the Jesuits. Remember, there is a world that escapes the reality that is at play in everything we do in our daily lives. This unseen world is the Invisible Link that influences our destiny and even our politics.  Because we are living in extraordinary times, learn exactly what is being planned by the Illuminati and their Jesuit supervisors and how we can sabotage their end-times plan to enslave us all. We can have an American Renaissance 2.0. or a Civil War in the U.S., only time will tell which direction we will take hoping this impeachment farse will end without any permanent damage to the U.S. Constitutional Republic.
The Company of Jesus aka the Jesuits has a dominant role in my new book, that you can find on Amazon in both paperback:
https://www.amazon.com/dp/1679105434/ref=cm_sw_r_fa_awdo_t1_kGIaEbKMF61NP?fbclid=IwAR2ayxAv16FsFMVBDow7CPhdIctj9_X2bEiQjPHbbjyMFfbJtwb88NZW64M
And Kindle format:
https://www.amazon.com/Confessions-Illuminati-Four-Renaissance-Invisible-ebook/dp/B082ZTFTHV?fbclid=IwAR1HcyOk5b0ZAmMSAyyYMCfPGdjbv9obkFD2fozyrvwJ3s6ahWhqL7iECbc
However during the Christmas period we need to remind ourselves like I do in my book that Jesus gave us the right spiritual weapons to fight these supernatural entities fueled with demons, angels, elementals, jinn, and extra-dimensional parasites that ultimately can't compete with the power of our Lord Jesus. Sure, we can make simple day-to-day choices, but our future may already be predetermined if manipulated by such entities.
We should always remember that faith in Jesus will decide in which direction we ultimately go in our lives, and the angels of God can always help us in this delicate process.
The problem is that humans create and attract bad entities through evil thoughts and actions. Angels are often left out of our lives even when we claim the contrary, especially in the New Age circles. These evil extra-dimensional creatures feed on our flesh, blood, semen, and vampirize our energy due to ignorance. Of course, we also have the dark side and the Satanists who invite these forces into their lives deliberately to establish a link, but they are in league with Satan and his Legion.
The Italian-Americans will celebrate on Christmas eve The Feast of the Seven Fishes in the U.S with dishes of fish and other seafood a traditional Italian custom as the Jesus fish symbol is a well recognized symbol of Christianity, but we also know that Illuminati/occult symbolism is abundant in Christmas-Saturnalia holiday traditions because after all the traditions and customs performed on Christmas are mostly the extension of Roman Pagan to Christian ceremonies. However aside from the roots of such traditions as the eggs, generally speaking, existed before chickens did, they are indeed an essential part of our Western Judeo Christian heritage we will always need to defend and cherish like Trump has suggested, especially as we are under attack from powerfull Antichristian forces as my new book will show you.
We love Making Christmas Great Again and we also love our Jewish brtohers and their Hanukkah "Festival of lights."  May God Bless you all and I hope you will sincerelly all appreciate my effort to bring out with my new book as a  powerfull message and a gift to humanity. Justice and liberty will prevail until the U.S. stays in the hands of patriots like Donald J. Trump.
Please I repeat please help keep this website going by making a small donation in support of Leo's work through Paypal: https://www.paypal.me/LeoZagami
PLEASE SUPPORT LEO'S WORK BY BUYING HIS LATEST BOOKS!!!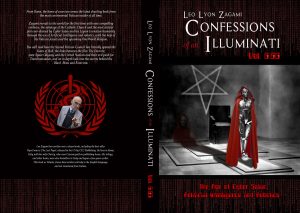 Leo Zagami is a regular contributor to Infowars and the author of the groundbreaking book  Confessions of an Illuminati Vol. 6.66 The Age of Cyber Satan, Artificial Intelligence, and Robotics
OUT NOW ON KINDLE:
https://www.amazon.com/Confessions-Illuminati-6-66-Artificial-Intelligence-ebook/dp/B07NS8WS9V/ref=sr_1_2?s=books&ie=UTF8&qid=1550411820&sr=1-2&keywords=vol.+6.66
And on paperback :
https://www.amazon.com/dp/1796904694/ref=cm_sw_r_fa_awdo_t1_2dvACb2HVH6TP?fbclid=IwAR1h_VlIytuACI3zxXUc9mBfOk96N4Yk0WH3To6Psv2kbFxJLwfzAwV4mUE

Leo Zagami is also the author of  Confessions of an Illuminati Volume 5: The Decline of the West and the Rise of Satanism in our Society 
OUT NOW ON KINDLE: https://www.amazon.com/dp/B07BQVQ9ZM/ref=tsm_1_fb_lk
And on paperback : https://www.amazon.com/dp/1986894657/ref=sr_1_8?ie=UTF8&qid=1522233257&sr=8-8&keywords=leo+zagami