Please help keep this website going by making a small donation in support of Leo's work through Fundly: https://fundly.com/leo-lyon-zagami-channel  or Patreon: https://www.patreon.com/leozagami
Article by Leo Zagami
I originally joined Facebook in 2008, when I was already a controversial internet personality.  I was never really convinced about the safety of the platform mainly because I was one of those people who preferred the freedom of early Myspace and couldn't be bothered with all the stupid rules and regulations of Zuckenberg's new Orwellian creation.
Eventually, I gave it a try and was immediately flagged and banned in less than a week proving my original fears, so I decided to give up on the whole thing and got back 6 month later, in the fall of 2008, using another identity. It worked, and I was able to keep in contact with my friends in private and make new ones without any problems or restrictions simply because I was not Leo Zagami in the eyes of the public.
However, I wanted to operate on Facebook as Leo Zagami, so I made yet another attempt in February 2009, but in less than a month I was closed down for no apparent reason. At this point, I decided to wait and for another year I continued to be a different person to avoid Facebook's scrutiny and censorship, but in the end I finally changed the name on the two profiles I owned on this social network and started being me again as I was appearing regularly on Italian TV and I was promoting my first books in the Italian and Japanese language and wanted to interact with my growing number of fans and readers.
All went well until my books became popular and I started promoting my political candidacy for the upcoming Italian elections that took place in early 2013. I was signed out of my two profiles and they were closed down in less than 24 hours. I had enough of the entire Facebook world and wanted to give up on this unjust and bias platform but my wife convinced me to start another profile to promote my work. It was my 5th one that has been up and running since then as my main official profile.
I started to have problems with this new profile right at the end of 2013 when I was involved in the planning of the Italian social protest dubbed by journalists as the Pitchfork protests that will later inspire the Yellow vests movement and occurred in many parts of Italy, starting on the 15th of November and ending on the 18th of December 2013, although several protests continued until February 2014.
From that point onwards I was increasingly blocked on Facebook regularly, and in 2017 I was blocked for 6 months out of 12.  They would block me every 30 days for 30 days so I decided to ask the help of a friend who built an emergency profile to keep my message going. To avoid further censorship I also stopped posting in Italian on the 1st of January 2019 after being erased by the Italian authorities for various Facebook posts.  But in March 2019, the Italian police came to my door to communicate I had violated Italian law with one of my old Facebook posts.
Since I moved to the U.S. I was only blocked once after my arrival in Colorado due to the posting of one of my articles on the Vatican, and once for a few hours after my arrival in California due to security concerns. But yesterday, on the 5th of November 2019, after reposting an old post regarding the possible murder of Jeffrey Epstein by British Intelligence and the Clinton's that I made on the 9th of July 2019, when Epstein was still alive, I was banned for a nonspecified period without any explanation from posting on my official profile and soon after they also banned me from my emergency profile.
Strangely enough, they communicated the reason for being banned on the emergency profile for 7 days, stating it was simply because I posted one of my articles on the Pachamama affair, but who knows if they will keep their promise as it seems I might not be able to join Facebook any longer.
So please tune in regulary to my Youtube Channel and my website for any updates on the ongoing Infowar because we are the Resistance and we will never give up, Zuckerberg!
PLEASE SUPPORT LEO'S WORK BY BUYING HIS LATEST BOOKS!!!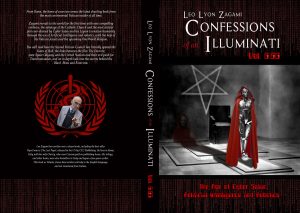 Leo Zagami is a regular contributor to Infowars and the author of the new groundbreaking book  Confessions of an Illuminati Vol. 6.66 The Age of Cyber Satan, Artificial Intelligence, and Robotics
OUT NOW ON KINDLE:
https://www.amazon.com/Confessions-Illuminati-6-66-Artificial-Intelligence-ebook/dp/B07NS8WS9V/ref=sr_1_2?s=books&ie=UTF8&qid=1550411820&sr=1-2&keywords=vol.+6.66
And on paperback :
https://www.amazon.com/dp/1796904694/ref=cm_sw_r_fa_awdo_t1_2dvACb2HVH6TP?fbclid=IwAR1h_VlIytuACI3zxXUc9mBfOk96N4Yk0WH3To6Psv2kbFxJLwfzAwV4mUE

Leo Zagami is also the author of  Confessions of an Illuminati Volume 5: The Decline of the West and the Rise of Satanism in our Society 
OUT NOW ON KINDLE: https://www.amazon.com/dp/B07BQVQ9ZM/ref=tsm_1_fb_lk
And on paperback : https://www.amazon.com/dp/1986894657/ref=sr_1_8?ie=UTF8&qid=1522233257&sr=8-8&keywords=leo+zagami