Please help keep this website going by making a small donation in support of Leo's work through Fundly: https://fundly.com/leo-lyon-zagami-channel  or Patreon: https://www.patreon.com/leozagami
Article by Leo Zagami
Bishop Malone called for a news conference yesterday to discuss a letter from Father Ryszard Biernat to a seminarian, Matthew Bojanowski, and the allegations by Bojanowski that another priest, Father Jeffrey Nowak, had harassed him. Bishop Richard Malone of Buffalo said during the press conference that the majority of priests and parishioners in the diocese supported him and he would not resign over his handling of a situation involving two priests' relationship with a seminarian.
Malone declared defiantly in front of the media: "I'm here because I feel an obligation as the one who was sent here to lead this diocese, to carry on, and once again, if I thought the majority of Catholic people in particular were calling for my resignation, that would be a different story," Bishop Malone said during a news conference in Buffalo. But I don't feel that. I go out to parishes and schools all the time for visits. I am always well received when I go … I do feel enough support, honestly to continue on."
However, on the 21st of August 2019 I wrote on leozagami.com:
"The protracted crisis in the U.S. Diocese of Buffalo has piqued Rome's interest, as many of Buffalo's 727,000 Catholics have lost confidence in Bishop Richard J Malone's ability to lead them, and more than a few have abandoned the practice of the faith."
 Now, a Buffalo chancery insider finally exposed Bishop Malone and Auxiliary Bp. Edward M. Grosz who covered up the abuse. In an interview with WKBW investigative reporter, Charlie Specht  Fr. Ryszard Biernat revealed that the bishops, used threats against him, forcing him into silence after the alleged assault by Fr. Art Smith. In a recording obtained from Father Biernat by WKBW-TV, Bishop Malone is also heard saying that he feared he would have to resign over what he called a "love triangle" involving priests and a seminarian. In the same recording, Bishop Malone also expresses concern to Biernat that "this could be the end for me as bishop" if the news media learned about the situation involving the three men  calling the situation he was facing, "a true crisis."
In 2003, Biernat left his native Poland to attend Buffalo's Christ the King Seminary. Once enrolled, he was assigned to live with Fr. Smith at St. Thomas Aquinas Catholic Church in South Buffalo. Shortly afterward, he alleges Smith preyed upon him.
"Art Smith assaulted me sexually,"Biernat told Specht. "At that time, I knew enough English to order [a] latte at Starbucks, not to report the sexual assault," he said."You know, they don't teach you these words in English second language classes."
The fact that Bishop Malone is still refusing to resign will bring the U.S. Church further into disrepute and create a very big problem for The United States Conference of Catholic Bishops (USCCB).
PLEASE SUPPORT LEO'S WORK BY BUYING HIS LATEST BOOKS!!!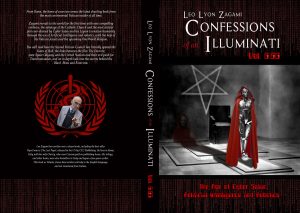 Leo Zagami is a regular contributor to Infowars and the author of the new groundbreaking book  Confessions of an Illuminati Vol. 6.66 The Age of Cyber Satan, Artificial Intelligence, and Robotics
OUT NOW ON KINDLE:
https://www.amazon.com/Confessions-Illuminati-6-66-Artificial-Intelligence-ebook/dp/B07NS8WS9V/ref=sr_1_2?s=books&ie=UTF8&qid=1550411820&sr=1-2&keywords=vol.+6.66
And on paperback :
https://www.amazon.com/dp/1796904694/ref=cm_sw_r_fa_awdo_t1_2dvACb2HVH6TP?fbclid=IwAR1h_VlIytuACI3zxXUc9mBfOk96N4Yk0WH3To6Psv2kbFxJLwfzAwV4mUE

Leo Zagami is also the author of  Confessions of an Illuminati Volume 5: The Decline of the West and the Rise of Satanism in our Society 
OUT NOW ON KINDLE: https://www.amazon.com/dp/B07BQVQ9ZM/ref=tsm_1_fb_lk
And on paperback : https://www.amazon.com/dp/1986894657/ref=sr_1_8?ie=UTF8&qid=1522233257&sr=8-8&keywords=leo+zagami