Please help keep this website going by making a small donation in support of Leo's work through Fundly: https://fundly.com/leo-lyon-zagami-channel  or Patreon: https://www.patreon.com/leozagami
Article by Leo Zagami 
Earlier today, Pope Francis told a reporter from La Croix, the French Catholic daily newspaper,  that it is, "an honor when Americans attack me."The pope made this astonishing comment to the journalist Nicolas Seneze, during the flight from Rome to Maputo, Mozambique.
Seneze is the author of Comment l'Amerique veut changer de pape, which can be translated as "How America wants to Change the Pope." Seneze, who is a left-wing Catholic author working for the Jesuits, gave Pope Francis a copy of the book during the flight. Pope Francis told Seneze that he had heard about the book, but he was not able to find a copy until now. The volume, currently available only in French, went officially on sale only today.
In the book Nicolas Seneze defends Pope Francis by debunking the long list of accusations against him made in the summer of last year by Archbishop Carlo Maria Vigano, the former Nuncio to the United States. Depicting the whole thing as a concerted effort led mainly by influential traditional Catholics in the United States to cast doubt on the legitimacy of Pope Francis' ministry. Seneze's thesis is that "rigorist"Catholics who are mainly wealthy are opposed to Pope Francis' liberal ways and progressive teachings on ethical problems including the world's economy and his new approach to countries like Cuba and China.
The Pope, after stating that he had not read the book, told Seneze that, "It's an honor when the Americans attack me," handing the book to an aide. The pope then commented,"It's a bomb." After greeting each member of the media, Matteo Bruni, his spokesman, rushed to Seneze with an official statement fearing the possible consequences of such a harsh criticism towards Americans, justifying it in the following way: "In an informal context  the pope wanted to say that he always considers criticisms an honor, particularly when they come from authoritative thinkers — in this case from an important nation." 
But it is too late to backpedal now, Pope Francis…your message to Americans was loud and clear.
PLEASE SUPPORT LEO'S WORK BY BUYING HIS LATEST BOOKS!!!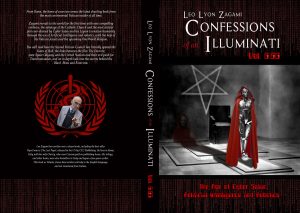 Leo Zagami is a regular contributor to Infowars and the author of the new groundbreaking book  Confessions of an Illuminati Vol. 6.66 The Age of Cyber Satan, Artificial Intelligence, and Robotics
OUT NOW ON KINDLE:
https://www.amazon.com/Confessions-Illuminati-6-66-Artificial-Intelligence-ebook/dp/B07NS8WS9V/ref=sr_1_2?s=books&ie=UTF8&qid=1550411820&sr=1-2&keywords=vol.+6.66
And on paperback :
https://www.amazon.com/dp/1796904694/ref=cm_sw_r_fa_awdo_t1_2dvACb2HVH6TP?fbclid=IwAR1h_VlIytuACI3zxXUc9mBfOk96N4Yk0WH3To6Psv2kbFxJLwfzAwV4mUE

Leo Zagami is also the author of  Confessions of an Illuminati Volume 5: The Decline of the West and the Rise of Satanism in our Society 
OUT NOW ON KINDLE: https://www.amazon.com/dp/B07BQVQ9ZM/ref=tsm_1_fb_lk
And on paperback : https://www.amazon.com/dp/1986894657/ref=sr_1_8?ie=UTF8&qid=1522233257&sr=8-8&keywords=leo+zagami