Please help keep this website going by making a small donation in support of Leo's work through Fundly: https://fundly.com/leo-lyon-zagami-channel  or Patreon: https://www.patreon.com/leozagami
Article by Leo Zagami
After Richard Gere's controversial visit to the Spanish NGO ship Open Armslast month:
https://leozagami.com/2019/08/10/richard-gere-rejects-dalai-lamas-teachings-on-immigration-and-joins-a-ship-full-of-illegals-in-sicily/
The Hollywood actor is back in the news and is now accusing Italians of becoming a nation of unsavory and ugly individuals who have lost their smile. In an interview published by L'Avvenire, the Italian daily newspaper which is affiliated with the Roman Catholic Church and the Vatican, Richard Gere said: "The world is led by little Trumps who deceive people." Labeling Italian citizens as people, "Who have lost their smiles,"and are contextually "incapacitated."
Gere, who has been personally financing the ship, bringing illegal immigrants to an already overcrowded and increasingly poor Italy, also said: "As soon as I heard about the situation, I asked the boys of the Spanish Ngo to get on board. We had difficulty finding a boat to take us under the ship . We agreed with a fisherman, but he called us back a few hours later saying that he was afraid and terrified of the consequences. There is a bad climate of intimidation and fear." Hence the subsequent attack against Italians: "You have changed, you have lost the joy of living and smiling."
I have to, unfortunately,  agree with him, as Italians have indeed, "lost the joy of living and smiling," but the reason for this change in the Italian culture and mentality are the hypocrite scumbags like Richard Gere, who have supported the Italian left-wing mondialists and the Vatican Jesuits. The present Islamic invasion is transforming Italy into a third world country with no hope for its citizens. I witnessed this change in the past ten years, and had many discussions with my wife about the living hell that Italy had become and how the Italian people, in general, had lost their zest for life. For the time being, Italy is okay to visit, and you can still experience "la vita bella," as long as you have plenty of tourist dollars to throw around…but life for the average Italian is a very sad affair.
Richard Gere has no right to say one word out of his disgraceful Hollywood mouth against Italians. The Catholic Church and the Vatican should be ashamed for publishing this insulting interview in their idiotic newspaper. Italians are slowly realizing that their biggest enemy is the Holy See, and the Jesuit Communist Pope Francis, but they need to act fast if they want to save their nation from complete chaos in the coming years. Drastic measures need to be taken, and they might not be democratic ones.  We are in need of a Napoleon-style invasion of the Vatican State. Napoleon was the only one who captured Castel Sant'Angelo and intimidated the Pope by pointing cannons directly at his papal bedroom transforming him into a de facto prisoner for the rest of his papacy.
In the meantime, Prime Minister Giuseppe Conte, another Jesuit agent, has just betrayed his voters and the past government by kicking out Matteo Salvini, to eventually embrace a new political alliance with the Italian Democratic Party, and the far-left under direct orders of Nancy Pelosi and Angela Merkel. Donald J. Trump was also convinced by Macron during the G7 to support Conte's new government in exchange for Europe's support to Trump's hardline stance on Iran. I think the U.S. president should immediately reconsider this endorsement and give the Italians the possibility of voting again.
PLEASE SUPPORT LEO'S WORK BY BUYING HIS LATEST BOOKS!!!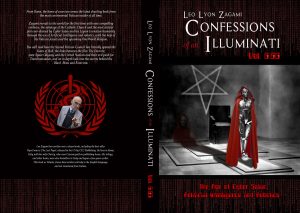 Leo Zagami is a regular contributor to Infowars and the author of the new groundbreaking book  Confessions of an Illuminati Vol. 6.66 The Age of Cyber Satan, Artificial Intelligence, and Robotics
OUT NOW ON KINDLE:
https://www.amazon.com/Confessions-Illuminati-6-66-Artificial-Intelligence-ebook/dp/B07NS8WS9V/ref=sr_1_2?s=books&ie=UTF8&qid=1550411820&sr=1-2&keywords=vol.+6.66
And on paperback :
https://www.amazon.com/dp/1796904694/ref=cm_sw_r_fa_awdo_t1_2dvACb2HVH6TP?fbclid=IwAR1h_VlIytuACI3zxXUc9mBfOk96N4Yk0WH3To6Psv2kbFxJLwfzAwV4mUE