Please help keep this website going by making a small donation in support of Leo's work through Fundly: https://fundly.com/leo-lyon-zagami-channel  or Patreon: https://www.patreon.com/leozagami
Article by Leo Zagami
The Archdiocese of Seattle,J. Peter Sartain and the Jesuit Order are facing serious scrutiny after a local man received a formal Catholic blessing after Mass shortly before committing medically assisted suicide in May 2019.
When End of Life Washington volunteer, Stephanie Murray, brought the drugs that ended Robert Fuller's life on May 10, 2019, she asked if Fuller clearly understood what he was about to do, and Fuller assured her once again that he did want to die. He had aggressive cancer at the base of his tongue and was an HIV patient, but I don't want to focus on Fuller's sickness or his sexuality, but rather focus on the hypocritical position of the Catholic Church that supported this desperate act that goes against the principles of Christianity.
On  August 27, the Associated Press article on Fuller's final days included a photograph and account of the blessing he allegedly received from a Jesuit priest at St. Therese Parish in the Seattle Archdiocese, five days before he ended his life. The news of a euthanasia endorsement by the Catholic Church and the infamous Jesuits triggered an immediate outrage among American Catholics, and the Archibishop's office released a statement  a few hours later that stated: "The Associated Press story about Mr. Fuller is of great concern to the Archbishops because it may cause confusion among Catholics and others who share our reverence for human life."
After Fuller attended a final Mass at his parish, the well-known Jesuit, Fr. Quentin Dupont, SJ, led a group of children dressed in white, who had just received their First Holy Communion,  to gather around the sick man for a final prayer. The priest, the children, and members of the parish extended their hands in blessing over him. This unusual act was made after Fuller publicly announced more than once his upcoming suicide. Fortunately, the event was recorded and photographed by an Associated Press journalist and can't be denied by the Archbishop, or the Archdiocese that has issued a follow-up statement on the 28th of August full of excuses, typical of the Catholic Church in the Pope Francis era.
"The Associated Press news story naturally leads the reader to assume certain things about the priest and his intentions. However, we are learning a very different reality was at work. We looked into this and can confirm that the priest who did the blessing did not know about Mr. Fuller's intentions."
Social media posts made by Robert Fuller in the months prior to his suicide suggest that he scheduled his funeral and his action with his parish days before it happened and that a priest had "given his blessings"to the suicide plan knowing it was a case of assisted suicide. In most countries, it is against the law and it may carry a jail sentence. In the United States, however, the law varies from state to state. The dark side of the Illuminati has even created a Church of Euthanasia that is notorious for its conflicts with Pro-life Christian activists. Slogans employed by the group Euthanasia group include "Save the Planet, Kill Yourself", "Six Billion Humans Can't Be Wrong", and "Eat a Queer Fetus for Jesus." Thanks to some solid reporting by Christine Rouselle of CNA, we now know that Fuller was a longtime member of the Hemlock Society, which supports euthanasia and he even admitted to helping a friend commit suicide years ago.
In a March 16 Facebook post, Fuller claimed that he had completed the legal steps required to receive a prescription of life-ending drugs and that he had the approval of a Jesuit priest to end his own life:"I have absolutely no reservations about what I am doing," he wrote. "And my pastor/sponsor has given me his blessings. And he's a Jesuit!!!"
 Fuller did not name the priest referenced in the post, and the pastor of St. Therese parish, Fr. Maurice Mamba, is not a Jesuit, but several Jesuits assisted with Sunday's Mass at the parish and an  examination of past parish bulletins show that only one Jesuit, Fr. Quentin Dupont regularly celebrated the Sunday Mass that Fuller normally attended. This priest celebrated Mass in that specific Church eight times between December 2018 and May 5, 2019, and knew very well the late Mr. Fuller. So the fact that the Archdiocese of Seattle said that Dupont was not aware of Fuller's intentions is a blatant lie that stains the diocese and the Catholic Church even further.
The Archdiocese states that the blessings were given after Mass by a priest whose interest was only to bring comfort to someone he learned was dying. The priest said the Archdiocese, "was not aware of any news photographer, although he was aware people were taking pictures."
However, in other posts on Fuller's Facebook page, we can see he met with parish staff as he planned in detail the final days of his life, including a party held in the hours before his suicide on May 10, and his own funeral. On May 3, Fuller wrote that he had one week left to live. He thanked his "faith family"at St. Therese, and invited people to join him at Mass the next day and at his "end of life celebration party"on May 10. In addition to the posts regarding his funeral and his pastor's "blessing," other social media posts by Fuller suggest that some parish leaders also knew about his plans to end his own life, and affirmed his decision. On March 3, Fuller posted that he had arranged for one of the musicians at the parish to perform during his end of life "party" to mark his suicide. Three weeks later, he posted that a parish choir would perform as well.
"Today I asked our choir director if he and other musicians and singers can come perform during the first 1 1/2 hours and he emphatically replied YES. OF COURSE!"wrote Fuller on March 24, 2019. An article in the Seattle Housing Authority's website confirms that the Shades of Praise choir from St. Therese performed at the party. Parish choir director Kent Stevenson also told the Associated Press that Fuller's suicide "was completely in keeping with who Bob was" and that Fuller made the choice to die with "tenacity and clarity."
All the Facebook posts appear to be at odds with the statement released by the Archdiocese of Seattle on Tuesday. The statement that says that parish leaders had been unaware of Fuller's intentions at the time he received a blessing during Mass on May 5 is also a lie. The August 28 statement, released subsequent to the initial publication of this story, acknowledged, in fact, that some at the parish did know Fuller's plans. "While it is clear that some of Mr. Fuller's friends at the parish knew of his intentions, the pastor at St. Therese initially did not,"the Archdiocese stated.
According to the archdiocese, when Fuller eventually approached the pastor to ask to plan his own funeral, "The pastor discussed the gift of life and tried to convince him to change his mind. He made it clear that neither he nor the parish could support his plan to take his own life."
After it was clear Fuller would continue with his plans the Archbishop gave his permission for the funeral stating later that this event was created with certain conditions, but the August 28th statement Archdiocesan did not address Fuller's March 16th statement that he had met with a Jesuit priest to discuss his intentions or questions related to the parish choir's performance at his "end of life"party. Neither Father Dupont nor the West Province of the Society of Jesus responded to requests for comment, but in Italy in 2006 the same Catholic Church refused to celebrate the funerals of Piergiorgio Welby, an activist whose three-month-long battle to establish his right to die led to a debate about euthanasia in his country.
The Catholic Church and the Jesuit are the biggest hypocrits on the planet full of double standards and lies.
PLEASE SUPPORT LEO'S WORK BY BUYING HIS LATEST BOOKS!!!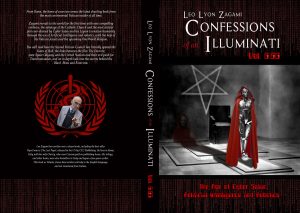 Leo Zagami is a regular contributor to Infowars and the author of the new groundbreaking book  Confessions of an Illuminati Vol. 6.66 The Age of Cyber Satan, Artificial Intelligence, and Robotics
OUT NOW ON KINDLE:
https://www.amazon.com/Confessions-Illuminati-6-66-Artificial-Intelligence-ebook/dp/B07NS8WS9V/ref=sr_1_2?s=books&ie=UTF8&qid=1550411820&sr=1-2&keywords=vol.+6.66
And on paperback :
https://www.amazon.com/dp/1796904694/ref=cm_sw_r_fa_awdo_t1_2dvACb2HVH6TP?fbclid=IwAR1h_VlIytuACI3zxXUc9mBfOk96N4Yk0WH3To6Psv2kbFxJLwfzAwV4mUE

Leo Zagami is also the author of  Confessions of an Illuminati Volume 5: The Decline of the West and the Rise of Satanism in our Society 
OUT NOW ON KINDLE: https://www.amazon.com/dp/B07BQVQ9ZM/ref=tsm_1_fb_lk
And on paperback : https://www.amazon.com/dp/1986894657/ref=sr_1_8?ie=UTF8&qid=1522233257&sr=8-8&keywords=leo+zagami