Please help keep this website going by making a small donation in support of Leo's work through Fundly: https://fundly.com/leo-lyon-zagami-channel  or Patreon: https://www.patreon.com/leozagami
Article by Leo Zagami 
The political crisis is dragging the lazy Italian politicians back from their sacred summer holiday as Prime Minister Giuseppe Conte addressed the League leader Matteo Salvini in the Senate today, saying he was, "irresponsible and an opportunist" and showed a "grave lack of constitutional culture," in triggering a government crisis solely to cash in on surging poll numbers. Premier Giuseppe Conte, who is a Jesuit agent and a close friend of Pope Francis stated, " The government's action stops here," adding that he would go to President Sergio Mattarella to tender his resignation as Premier.  Salvini, however, was defiant and replied, "I would do it all again." 
For Conte, the timing of the crisis showed, "political opportunism" accusing Salvini of having made a "gesture of institutional imprudence" but in reality the crisis was , as I wrote earlier this month, by Nancy Pelosi's visit and more complex geopolitical matters:
https://leozagami.com/2019/08/09/pelosi-behind-the-sudden-crisis-in-the-italian-government/
Salvini's privileged relationship with Russia has alerted U.S. Intelligence in recent months:
https://leozagami.com/2019/07/05/putin-and-francis-unite-in-rome-to-conspire-against-trump-on-independence-day/
https://leozagami.com/2019/07/11/u-s-intelligence-sends-a-coded-message-to-salvini-through-buzzfeed-news/
Prime Minister Conte said in today's speech that Salvini should have addressed Parliament on the case of the League allegedly seeking Russian funding but he didn't. Prime Minister Conte also accused Salvini of having sought, "a pretext for the crisis" in the 5-Star Movement's opposition to a French rail link after the League scored highly in the recent European elections. It seems that Giuseppe Conte is taking advantage of Salvini's present crisis to suddenly dump the League, as Nancy Pelosi wished during her recent visit to Italy, to then form an alliance between the Five Star Movement and the Italian Democratic Party. These Italian left-wing scumbags created the infamous Trump-Russia investigation to frame President Trump in 2016. Remember, the Russiagate investigation has ended, but Russiagate is far from over.
It is no coincidence that U.S. Senator Lindsay Graham, one of Trump's closest allies and a leading critic of Mueller's investigation, visited Rome earlier this year.  U.S. Attorney John Durham and Sen. Lindsey Graham are leading separate inquiries into the origins of the Trump-Russia investigation and have obtained an audio deposition of Joseph Mifsud, the mysterious Maltese academic living in Rome who claimed Russia had "dirt" on Hillary Clinton.
It was the interactions that Trump associate George Papadopoulos had with the mysterious Maltese Professor Joseph Mifsud that eventually led to the FBI opening the infamous inquiry into Trump in July 2016. Mifsud introduced Papadopoulos to figures close to Vladimir Putin, such as Ivan Timofeev, a member of the Russian International Affairs Council, (a think tank founded by the Kremlin).But, again, he stressed publicly that these contacts were mostly academic.
Sen. Lindsey Graham said on Sunday that he wants answers about the role the CIA and the Obama White House played in the Trump-Russia investigation, including answers on what President Barack Obama himself may have known. It sounds like Lindsey Graham is going to have George Papadopoulos testify soon and Papadopoulos has already announced on Twitter that he will expose Matteo Renzi, who served as the Prime Minister of Italy from February 2014 until December 2016, and his friend Paolo Gentiloni, who served after him as the 57th Prime Minister of Italy from 2016 to 2018. Both Renzi and Gentiloni  who are key figures in the Italian Democratic Party, are Jesuit agents and enemies of the American people who conspired to activate the infamous Trump-Russian investigation.
That's why the current crisis in Italy needs to be monitored closely because it is the result of a widening geopolitical crisis that involves U.S. Democrats directly to a plot to take down President Trump. Conte also said today that Italy's Constitution precluded "authoritarian methods",referring to Salvini's controversial call for the people to grant him "full power" in a snap vote. He said not even the "illuminated sovereign"Emperor Frederick II had demanded as much, saying even the highest king's powers were limited by the law. In Europe, he said, Salvini's "contrarian" views had sparked "confusion," but in reality, Salvini's populist ways have increasingly made him a central figure of European politics, but a nightmare for the Satanic Socialist left-wing that dominates the EU and have finally corrupted Giuseppe Conte. Imagine that Jesuit agent Giuseppe Conte criticized Salvini today for brandishing rosaries and other religious symbols while announcing policy moves such as a crackdown on migrants. "Your use of religious symbols is unconscionable," Conte said to Salvini, adding, "the ongoing (government) crisis compromises the action of this government, which stops here".
 Giuseppe Conte, now a resigning Prime Minister, said he would hand in his resignation to Italian President Sergio Mattarella, who would "guide the country in a delicate passage."
Unfortunately, Sergio Mattarella is another left-wing Jesuit agent whose father's alleged links with the Mafia are well-described in several credible reports and books. The Communist minority of the Parliamentary Antimafia Commission once described Mattarella's father as the man "who had striven to absorb Mafia forces into the Christian Democrats so as to use them as an instrument of power." Mattarella's career in Parliament began in 1983, when he was elected a member of the Chamber of Deputies in the left-leaning faction of the Christian Democrats who supported an agreement with the Italian Communist Party (PCI) led by Enrico Berlinguer, the so-called Historic Compromise.
So let's pray for Italy as it is once again in the hands of dark forces that has oppressed this country for far too long and have actively conspired against Trump and the United States of America. As Papadopoulos tweeted in February: "Italy is as important to the Spygate saga as the UK/Australia. I trust our Italian friends will come clean soon about Mifsud ("the professor"). Elections there and here soon."
PLEASE SUPPORT LEO'S WORK BY BUYING HIS LATEST BOOKS!!!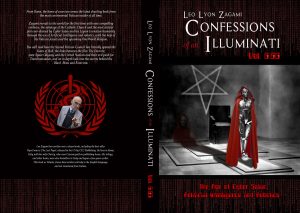 Leo Zagami is a regular contributor to Infowars and the author of the new groundbreaking book  Confessions of an Illuminati Vol. 6.66 The Age of Cyber Satan, Artificial Intelligence, and Robotics
OUT NOW ON KINDLE:
https://www.amazon.com/Confessions-Illuminati-6-66-Artificial-Intelligence-ebook/dp/B07NS8WS9V/ref=sr_1_2?s=books&ie=UTF8&qid=1550411820&sr=1-2&keywords=vol.+6.66
And on paperback :
https://www.amazon.com/dp/1796904694/ref=cm_sw_r_fa_awdo_t1_2dvACb2HVH6TP?fbclid=IwAR1h_VlIytuACI3zxXUc9mBfOk96N4Yk0WH3To6Psv2kbFxJLwfzAwV4mUE

Leo Zagami is also the author of  Confessions of an Illuminati Volume 5: The Decline of the West and the Rise of Satanism in our Society 
OUT NOW ON KINDLE: https://www.amazon.com/dp/B07BQVQ9ZM/ref=tsm_1_fb_lk
And on paperback : https://www.amazon.com/dp/1986894657/ref=sr_1_8?ie=UTF8&qid=1522233257&sr=8-8&keywords=leo+zagami