Please help keep this website going by making a small donation in support of Leo's work through Fundly: https://fundly.com/leo-lyon-zagami-channel  or Patreon: https://www.patreon.com/leozagami
Article by Leo Zagami
In Great Britain, the British Royals have always had moral authority as the nation's model family, but that seems to be changing as their perversions are being exposed.
Queen Elisabeth II is now busy trying to protect her pervert son, Prince Andrew, from the involvement with Epstein's pedophile ring. The pair became firm friends because of their common love of young girls, preferably minors. They met on several occasions around the world in exclusive locations during a close relationship spanning two decades that allegedly included sharing some of Epstein's sex slaves. In June 2000, Epstein and "Madame" Ghislaine even attended the legendary Dance of the Decades, a spectacular party that took place at Windsor Castle hosted by the Queen herself, to mark Andrew's 40th, Princess Anne's 50th, Princess Margaret's 70th, and Prince William's 18th birthdays.
Epstein and Prince Andrew were first noticed by the media in 2010 walking through Central Park, but now some new photos taken 24 hours earlier during the same visit expose Prince Andrew even further. Andrew is shown with convicted pedophile Jeffrey Epstein, in his 63 million pound mansion of depravity with various young girls. Let's remember that Epstein's alleged "sex slave"Virginia Roberts is claiming she even had sex with Prince Andrew at Epstein's New York home. So Andrew was not only 100% aware of his close friend's activities, but he was also a willing participant to his deviant practices. Epstein had just been released from a prison sentence for abuse when the photos in question were taken nine years ago. Of course, the Duke of York is not an ordinary citizen, but a senior Royal, and the father to two Princesses, but we are in 2019,  and this cannot be an excuse to avoid his responsibility in the involvement with one of the world's leading pedophiles. British citizens should demand an investigation and avoid the cover-up that will compromise and irremediably stain the British Royal family and all the British traditions that go with it.
However, this is not only a problem of the House of Windsor, as newly released FBI files describe the lust for young men by the late Lord Mountbatten,killed in an IRA bomb attack in 1979, who was Prince Charles's mentor. The files describe him and his wife as "persons of extremely low morals." The decorated war hero was under U.S. surveillance for more than three decades. The files emerged after historian Andrew Lownie used the Freedom of Information Act while researching his new book about the couple, The Mountbattens: Their Lives & Loves,which reveal the pedophile and homosexual tendencies of Charles' mentor. Let's remember that homosexual acts were banned in the UK until 1967 and it is believed many FBI memos on Mountbatten's sexuality have been edited or destroyed. This once again demonstrates the sad truth about the never-ending hypocrisy and perversion of the British Royals that are now at the center of the Epstein affair.
When Prince Andrew finally broke his silence today about his ties to Jeffrey Epstein, calling the suggestion that he participated in any of his pedophile pal's"abhorrent" behavior, I just had to laugh at this almost ridiculous propaganda stunt made by Buckingham Palace, who were forced to release this statement after the Daily Mail published the footage I mentioned above from 2010 that showed Prince Andrew hanging out in Epstein's Upper East Side mansion. "[Prince Andrew] has been appalled by the recent reports of Jeffrey Epstein's alleged crimes," said the statement to The Daily Telegraph.
In the official statement made today:"His Royal Highness deplores the exploitation of any human being and the suggestion he would condone, participate in or encourage any such behavior is abhorrent."
The 59-year-old Royal, who has been called a coward hiding his perversions thanks to his 93-year old mother, is currently hiding in the Spanish resort of Sotogrande with his ex-wife, Sarah, Duchess of York, but last weekend in Scotland he was spotted going to church with his mother, Queen Elizabeth II in another propaganda stunt orchestrated by Buckingham Palace and the panicked Windsors in support of their royal pervert.
PLEASE SUPPORT LEO'S WORK BY BUYING HIS LATEST BOOKS!!!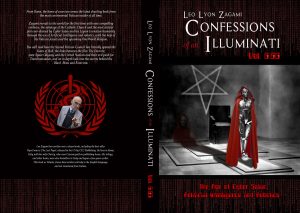 Leo Zagami is a regular contributor to Infowars and the author of the new groundbreaking book  Confessions of an Illuminati Vol. 6.66 The Age of Cyber Satan, Artificial Intelligence, and Robotics
OUT NOW ON KINDLE:
https://www.amazon.com/Confessions-Illuminati-6-66-Artificial-Intelligence-ebook/dp/B07NS8WS9V/ref=sr_1_2?s=books&ie=UTF8&qid=1550411820&sr=1-2&keywords=vol.+6.66
And on paperback :
https://www.amazon.com/dp/1796904694/ref=cm_sw_r_fa_awdo_t1_2dvACb2HVH6TP?fbclid=IwAR1h_VlIytuACI3zxXUc9mBfOk96N4Yk0WH3To6Psv2kbFxJLwfzAwV4mUE

Leo Zagami is also the author of  Confessions of an Illuminati Volume 5: The Decline of the West and the Rise of Satanism in our Society 
OUT NOW ON KINDLE: https://www.amazon.com/dp/B07BQVQ9ZM/ref=tsm_1_fb_lk
And on paperback : https://www.amazon.com/dp/1986894657/ref=sr_1_8?ie=UTF8&qid=1522233257&sr=8-8&keywords=leo+zagami