Italian Left-wing Judiciary tries to silence me….
Article by Leo Zagami
This official document from the Italian Judiciary published above was handed to me by the Italian police that arrived at my house with sirens blaring last March for a Facebook Post. It was after this latest Orwellian episode that happened a few days after my 49th birthday, on March 8, 2019, that my wife and I decided, after years of persecution by the Italian authorities, to permanently leave the Fascio-Communist European Union and the Republic of Italy that dominates every aspect of life. It was not easy, I had to leave most of my belongings behind and sell or donate anything of value, including my car, in order to prevent it from being taken by the Italian State. While all this was going on, several more lawsuits for defamation were moved against me with the motivation to ruin and possibly arrest me.
I have been saying for months during my interviews that the situation regarding the freedom of speech has been rapidly deteriorating in the EU and also in the UK where I hosted a couple of public events in the past year and where most of my family lives, as some of you may know. My first thought after being increasingly persecuted in Italy by the left-wing judiciary and harassed on a daily basis by the Italian authorities, was to actually take refuge in England, as I am half British, and my mother, who is related to the Queen of England through the late Queen Mother, Elizabeth Bowes Lyon, is still very active in the English community, holding a senior position in the Association of British ex-pats in Italy.
However, my idea of fleeing Italy for Great Britain was quickly abandoned after I witnessed the daily persecution of our Infowars friend and political activist Tommy Robinson, who is now asking the U.S. for political asylum. During the months of discreet preperation, my wife and I had to act in secret, as if we were about to flee Nazi Germany, and we were able to trust no one, not even my own family members. It was  very stressful for my wife, so when we that plane left Italy, I was the happiest person in the universe, even if I had almost nothing left of material value to my name.
I wrote this on Facebook the 22nd of May after entering the U.S., and I still stand by my words:
 "Europe comes up these days with perfectly Orwellian responses to any opposition. I decided to leave Italy and Europe once and for all after being not only threatened by Mafiosi in the street calling me names but also by police and carabinieri that are simply mercenaries in the hands of the Italian left-wing authorities these days acting as criminal organizations for vigilance and repression of the Italian people just like in the old days of Mussolini who made these stupid defamation laws to protect the Vatican and the State representatives. One evening, a couple of months ago, I was visited at 9pm by the Italian Municipal Police from the Comune di Subiaco to give me this court order about a post I made last year on Facebook.  Try to get me now suckers, I am in U.S. territory defended by the U.S. Constitution."
Now thanks to the Republican National Lawyers Association, I am legally applying for U.S. citizenship and I hope our friend Tommy will be able to do the same in the near future if our president, Donald J. Trump, will grant him asylum. Tommy Robinson has, in fact, launched a public appeal for Donald J. Trump to grant him "political asylum" as he faces imprisonment and almost certain death by Islamic assassins. Europe and the UK have fallen prey to the Islamic- Communist take over imposed by the New World Order, so please don't let this happen to the United States, as this is the last beacon of light, liberty, and freedom left in the world. The answer to 1984 is always 1776! Tune in to Infowars today at 4pm CST to hear all the latest on this and much more.
My name is #TommyRobinson today I am calling on the help of @realDonaldTrump his administration and the @GOP. To grant me and my family political asylum in the #UnitedStates of America." pic.twitter.com/cnZAr6cZfG

— Painiscoming007 (@Painiscoming007) July 9, 2019
:::::::::Leo Zagami US Book Tour in Las Vegas::::::::::::::::::
 Don't miss another exciting date on Zagami's Book Tour for July 16, 2019 at the Patio Gallery room at the Spring's Preserve in Las Vegas. The Springs will have the rooms opening from 5:30 pm and the event will start at 6pm!
To reserve your place and for more enquiries: OrdoIlluminatorumUniversalis@gmail.com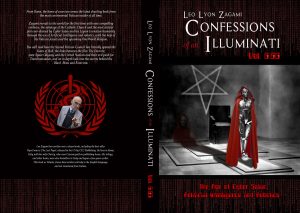 Leo Zagami is a regular contributor to Infowars and the author of the new groundbreaking book  Confessions of an Illuminati Vol. 6.66 The Age of Cyber Satan, Artificial Intelligence, and Robotics
OUT NOW ON KINDLE:
https://www.amazon.com/Confessions-Illuminati-6-66-Artificial-Intelligence-ebook/dp/B07NS8WS9V/ref=sr_1_2?s=books&ie=UTF8&qid=1550411820&sr=1-2&keywords=vol.+6.66
And on paperback :
https://www.amazon.com/dp/1796904694/ref=cm_sw_r_fa_awdo_t1_2dvACb2HVH6TP?fbclid=IwAR1h_VlIytuACI3zxXUc9mBfOk96N4Yk0WH3To6Psv2kbFxJLwfzAwV4mUE

Leo Zagami is also the author of  Confessions of an Illuminati Volume 5: The Decline of the West and the Rise of Satanism in our Society 
OUT NOW ON KINDLE: https://www.amazon.com/dp/B07BQVQ9ZM/ref=tsm_1_fb_lk
And on paperback : https://www.amazon.com/dp/1986894657/ref=sr_1_8?ie=UTF8&qid=1522233257&sr=8-8&keywords=leo+zagami