Article by Leo Zagami
Facebook's Mark Zuckerberg arrived in Milan this morning, just before heading to meet with French president Emmanuel Macron the "Toy Boy" of the New World Order. Since last year, Facebook has created a special alliance against online hate speech with the French president, officially aiming at figuring out how the European country should police the so-called hate speech on the social network, but in reality we all know very well that the two Vatican agents loyal to Pope Francis and the Jesuits will be discussing ways of increasing social network censorship in the EU with the upcoming fear of losing control of the situation after the upcoming European elections that will see the victory of the feared Populist parties.
Populist voters are, in fact, motivated by cultural and economic anxieties and driven by anger over the loss of status and sovereignty of each European Country.
However, France and Macron are preparing to place Michel Barnier, a French politician and EU official serving as European Chief Negotiator for the United Kingdom, in a new leading position to take the place of drunken fool Jean-Claude Juncker and put the EU once again under French-German control. The evil plan Mark Zuckerberg is devising with Macron for Europe is worse than any Orwellian nightmare. This is the end of freedom in the Old Continent.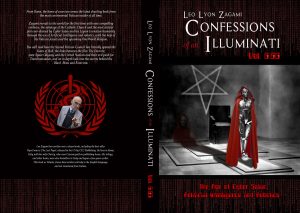 Leo Zagami is a regular contributor to Infowars and the author of the new groundbreaking book  Confessions of an Illuminati Vol. 6.66 The Age of Cyber Satan, Artificial Intelligence, and Robotics
OUT NOW ON KINDLE:
https://www.amazon.com/Confessions-Illuminati-6-66-Artificial-Intelligence-ebook/dp/B07NS8WS9V/ref=sr_1_2?s=books&ie=UTF8&qid=1550411820&sr=1-2&keywords=vol.+6.66
And on paperback :
https://www.amazon.com/dp/1796904694/ref=cm_sw_r_fa_awdo_t1_2dvACb2HVH6TP?fbclid=IwAR1h_VlIytuACI3zxXUc9mBfOk96N4Yk0WH3To6Psv2kbFxJLwfzAwV4mUE

Leo Zagami is also the author of  Confessions of an Illuminati Volume 5: The Decline of the West and the Rise of Satanism in our Society 
OUT NOW ON KINDLE: https://www.amazon.com/dp/B07BQVQ9ZM/ref=tsm_1_fb_lk
And on paperback : https://www.amazon.com/dp/1986894657/ref=sr_1_8?ie=UTF8&qid=1522233257&sr=8-8&keywords=leo+zagami