April 26-28, 2018, nearly one year ago,a high-level, no-expense-spared conference was held at the Vatican co-sponsored by the Pontifical Council for Culture and the CURA Foundation, a tax-exempt global health movement. Conference collaborators also included the Vatican Secretariat of State, the Vatican Secretariat for Communications, and the Pontifical Academy for Life.
The gathering, called "Unite to Cure — How Science, Technology, and the 21st Century will Impact Culture and Society," described by some as the "Davos of biotech," saw the participation of many important speakers. There was alternative medicine mogul Deepak Chopra, as well as world-famous American professional golfer and philanthropist for children's health, Jack Nicklaus, Emmy-award winning Dr. Mehmet Oz, singer Peter Gabriel ,CNN medical correspondent Dr. Sanjay Gupta, CBS medical correspondent Max Gomez, and Emmy-award-winning journalist and talk show host, Meredith Vieira. But most of all, ex-Vice President and known Democrat pervert Joe Biden, who also delivered a message in preparation for his 2020 candidacy to be announced exactly one year later, possibly on Thursday.
The Vatican and the elite of the New World Order gathered like never before in preparation for these crucial elections and have obviously  picked their candidate of choice, Joe Biden.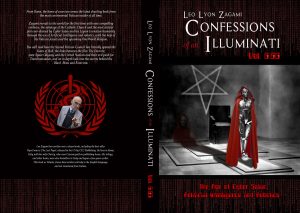 Leo Zagami is a regular contributor to Infowars and the author of the new groundbreaking book  Confessions of an Illuminati Vol. 6.66 The Age of Cyber Satan, Artificial Intelligence, and Robotics
OUT NOW ON KINDLE:
https://www.amazon.com/Confessions-Illuminati-6-66-Artificial-Intelligence-ebook/dp/B07NS8WS9V/ref=sr_1_2?s=books&ie=UTF8&qid=1550411820&sr=1-2&keywords=vol.+6.66
And on paperback :
https://www.amazon.com/dp/1796904694/ref=cm_sw_r_fa_awdo_t1_2dvACb2HVH6TP?fbclid=IwAR1h_VlIytuACI3zxXUc9mBfOk96N4Yk0WH3To6Psv2kbFxJLwfzAwV4mUE

Leo Zagami is also the author of  Confessions of an Illuminati Volume 5: The Decline of the West and the Rise of Satanism in our Society 
OUT NOW ON KINDLE: https://www.amazon.com/dp/B07BQVQ9ZM/ref=tsm_1_fb_lk
And on paperback : https://www.amazon.com/dp/1986894657/ref=sr_1_8?ie=UTF8&qid=1522233257&sr=8-8&keywords=leo+zagami