Article by Leo Zagami 
Once again, Pope Bergoglio is creating controversy during his usual flight press conference over the Atlantic Ocean today on his way to Panama, as he did on his first international trip, to Brazil, for the 2013 World Youth Day (WYD).
The journalist Marco Clementi, a correspondent for RAI Tg1, told Pope Francis: "Holy Father, I went to Tijuana, on the border between Mexico and the United States, there the wall they are building stretches into the sea so that they can't even swim around it."
The Pope replied, implicitly attacking President Donald J. Trump:  "It's fear that makes you crazy," he then added, "these are walls of fear, as Monda wrote in L'Osservatore Romano, an editorial that needs to be read."
Among those who follow the events of the Vatican, there is a feeling that the meeting in February will be the end of this pontificate and the downfall of the Catholic Church.
Experts on the Vatican predict that 2019 will be the year in which many of the battles the 82-year-old Argentine Pontiff, who is implementing the final stages of the liberal reform of the Church, will come to a conclusion. But what does this mean for Catholics, and Christians at large?
The Roman Catholic Church, as we all know, will be a major player in the Endtime One World Government.  The Pope, who is the False Prophet, will soon team up with the Antichrist, as prophesied in Revelation 13.
Two years ago, a television personality in Colombia was blasted by Catholic clergy and others following his public claim that Pope Francis was paving the way for the Anti-Christ. Well, Jose Galat, who faced fierce backlash for his comments made in a radio interview in 2017, was totally right.
A priest I know once told me "I am so convinced that we have a false-prophet on the throne of Peter that I have reached the point that silence on Pope Francis is now tantamount to a grave sin of omission."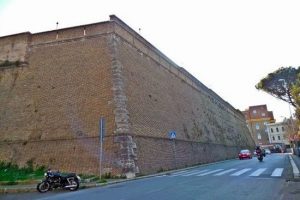 WELL THE BIGGEST WALLS OF FEAR ARE IN THE VATICAN!

Leo Zagami is a regular contributor to Infowars and the author of the groundbreaking book Confessions of an Illuminati Volume 5: The Decline of the West and the Rise of Satanism in our Society 
OUT NOW ON KINDLE: https://www.amazon.com/dp/B07BQVQ9ZM/ref=tsm_1_fb_lk
And on paperback : https://www.amazon.com/dp/1986894657/ref=sr_1_8?ie=UTF8&qid=1522233257&sr=8-8&keywords=leo+zagami