Article by Leo Lyon Zagami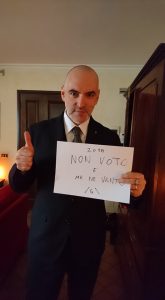 Earlier today, a topless Femen activist disrupted polling in Italy's national election, while ex-Premier Silvio Berlusconi was casting his ballot. The longer than usual lines due to the new anti-fraud measures fiasco is already making Italy look like the laughing stock of Europe.
The fradulent nature of the Italian 2018 elections derives from the new law nicknamed the Rosatellum, after Ettore Rosato, the Democratic Party parliamentary leader, who obviously proposed and introduced a mixed system rigged to perfection, to facilitate a coalition type government built on compromise and fully controlled by the EU as the 40% requirement to establish a government will be impossible to reach for all parties. This will basically send Italy right back in the hands of Prime Minister Paolo Gentiloni, as the present system provides an ideal set up for the various parties and coalitions that will join together in the most improbable political alliance, to ensure Italy's governability on behalf of the New World Order.
The most obvious beneficiaries of this useless election are former Prime Minister Silvio Berlusconi, and Matteo Renzi, who apparently made a secret deal to overcome the Five Star Movement and manipulate the populist rise of Matteo Salvini and Georgia Meloni. The biggest winner of all is of course, George Soros, who has invested in both the left-wing parties, as well as the Five Star Movement, where he placed the possible future Minister of Economy, Lorenzo Fioramonti, who writes for Open Democracy, which is an emanation of Soros' Open Society.
On the 5th of March 2018, Italy will most likely remain in the hands of the left-wing mondialists sponsored and manipulated by George Soros, with the new leading position of Silvio Berlusconi as a populist side show, ready to serve in the grand coalition controlled by the technocrats of the European Union. Can we free Italy without a Civil War? Only time will tell.
Meanwhile in Rome, Steve Bannon, the White House traitor, is playing a strange role in support of the populist rise. Something is indeed going on behind the scenes during these rigged elections, that will only bring what the Italian media have already called "Gentiloni bis", which means another term for the present Prime Minister and close friend of George Soros.

Leo Zagami is a regular contributor to Infowars and the author of the new book Confessions of an Illuminati Volume 5: The Decline of the West and the Rise of Satanism in our Society 
OUT NOW ON KINDLE: https://www.amazon.com/dp/B07BQVQ9ZM/ref=tsm_1_fb_lk
And on paperback : https://www.amazon.com/dp/1986894657/ref=sr_1_8?ie=UTF8&qid=1522233257&sr=8-8&keywords=leo+zagami