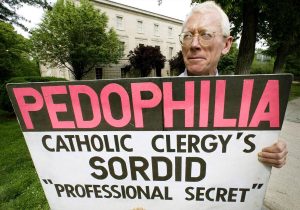 Article By Leo Zagami
A high-ranking priest working in the Vatican's embassy in Washington DC, has been recalled to Rome after U.S. prosecutors asked back in June, that he be charged in a child pornography investigation.
Vatican officials announced today that they have opened an investigation, after they were notified by the U.S. State Department, through diplomatic channels, about the possible violation of the rules on child pornography in the US, by a diplomat of the Holy See in Washington. The priest is currently located in Vatican City, out of Italian jurisdiction, where he will face immediate arrest.
A US source familiar with the case stated that the diplomat/priest was suspected of possessing, but not producing or disseminating, child pornography, including images of pre-pubescent children were found in his computer. The source was not authorized to discuss the matter publicly and spoke on condition of anonymity to the media.
The Vatican declined to identify the priest, so I am investigating the matter through my contacts in the Vatican, where he currently resides. Vatican prosecutors have launched their own probe, and sought evidence from the U.S., but everyone knows the Vatican has become lately a safe haven for the Catholic Church's alleged child molesters, who are out of the reach of international laws when living in the Vatican City.
Leo Zagami is a regular contributor to Infowars and the author of Confessions of an Illuminati, Volume III: Espionage, Templars and Satanism in the Shadows of the Vatican