Article by Leo Zagami
Matteo Renzi is linked to one of Italy's most dangerous pedophiles, his old friend, Rodolfo Fiesoli, an influential figure in the international pedophile network connected to the US Democrats.
On November 12, 2011, a few weeks before Rodolfo Fiesoli was arrested once again for the crime of pedophilia, (his first arrest was in 1985), spoke at the famous Salone dei Cinquecento in Palazzo Vecchio in Florence, in the presence of Matteo Renzi, during a Conference for the TedX  a liberal minded Foundation that was mainly inspired by the ideas of Al Gore . TEDx was created in the spirit of TED's mission, "ideas worth spreading." It supports independent organizers who are usually linked to left wing ideology who want to create a TED-like event in their own community.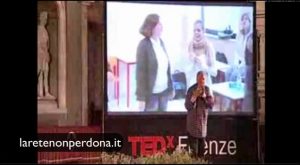 Rodolfo Fiesoli during his speech in front of his friend Matteo Renzi
Rodolfo Fiesoli condemned in 1985, 2000 and 2015 for pedophilia
Fiesoli participated as a supposed "educator", despite being condemned several times since the mid 80's, for sexual abuse to minors, at his community called Forteto di Vicchio, established in 1977, to support his bizare theories on family, and the recovery of minors in distress. In the audience was the then-Mayor Matteo Renzi, who was smiling during Fiesoli's speech, nodding his head several times and clapping to show his approval. After the arrest of Fiesoli, references to this pedophile monster connected to Matteo Renzi, head of the ruling Democratic Party, and  the US Democratic Party, disappear from the online site of the initiative, and from YouTube but fortunately we still have a surviving footage of the event.
Italian TV interviews pedophile victim of the Forteto community
In 2015, Fiesoli is finally condemned to 17 years for his latest pedophilia trial, but of course with his friend Matteo Renzi in power, he has not spent one day in prison:
http://corrierefiorentino.corriere.it/firenze/notizie/cronaca/15_giugno_17/forteto-oggi-sentenza-d6803316-14c3-11e5-ade9-7eb25d03d69b.shtml?refresh_ce-cp
This whole story demonstrates once again the open support of the pedophile network by the liberal establishment in Italy and the US.
Leo Zagami is the author of Confessions of an Illuminati, Volume III: Espionage, Templars and Satanism in the Shadows of the Vatican you can follow this story on infowars.com with Alex Jones on Tuesday the 11th of July 2017