Article by Leo Zagami
The sudden change of pace on pedophilia by the Vatican seen last week, with the latest scandal to hit Cardinal Pell, 76, who became the highest-ranking Roman Catholic prelate to be formally charged with sexual offenses, is the result of a new strategy in the fight towards pedophilia forced into being by Donald J. Trump.  The scandal confirms the weakness of the Vatican in the face of a history of harassment, always dealt with too late, and never with a preventive strategy. There now, may truly be a change, as the Global Pedophile Network is starting to crack down.
In 2012, Trump Tweeted: Got to do something about these missing chidlren grabbed by the perverts. Too many incidents–fast trial, death penalty.
The Church continues to be forced to defend themselves, and to pursue the allegations, without ever managing to impose a persuasive analysis of the phenomenon, and the possible exploitation of pedophilia, that people like Cardinal Pell have covered up for decades. It is crucial now, to understand that the United States of America, and the Military Industrial Complex, have been for years in the hands of the Bush family, the Clinton's and Obama. The military arm of the New World Order (NWO) receiving their directives from the financial arm of Freemasonry headquartered in the City of London, as well as from the religious arm of the NWO, located in the Jesuit Vatican headquarters, both in the hands of the Pedophile Network, as recent scandals and recent investigations have proven beyond a doubt.
The liberals are desperate to bring down Trump using any and all means, but now that the CIA and other agencies are finally tackling the pedophilia problem, because of Potus' orders, he could be risking his life even more. LGBTQ rights advocates should support the president in this endevour, and distance themselves from the pedophilia reality.
In the meantime, President Trump has told Theresa May that he does not want to go ahead with a state visit to Britain, a country that as we know is the driving force of the global Pedophilia Network.  UK children in the care of British institutions, are six times more likely to be assessed for abuse, than a child in the general population. Scotland Yard detectives were removed from a pedophile investigation, after naming politicians, so maybe the British public should change their brainwashed attitude and support his visit to the UK.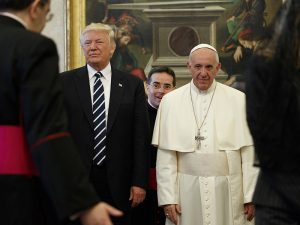 Leo Zagami is the author of Confessions of an Illuminati, Volume III: Espionage, Templars and Satanism in the Shadows of the Vatican